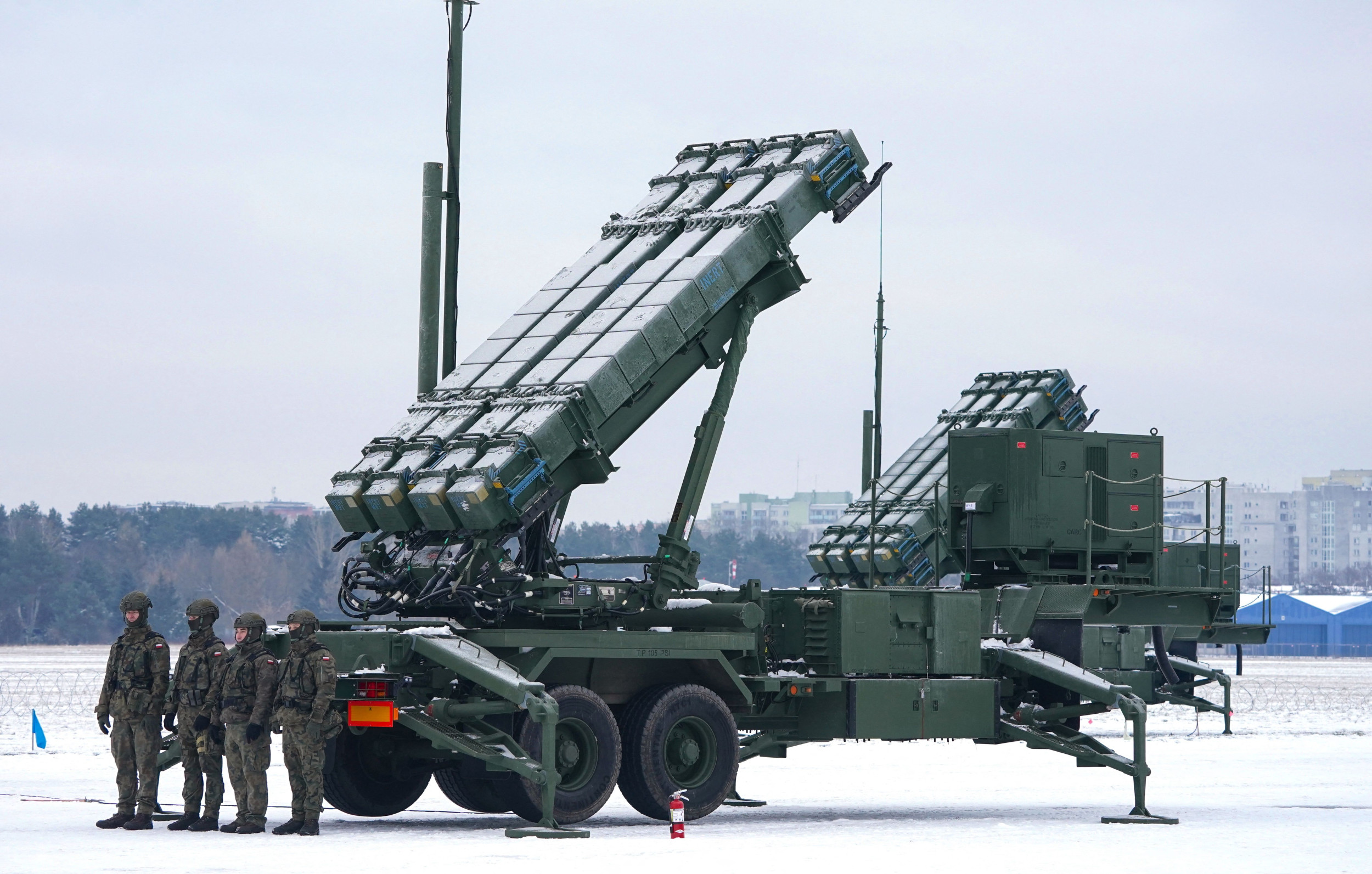 Hypersonic Kinzhal missiles possessed by Russian forces can be shot down with Patriot defense systems, Ukrainian officials said in the aftermath of a massive new missile strike on Wednesday.
A total of 81 missiles were launched as part of what Ukrainian President Volodymyr Zelensky called a "massive" nationwide wave of strikes that resulted in the death of at least five civilians.
The strike included six Kinzhal missiles, 28 Kh-101 or Kh-555 air-launched cruise missiles, 20 Kalibr sea-launched cruise missiles, six Kh-22 anti-ship cruise missiles, two Kh-31 anti-ship missiles, and six Kh-59 guided surface-to-air missiles.
"In response to the March 2 terrorist actions organized by the Kyiv regime in the Bryansk region, Russia's Armed Forces dealt a massive retaliatory strike," the Russian Defense Ministry said in a statement, reported the AFP.
The Kinzhal missiles, known as "Dagger" in Russian, were reportedly used by the Russian military during the first month of the war in an attack on a military warehouse in western Ukraine.
The Stratcom Centre, established under the Ukraine Ministry of Culture and Information Policy, tweeted that Ukraine currently has "no means that can counter such [Kinzhal] missiles."
"The American Patriot air defense system is capable of intercepting ballistic missiles," the Centre said. "That is why it is so important that this air defense system arrives in Ukraine as soon as possible."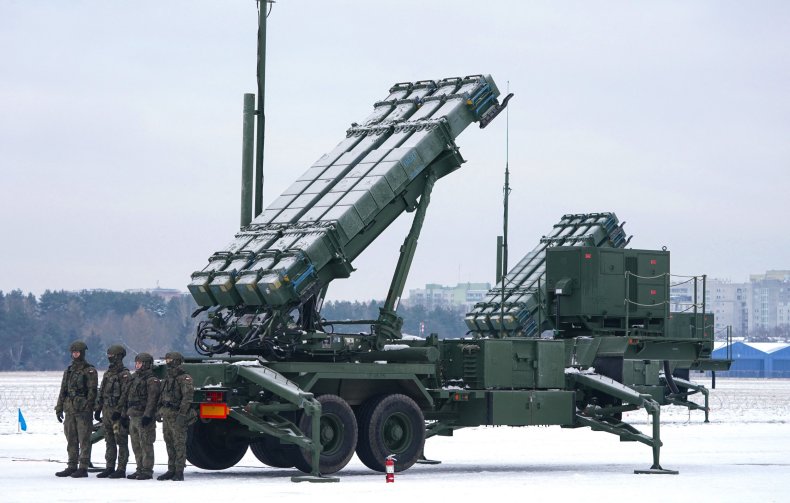 Soldiers stand in front of a PATRIOT (Phased Array Tracking Radar to Intercept on Target) surface-to-air missile system during a military exercise at Warsaw Babice Airport, Poland on February 7, 2023. Ukrainian officials say the Patriot system is the only one that can defend the country from Russia's hypersonic "Kinzhal" missiles, of which six were launched during a massive strike on Thursday. JANEK SKARZYNSKI/AFP via Getty Images
Patriots were initially approved to be sent by the U.S. in December.
Kremlin spokesman Dmitry Peskov said at the time that Patriots would "definitely" be a target for Russian personnel. Russian President Vladimir Putin called them "quite old systems" and vowed to destroy them.
Assistant Army Secretary for Acquisition, Logistics and Technology Douglas Bush reportedly told Defense News on Wednesday that he anticipates Patriot systems to arrive in Ukraine "very soon" and be ready for action.
U.S. forces have trained Ukrainian fighters on how to use the machinery. The providing of Patriot systems will not impact operational unit readiness, Bush added.
During a media roundtable on January 25, Bush was asked about the timeline for delivery and how long training must take place for Ukrainians to be adept at using the systems.
"With enough motivation and dedicated 24-7 access to them, we can train people really quickly," Bush said. "The U.S. Army knows how to do that and we're doing that right now."
"And, in some cases, you know, what we would consider a full training program, maybe 60 percent of that might be the critical stuff that they really need to go into combat, and they are choosing to work with us on, you know, shortening some of those training timelines," he added. "The Ukrainians are full partners in those discussions."
Jennifer Erickson, associate professor of political science and international studies at Boston College, told Newsweek that the U.S. often sees purpose behind its arms sales "that go beyond their immediate utility on the battlefield," notably with advanced missile defense systems and other high-tech weapons, "to signal political support."
"The Patriot system has been purchased by other close U.S. allies, but it is not a system that is generally available to any buyer," Erickson said. "In the case of sending Patriots to Ukraine, I think there is an effort to signal not just political support, but, given the training needed and changing expectations for the conflict itself, long-term political support."
Retired U.S. General Mark Hertling was initially among those who did not view the Patriot as some silver bullet for Ukrainian forces.
"These systems don't pick up and move around the battlefield," Hertling said prior to Christmas. "You put them in place somewhere that defends your most strategic target, like a city, like Kyiv. If anyone thinks this is going to be a system that is spread across a 500-mile border between Ukraine and Russia, they just don't know how the system operates."
Defense officials said at that same time that training was a "several-month process." They did not clarify how many Ukrainians would be trained or where.
Newsweek reached out to the Stratcom Centre and Pentagon for comment.
Update 03/09/23, 5:11 p.m. ET: This story was updated with comment from Jennifer Erickson.