Mobilized Russian fighters are likely using "shovel"-like tools for "hand-to-hand" combat as Moscow's forces struggle with an ammunition shortage, according to a new intelligence assessment.
Reports from mobilized Russian reservists have previously suggested soldiers were ordered to attack Ukrainian positions equipped only with "firearms and shovels," Britain's Ministry of Defense (MOD) said on Sunday.
Munitions shortages in the Russian armed forces have been well documented by Western analysts, and loudly protested by the head of the Wagner mercenary group, Yevgeny Prigozhin.
(3/4)

One of the reservists described being 'neither physically nor psychologically' prepared for the action.

— Ministry of Defence 🇬🇧 (@DefenceHQ) March 5, 2023
The "shovels" referred to by the MOD are thought to be entrenching tools, such as the standard-issue MPL-50, the ministry said in its daily intelligence update.
Dating back to 1869, the MPL-50's use as a weapon in Ukraine "highlights the brutal and low-tech fighting which has come to characterise much of the war," said the MOD. The killing power of the rudimentary weapon is, however, "particularly mythologised" in Russia, it argued.
There has been an increase in close combat on the front lines, it added, likely because Russian infantry having restricted access to artillery.
A new wave of offensive operations in eastern Ukraine has been hampered by a lack of munitions, the British defense ministry said in early February.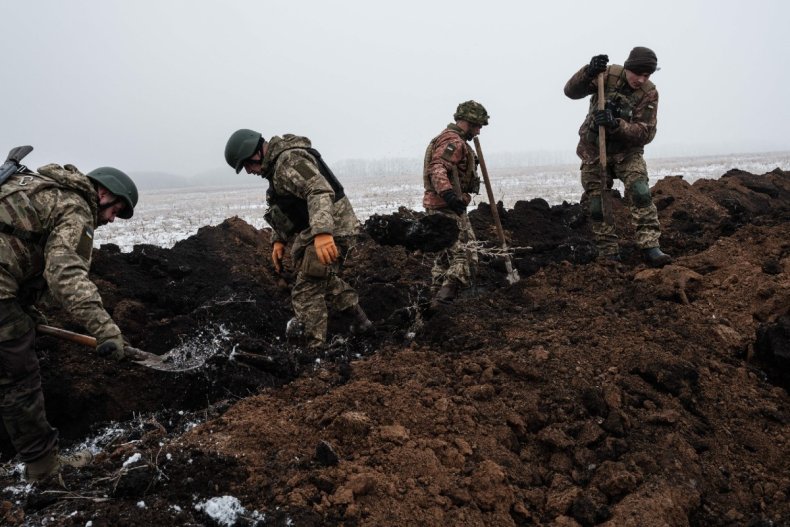 Ukrainian servicemen dig a trench near the city of Bakhmut on February 1, 2023. Mobilized Russian reservists are likely using the MPL-50 entrenching tool for "hand-to-hand" combat, the British defense ministry said on Sunday. YASUYOSHI CHIBA/AFP via Getty Images
Russian reservist fighters were called up in September 2022, when Russian President Vladimir Putin announced a partial mobilization. He was "forced to do this because of battlefield reverses and a shortage of personnel," according to the Center for Strategic and International Studies.
Russian defense minister Sergei Shoigu announced the conscription of 300,000 reservists on September 21, and the following month, Putin said only well-trained fighters would head to the front lines in Ukraine, according to state media.
However, on November 5 the British defense ministry said Russia is "probably struggling to provide military training for its current mobilisation drive and its annual autumn conscription intake."
The more experienced officers and trainers in the Russian armed forces had already been killed in Ukraine, the government department said.
"Newly mobilised conscripts likely have minimal training or no training at all," it added.
Russia is sending its recruits to Belarus for training ahead of deployment in Ukraine, the Washington-based Institute for the Study of War (ISW) said on Saturday.
The Russian military is "utilizing Belarusian training grounds and trainers to train mobilized Russians to compensate for Russia's degraded training capacity," the think tank said.
Also on Saturday, the ISW said that although Russia had likely gained a "sufficient positional advantage" in the embattled eastern city of Bakhmut to conduct a "turning movement," Ukrainian forces had not withdrawn from the ruined city. This could force them to abandon their defensive positions to avoid encirclement, the ISW argued.
The Russian defense ministry has been contacted for comment.