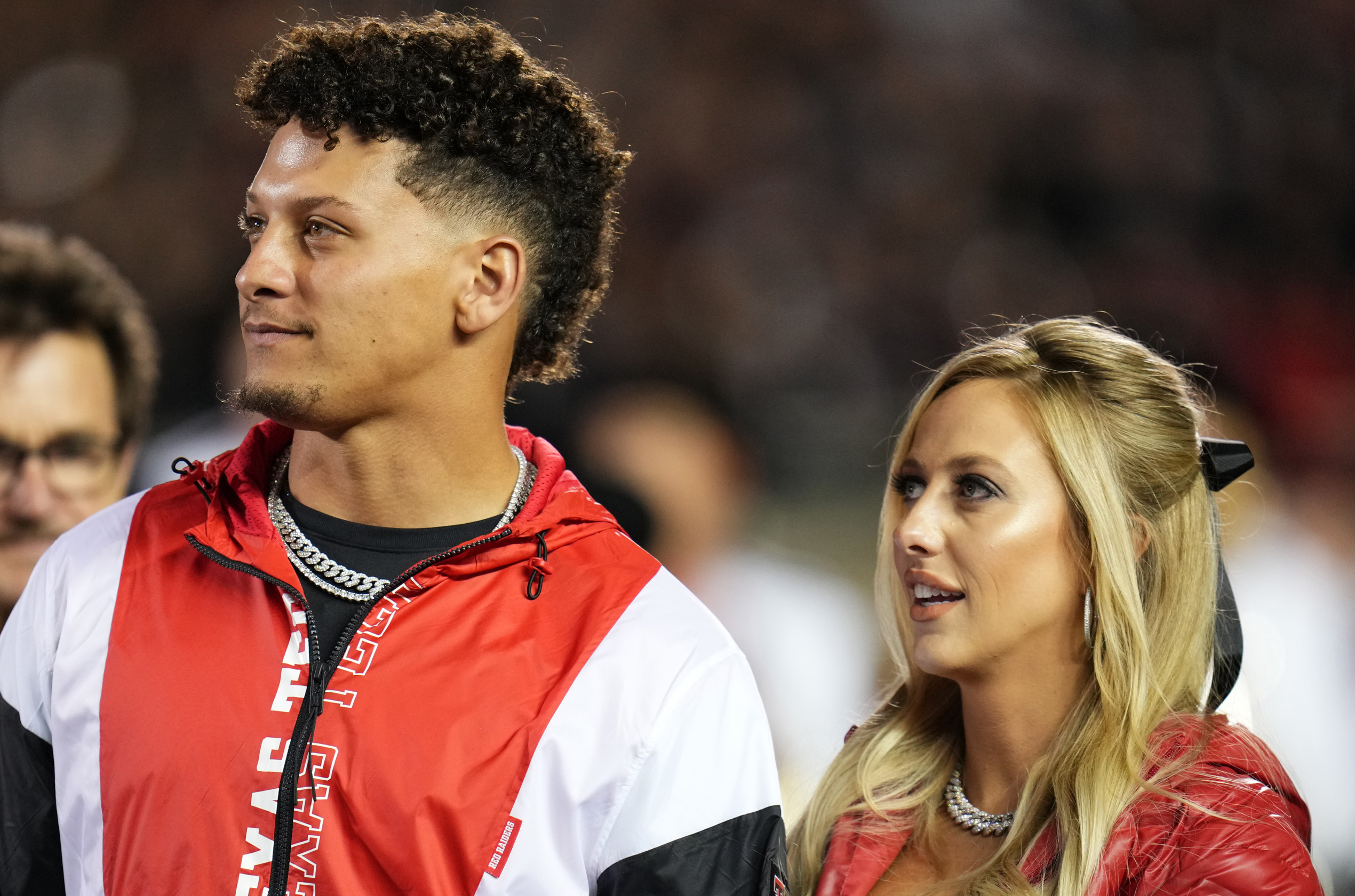 Brittany Matthews Mahomes has not been shy about defending her husband, Patrick Mahomes, the star quarterback for recent Super Bowl winners the Kansas City Chiefs.
She is arguably Mahomes' most vocal supporter and has been by his side since he was tearing up the field at high school and then at Texas Tech University.
She has come in for some frightful trolling over the years, as some take exception to the way she celebrates the NFL star's every success. But Brittany, 27, has also not held back when she feels that someone needs to be put in their place on social media.
Here are some occasions in which Brittany felt things could not be left alone and has shared her thoughts while defending her husband.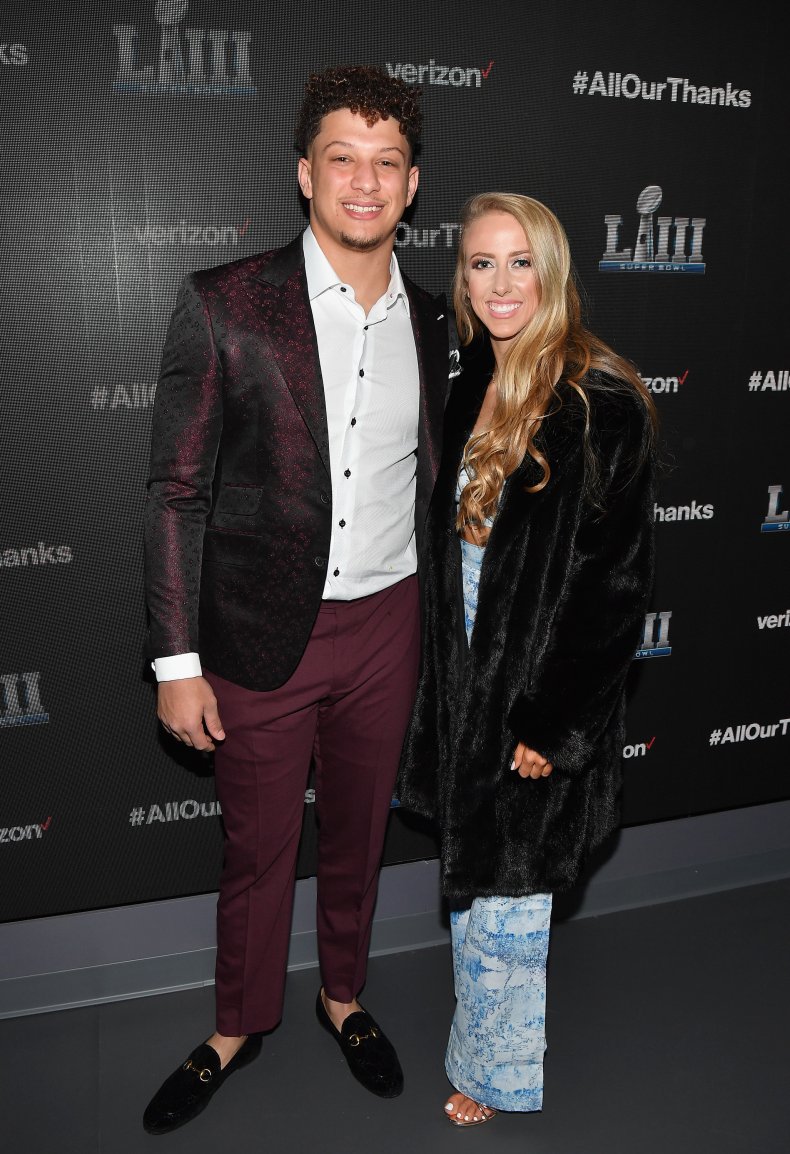 Patrick and Brittany Mahomes attend the world premiere of "The Team That Wouldn't Be Here" documentary on January 31, 2019. Getty Images
Don't Diss the Quarterback
While Mahomes is being hailed as the rightful owner of the NFL's best quarterback crown, now that Tom Brady has finally retired for good this time, there are still some who feel he needs to be brought down a rung or two.
After a defeat, a Kansas City Star reporter said that while Mahomes is a "good quarterback" he is not a team player and that "Mahomes puts the 'i' in team and only focuses on himself."
In a scathing opinion piece, the writer also said: "He doesn't care if his team wins or loses. All he cares about is how he looks."
Brittany was quick to refute this, jumping to her husband's defense. She tweeted: "Y'all are extremely ignorant for this. Kansas City doesn't do this to its people, what a joke you guys are."
Ranting at Referees
NFL officials are not off the list of those Brittany will take on if she feels her husband has been slighted.
When the Chiefs took on the Los Angeles Chargers in 2022, Brittany shared her displeasure after Mahomes was hit below the knee. Officials called against the offense, saying that Chiefs offensive tackle Andrew Wylie had thrown Chargers pass rusher Joey Bosa into the quarterback.
Mahomes was limping after the play but stayed in the game. Brittany sarcastically let the officials know what she thought, tweeting: "Guess we can hit QBs like that now."
Hitting Back at the Haters
Brittany has no qualms about hitting back at those who attack Patrick. When one person tweeted that "apparently it's the cool thing" to go after the Chiefs quarterback, she tweeted: "Yup the cool thing to do. Quite hysterical how something like that can become cool."
This followed reports that Mahomes had asked her and his brother, Jackson Mahomes, to stay away from games during the 2022 season.
Angered by this, the NFL star tweeted back: "Y'all just be making stuff up these days."
Brittany then added her thoughts by quote-tweeting her husband's comment and adding one word: "legit."
Nothing to See Here
Videos of Patrick interacting with fans as he celebrated the Chiefs' Super Bowl win over the Philadelphia Eagles went viral on social media. One on Twitter parody account @SharonSharpeee was watched over 11 million times.
Mahomes was called out after he handed what looked like the Vince Lombardi Trophy to Chiefs fans while looking a little worse for wear from his alcohol-fueled celebrating.
It turned out that it was a fake trophy made by a fan in the crowd, and Mahomes was returning it to that person. But the realistic nature of the fake was enough to convince many that it was the real thing and that Mahomes was casually handing it to his supporters.
Even seven-time Super Bowl winner Tom Brady weighed in on the video, fully backing Mahomes. He said there was nothing wrong with the celebrating, tweeting: "Looks like appropriate parade behavior to me @PatrickMahomes."
This was liked by Brittany, who showed her support for what happened.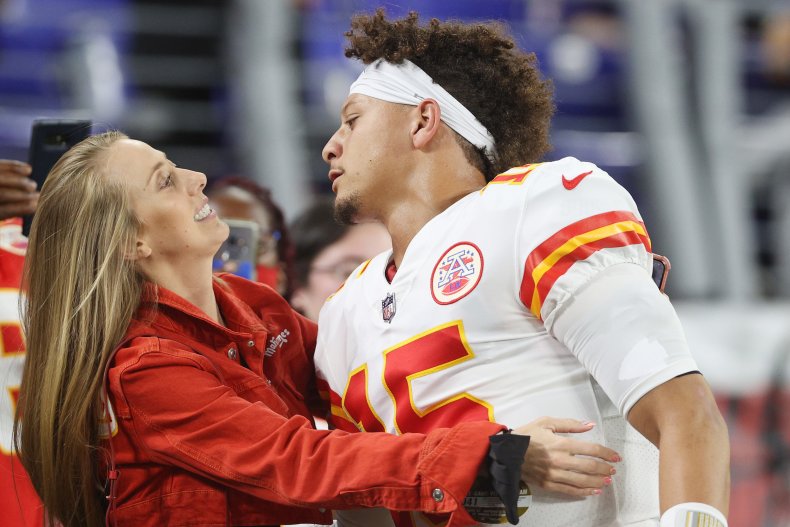 Patrick Mahomes greets fiancée Brittany Matthews before a Kansas City Chiefs game against the Baltimore Ravens on September 19, 2021. Getty Images
Calling Out the Mayor
The past couple of seasons have seen the Chiefs battle the Cincinnati Bengals for the AFC Championship and a place in the Super Bowl.
The previous season, it was the Bengals, inspired by QB Joe Burrow, who triumphed. Ahead of a rematch in last season's playoffs, Cincinnati Mayor Aftab Pureval released a video calling on Burrow to take a paternity test to see if he is Mahomes' father, as he was unbeaten against Mahomes.
Brittany didn't find the joke funny and was brutal in her mocking of the mayor, responding in a tweet: "WEAK. & embarrassing."
'People Won't Destroy My Peace'
During an Instagram Q&A this past November, Brittany revealed that despite the trolling and stepping in to defend her husband, she won't let it get her down.
She said: "I would never let people on the internet destroy my peace or [affect] my life. BUT. It's been hard, it took time to learn this and still learning at times. It's always gonna be there."
Do you have a tip on a sports story that Newsweek should be covering? Do you have a question about Patrick and Brittany Mahomes? Let us know via [email protected].