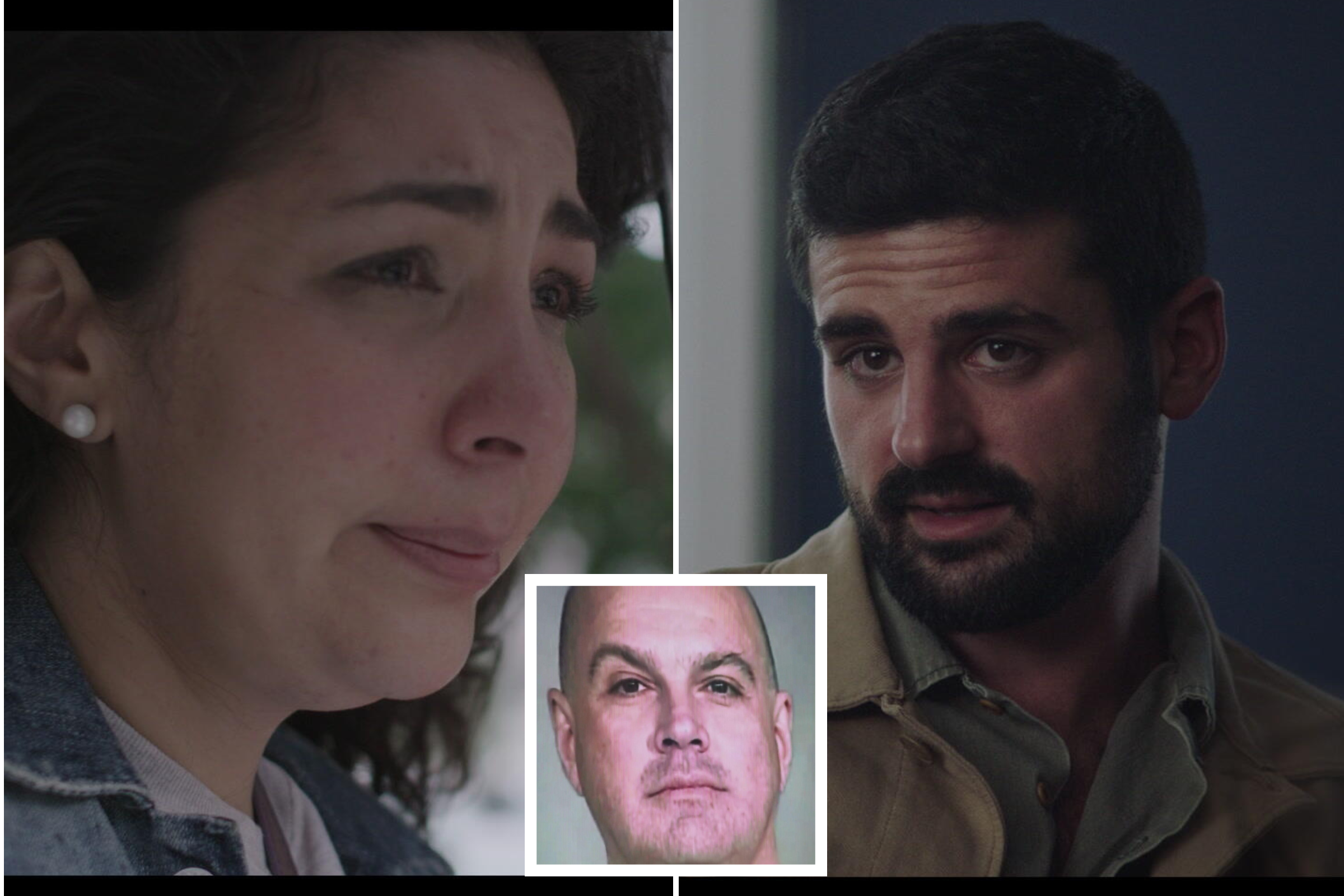 When Larry Ray first came into the lives of his daughter Talia's college friends in 2010 he presented himself as a confidant, someone who could be trusted with their darkest secrets. But, he soon proved to be a "remorseless sadist," Felicia Rosario told Newsweek as she spoke alongside fellow victim Daniel Barban Levin.
Hulu's docu-series Stolen Youth: Inside the Cult at Sarah Lawrence, premiering February 9, examines the 10 years of emotional, physical and sexual abuse that Ray subjected them to, as well as Rosario's siblings Santos and Yalitza, Claudia Drury, and Isabella Pollok.
The pair spoke to Newsweek about their experiences making the documentary, which gave them the platform to speak out about Ray's horrific abuse, and also what it was like to relive these moments through the countless hours of footage that Ray had filmed.
Larry Ray Was a 'Remorseless Sadist'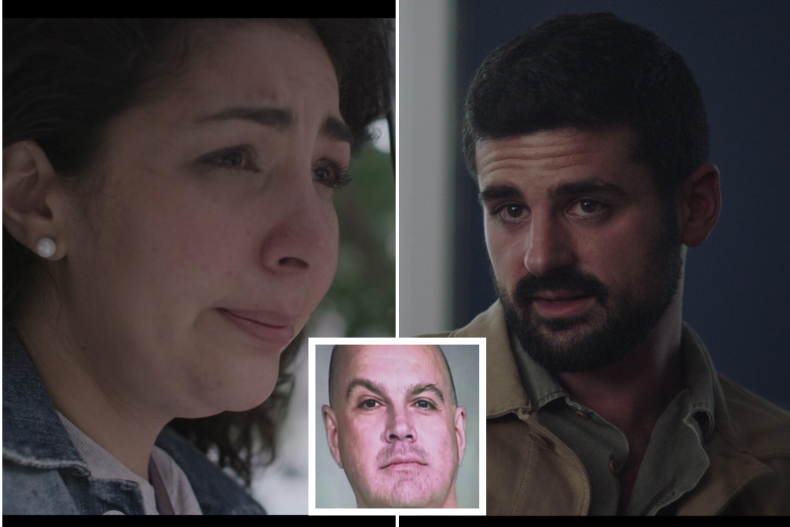 In this composite image is Felica Rosario (left), Daniel Barban Levin (right), and Larry Ray (inset). Rosario and Levin spoke to Newsweek about making the documentary "Stolen Youth: Inside the Cult at Sarah Lawrence." Hulu
Levin had been one of the students living in Slonim Woods 9, the dorm at Sarah Lawrence College, when Ray moved in, and Rosario was introduced to him later by her siblings when she visited them whilst studying at Columbia medical school.
Ray was not only emotionally, sexually and physically abusive, he extorted money from their families and made some of the students take part in forced labor or even prostitution. He manipulated them through "therapy" sessions that later became interrogations, extracting false confessions from them about their supposed actions against him.
A lot of this abuse was recorded on camera by Ray, who used the recordings as a means to exert control and blackmail his victims but which, in the end, acted as evidence in his four-week trial in April 2022.
On January 20, 2023, Ray was sentenced to 60 years in prison for racketeering conspiracy, violent crime in aid of racketeering, extortion, sex trafficking, forced labor, tax evasion and money laundering offenses.
Reflecting on the result of the court case, Rosario said: "I felt validated and vindicated when I heard the judge announce Larry's sentence.
"The judge clearly understood the case and was able to see Larry for what he really is— a remorseless sadist. The person responsible for hurting so many people was held accountable. I absolutely feel justice has been served."
Watching this back in Stolen Youth was difficult for both Rosario and Levin, but it also helped them realize that they hadn't imagined Ray's abuse.
Levin said: "I think that we know that the victims of abuse and sexual violence kind of struggle with the fear of not being believed, so to me it felt so validating. Yes, it was harmful and triggering, and re-traumatizing to see some of that footage, but also really validating to see like 'yes, this happened.'"
It was Levin who first began working with director Zach Heinzerling on making the documentary , and he explained why he felt it was necessary for the video recordings of their abuse to be included in the three-part documentary, despite feeling triggered by it.
"I had actually pushed for at least the footage of me experiencing abuse to be included, because I had lived for so long with this in private and had been so scared to share it with anyone," Levin said. "And, to me, having the footage exist just made me feel real and as if I wasn't crazy, these things actually had happened and I want people to see it.
"I think it is challenging to watch, but I hope that it means that people encounter the reality of these things that do happen in our world, that have been around us all the time, and I think it's worth remembering that Lawrence Ray took those videos because he wanted to use them against us and the fact that we now get to use them against him, and use them to help other people, is incredibly empowering."
On Larry Ray's Abuse
Levin ended up living in a New York apartment with Ray alongside Rosario's siblings Yalitza and Santos, Drury, Pollok, and Ray's daughter Talia after Slonim Woods 9, and, after beginning a relationship with Ray, Rosario also moved in. It was during this period that Ray began ramping up his manipulation and abuse.
"The abuse that I suffered from Larry Ray was targeted around memory and around fragmenting identity," Levin said. "So, when I left I really had so much trouble putting back together who I was, what I wanted, and also just understanding what had happened because it had been so extreme, but also so absurd and hard for even me to believe.
"I think that when people see the documentary, the part that feels important to me about it being on video, the way it is, is that people will be able to see these unbelievable things."
Levin went on to write a memoir, titled Slonim Woods 9, about his experiences with Ray and his eventual escape from his "cult." He went on: "Writing the book allowed me to take this thing, that felt like this chaotic storm cloud that surrounded me for years, and to put it into a kind of order and to understand what happened from beginning to end.
"I think I got the experience that no one who writes a memoir gets which is the FBI vetted my memoir to corroborate everything that happened, so that was very validating as a victim of sexual violence."
Rosario said of the documentary: "I heard everyone else's, finally, honest experiences of the time when, in the past, in Larry's twisted world of truth and honor we were entirely unable to be truthful and honest with ourselves or with each other.
"Hearing them speak of their experiences in their own words was wholly validating and gave me more confidence in believing my own recollections of the experience. I was able to trust my own feelings again knowing that I was not alone in questioning them.
"It is still an out-of-body experience for me watching myself getting beaten and body-slammed—I watch myself and I think, 'Wow, this is horrible what's happening to that woman! How could he do that to her!?' When all the while I am watching Larry beat me up—I feel like a completely different person from the poor woman in the footage."
Felicia Rosario on Her Escape from Ray
Ray, as previously mentioned, was in a relationship with both Rosario and Pollok, and the pair remained with him up until his arrest in February 2020.
They both appear in the documentary during that time in the third episode, which later charts Rosario's journey to healing and reconnecting with her family after finally leaving and cutting ties with them both.
"I first spoke to Zach while I was still with Larry and Isabella before he was arrested," Rosario reflected. "My initial motivation in speaking to Zach was to help Larry. Once Larry was arrested, I was able to begin to process what had been happening to me and finally accept the reality of my situation.
"I decided to continue to speak to Zach even after walking away from Larry and Isabella because I felt the need to set the record straight not only about the abuse I had suffered but also the narrative around me and how this happened to me.
"It became important to me to tell my story so people see the effect someone like Larry can have on a person's life, but also to see the challenges and the struggles faced by the survivors in recovering from such abuse."
She added: "In the end, it is possible to heal from this kind of trauma and there is help. Zach provided that safe space in the documentary and I also had the support of my therapists, social workers, case workers and attorneys along the way.
"When I look back and watch the series, I almost can't believe that I am the same person that survived Larry, and I am so happy and grateful to have made it out alive."
Stolen Youth: Inside the Cult at Sarah Lawrence College will premiere on Hulu on Thursday, February 9.