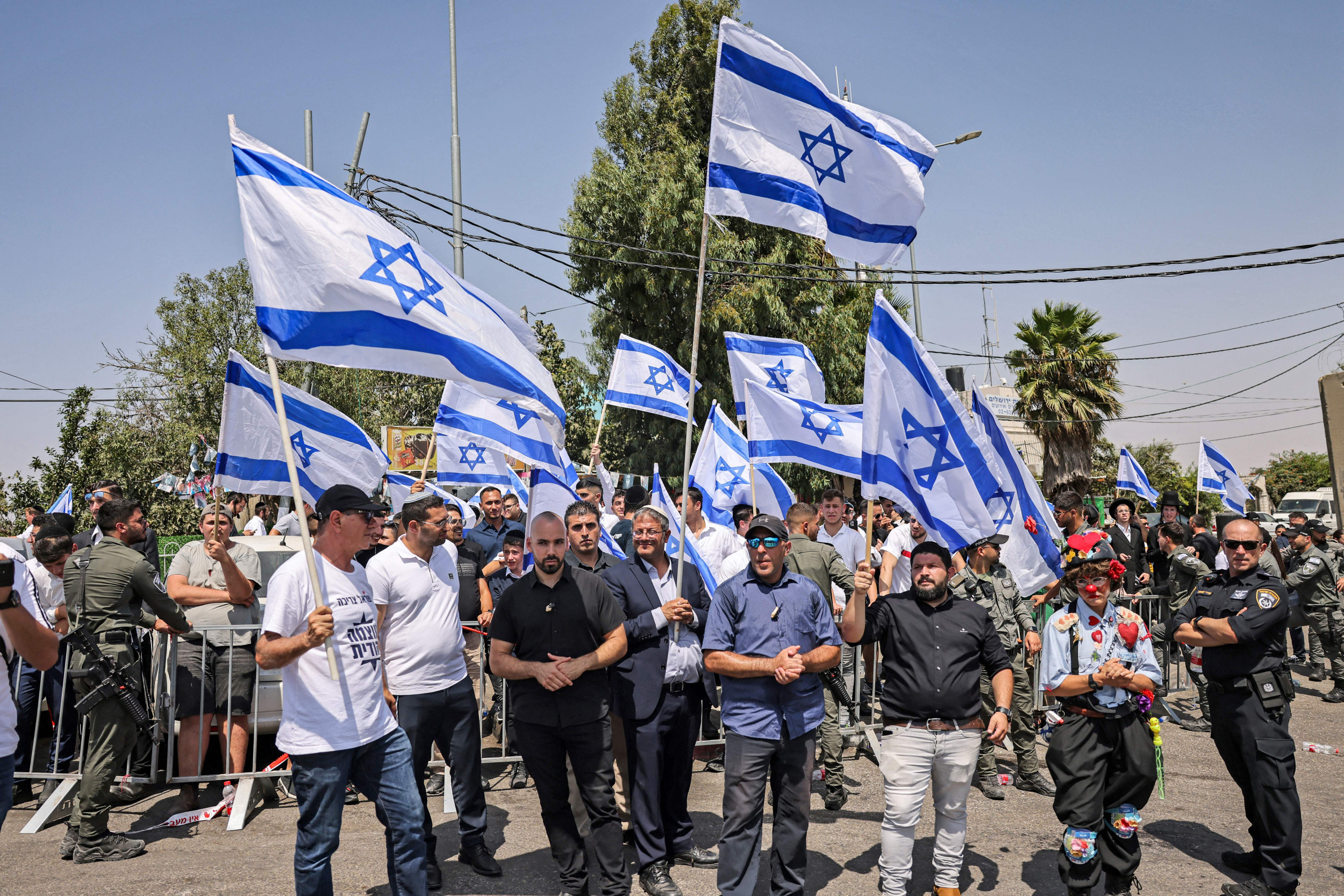 Asil Sawaed was a 22-year-old Bedouin Arab and a staff sergeant in the Israeli Border Police. He was killed in the line of duty this past February in a terrorist incident at a checkpoint in eastern Jerusalem.
In my duty as Minister of National Security, and as an Israeli, I attended the funeral in the northern Arab Bedouin village of Hussniyya. The family asked me to speak. "Yesterday, terror hit Jerusalem yet again—a terror that does not distinguish between people or between blood. It's a terror that wants to affect all of us," I said. "Against this terror stand warriors, and a hero among them was Asil. He faced the terror without fear, and protected the citizens of Jerusalem with his body."
After the funeral, Asil's grandfather told me that their village had suffered many losses in defense of the state. I answered that I am obligated to all of them, and to anyone who puts his or her life on the line for Israel. We locked hands and I told him that he is part of me—and he told me that I am part of him.
The mainstream media, which is more ideologically aligned with my political adversaries and committed itself to painting me and my party as seething Arab-haters, did not report on my encounter with Asil's family. The mainstream media prefers to dredge up old quotes from my teenage days, before I became a father and a civil rights attorney, and continues to label me and my political party "racist extremists."
Far from being racist or extreme, my party is dedicated to ensuring safety and security for all Israelis. Our war is with jihadists, terrorists, and Israel-haters—not with all Arabs. Many of our neighboring states, such as Egypt, Saudi Arabia, and the United Arab Emirates, are also battling militant Islamic extremism—Islamist factions that want to overthrow their regimes.
Two mayors of Arab cities in Israel have publicly proclaimed their support for my security policies and asked their constituents to give me the chance to curtail the lawlessness that plagues their communities. Among other things, these leaders want a crackdown on the estimated 400,000 illegal weapons in Israeli Arab villages—the barrels of which are often aimed at members of their own communities. For example, police statistics show that in armed homicide cases from 2015-2019, 82% of suspects came from the non-Jewish demographic (almost entirely Arab), which comprises just 26% of Israel's population.
Many abroad don't understand how far Israelis' personal security situation has deteriorated in recent years.
Israel faces an average of seven attempted terror attacks a day—or 2,600 per year. (The Palestinian Authority and Hamas boast that the number is three times that amount.) Fourteen Israelis have been killed in terror attacks in just the last few weeks alone. Seven Israelis were shot to death outside a Jerusalem synagogue on a Friday night, including a 14-year-old boy. Two weeks later, two children waiting for a bus with their father, six- and eight-year-old brothers, were mowed down in a car-ramming attack that also killed a 20-year-old and wounded three others. The following week, another pair of brothers, aged 18 and 20, were gunned down at point-blank range in their car after Shabbat. Days later, an American Jew from Connecticut, Elan Ganeles, who was visiting Israel for a friend's wedding, was shot dead by terrorists while driving his rental car near the Dead Sea.
Even I, a government minister in the Jewish State, live under the threat of assassination and have to be surrounded by state-issued bodyguards. My family also lives with this reality. These are not mere idle threats: In 2001, Tourism Minister Rehavam Ze'evi was murdered by militants in a Jerusalem hotel. And Knesset Member Yehuda Glick was shot multiple times in 2014 and only miraculously survived.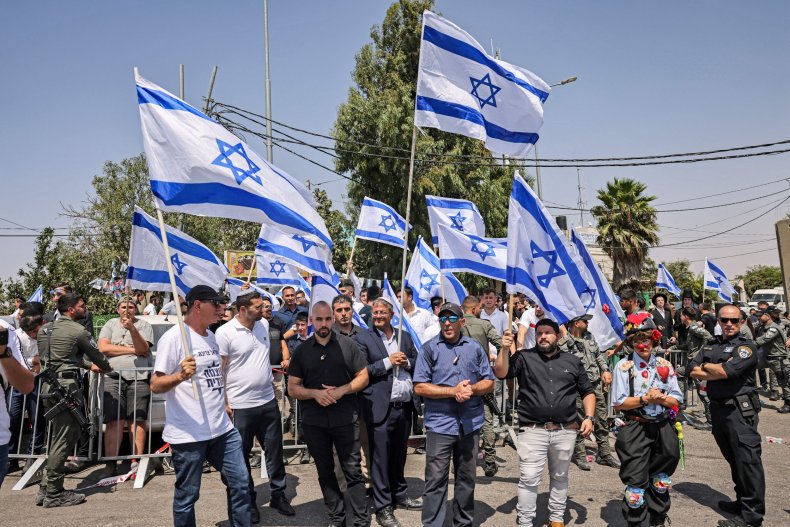 Itamar Ben-Gvir (C), Israeli lawmaker and leader of the Otzma Yehudit party, waves an Israeli flag as he arrives with others at the archaeological and religious site of the Tomb of Samuel at the Nabi Samuel village between Ramallah and Jerusalem on September 2, 2022. AHMAD GHARABLI/AFP via Getty Images
Israelis are no longer willing to live this way—and this was the atmosphere in which I was elected to the Knesset. I promised that I would end the policy of turning a blind eye to terrorism, and to confront the problem. My mandate is to do just that.
The only way to improve Israel's security situation is to gradually restore the deterrence that eroded under previous governments. Today, terrorist rock-throwers and fire-bombers are rarely arrested—and if they are detained, they face light punishments and usually go right back to attacking Israelis. Perpetrators know that Israeli jails are comfortable, featuring in-house bakeries, gyms, multi-channel TVs, and even advanced degree programs—all provided by the Israeli taxpayer. Israel's enemies, in short, know we will go soft on them. I intend to reverse that trend.
Yet another place that Israel is lax in confronting its foes is the Temple Mount in Jerusalem, Judaism's holiest site, to which I recently made a pilgrimage.
After the 1967 Six Day War, the Israeli government allowed the Jordanian Waqf to manage general affairs on the Mount—the third holiest place for Islam—with Israel assuming responsibility for security. Sadly, the Islamic clerics in charge of the Temple Mount have allowed Hamas and other jihadist outfits to weaponize the holy site against Israel. From the Temple Mount, far too many jihadists broadcast incitement in the form of fiery hate speech, viral videos, and posters of "martyrs" calling for the destruction of Israel.
Making matters worse is the systematic discrimination against Jewish worship in that sacred plaza. Anyone who reads the Bible or who knows basic history, such as my secular parents from Iraqi and Kurdish Jewish backgrounds, knows that the Temple Mount, the site of our two ancient temples, plays an extremely important role in Judaism. Yet, absurdly, it has become the norm to criminalize the most natural thing—Jewish prayer there, in the very heart of our eternal capital. Jews face Israeli government-enforced restrictions on Temple Mount visitation times, days of entry, visitor group size, the movement of lips in prayer, and the banning of prayer books themselves.
For me, civil rights are sacrosanct. I believe that most Americans can relate to the Israeli voters who empowered me to restore basic freedom of worship on the Temple Mount. And that is also why Israel's Ministry of National Security, under my leadership, is committed to Israel's long-standing policy of protecting Muslim freedom of worship at the Temple Mount. In fact, I plan on holding a meeting with Muslim leaders to ensure that the often-turbulent month of Ramadan runs smoothly.
My party and this broader government coalition came to power as a result of a democratic election, and we are working on the very policies the voters selected us to implement. There are many Arabs who hope I will help subdue jihadism, which is the greatest threat to the minds and lives of their own children. These Arabs want to live in a free Israel, not an oppressive Afghanistan. And there are many Jews yearning to live a vibrant Jewish life free of antisemitic hate crimes and discrimination—as befits the original mission of the Jewish State of Israel.
Rather than being enemies, I believe that most people living in Israel and the broader region—Jews, Bedouins, Circassians, Druze, Arabs, and others—share a covenant of life. With the help of God, I am confident that the efforts of the Israeli government to provide security for all will allow peace-loving residents to enjoy a bright future in the Holy Land.
Itamar Ben Gvir is Israel's Minister of National Security and chairman of the Otzma Yehudit party.
The views expressed in this article are the writer's own.