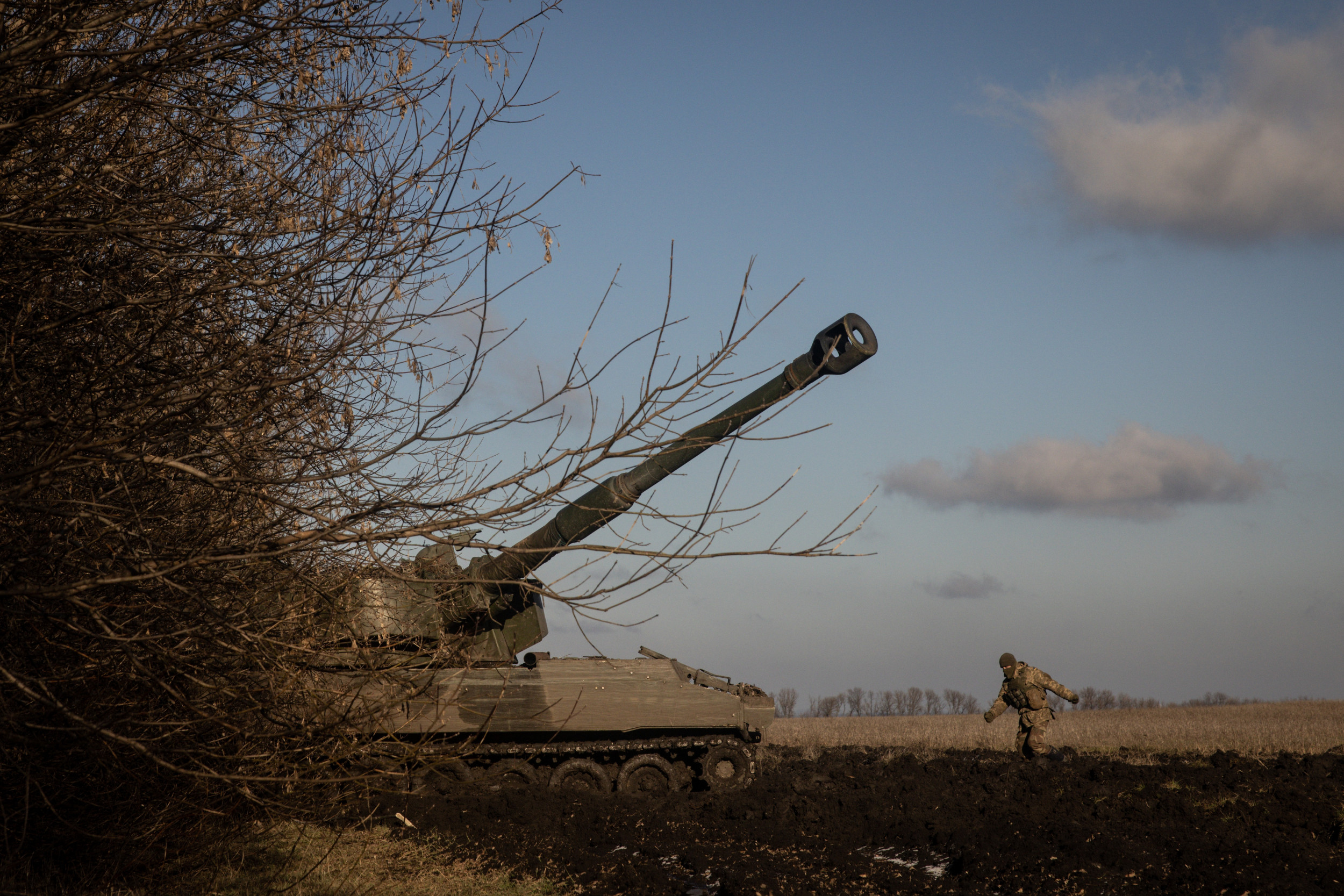 Ukraine reportedly destroyed dozens of Russian tanks in Vuhledar, showing that Vladimir Putin's army is making key mistakes in the ongoing war, a military expert told Newsweek.
The New York Times reported on Wednesday that following the battle in Vuhledar in the Donetsk region, Ukraine claimed that it destroyed at least 130 Russian tanks and armored vehicles.
Retired U.S. Army Lieutenant Colonel Daniel Davis told Newsweek on Wednesday that Russia's reported loss shows a number of "tactical errors and mistakes…in ways that they should already know don't work."
The report from the New York Times comes amid the ongoing war between Russia and Ukraine, which entered its second year on February 24.
A member of a Ukrainian artillery unit runs back after taking coordinates before firing a M109 self-propelled artillery unit at Russian mortar positions around Vuhledar from a frontline position on December 19, 2022, in Donetsk region of Ukraine. On March 1, 2023, the New York Times reported that Russia lost at least 130 tanks and military vehicles following a battle in Vuhledar. Chris McGrath/Getty Images
Davis, who also serves as a senior fellow and military expert at Defense Priorities, said that the reported losses by Ukraine are "painful" for Russia and noted that they show a level of "inadequate capacity they should now possess."
Mark Cancian, a senior adviser with the Center for Strategic & International Studies International Security Program made similar comments to Newsweek and said that Russia's losses are "significant."
"In a sense it shows that the Russians are not able to effectively attack the Ukrainians, that they are at the tactical level, still not coordinating very well," Cancian said. "[Russia] has not been able to employ what's called combined arms. That is getting your infantry, tanks, artillery and air and engineers all working together."
The U.S. and other Western nations have supplied Ukraine with dozens of military defense mechanisms. The U.S. also recently agreed to send 31 M1 Abrams tanks while Germany agreed to send Leopard 1 tanks to Ukraine. However, for the most recent battle in Vuhledar, Ukraine did not have access to the Western tanks and instead used tanks from their own supply.
Cancian and Davis agreed that while the Western tanks will help Ukraine, they will not completely change the course of the war.
"[Western tanks] will be helpful, they won't be a game changer. There's no silver bullet," Cancian said. "We keep hoping that there's some weapon we can give the Ukrainians that will be a game changer and will turn the tide. There's no single weapon that can do that, it's going to be the cumulative effect of all of the weapons and training combined with the morale and steadfastness of the Ukrainian people."
Similarly, Davis said that "there is this unquestioned belief that as soon as [Ukraine] get these Western tanks, that everything on the battlefield is going to change….Historically and practically, it's just not going to happen. It's never been the technology at work, it's always been how the people operate it."
Newsweek reached out to the Russian Foreign Ministry for comment.