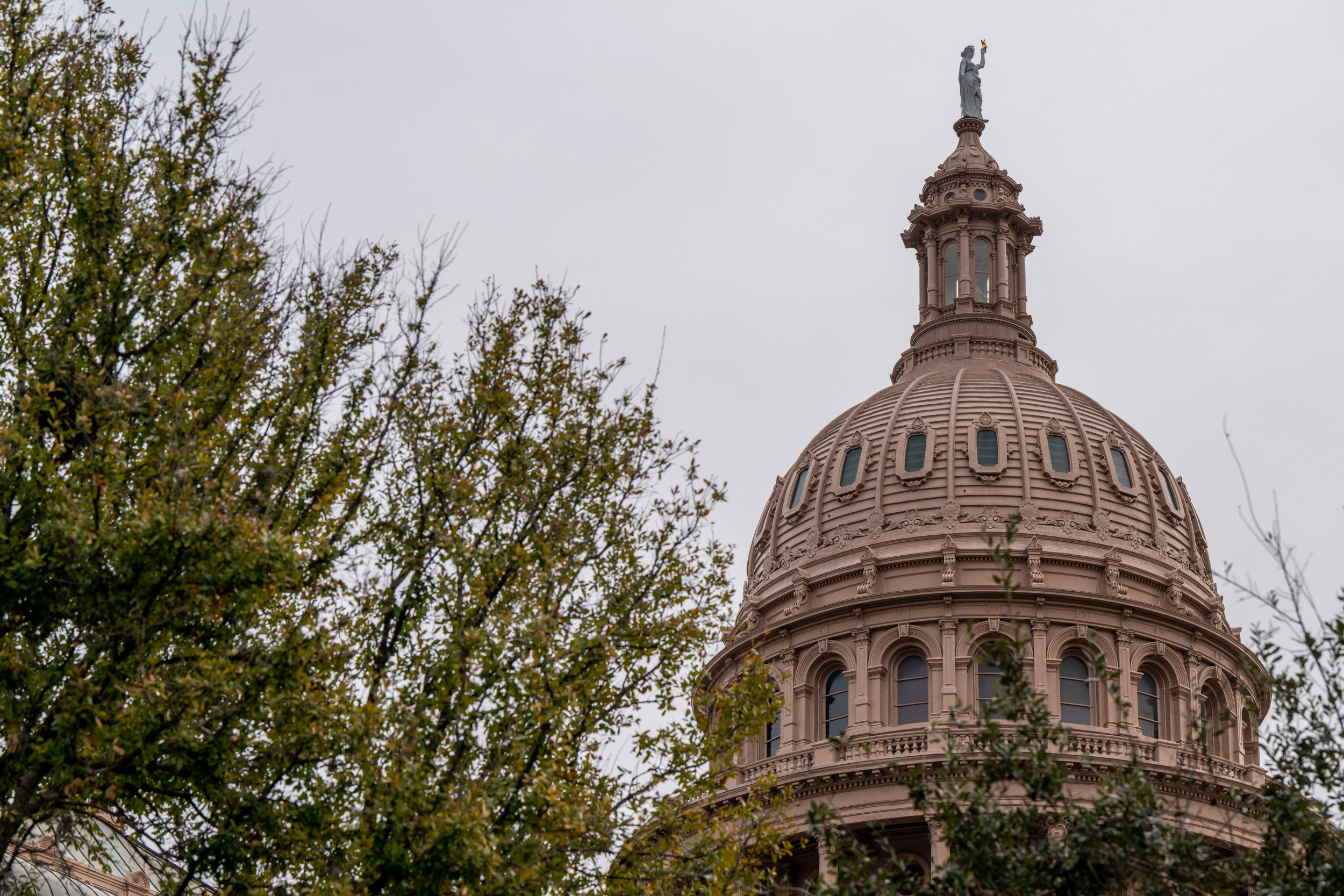 A Texas state lawmaker who has sponsored a bill that would restrict drag performances has said he wore drag only as a "dare" after a clip emerged of him wearing a dress.
State Representative Nate Schatzline, a Republican, posted a short video to Twitter on Wednesday after footage shared by another Twitter user appeared to show him wearing drag.
The exterior of the Texas State Capitol on February 18, 2023 in Austin, Texas. Republican state Representative Nate Schatzline has responded to a video showing him wearing women's clothing as he sponsors a bill to restrict drag performances. Brandon Bell/Getty Images
Schatzline, a first-term state representative and a former pastor, has sponsored a bill that would amend the state's Business and Commerce code to define a venue that hosts a drag performance and "authorizes on-premises consumption of alcoholic beverages" as a "sexually oriented business." Such a venue would not be permitted to allow those under 18 to enter.
In the video posted by Twitter user Michelle, whose handle is @LivingBlueTX, on February 27, Schatzline can be seen wearing a black sequined dress. He is running and dancing in a park with three other individuals.
"A response to media posting a class project from my teenage years. Sometimes you just gotta laugh," the lawmaker tweeted on Wednesday, adding: "Media wants to distract us from adults who act in sexually suggestive ways in front of kids. We're not backing down against those that want to rob a child's innocence!"
In an accompanying video, Schatzline took aim at "leftwing news media," which he said "twist stories to be something that they're not."
"Look, the leftwing is attacking me because of some class project I did as a teenager where my buddies dared me to wear a dress," Schatzline said.
"But we're not gonna let that distract us from the real message of what we're trying to get done right here in the Texas legislature, and that is ban sexually explicit drag shows and preserve the innocence of the next generation in Texas," Schatzline added.
In the original video showing Schatzline wearing a dress, he is accompanied by three other people who are also in costume, though not in drag. The clip is set to "Sexy Lady" by Javi Mula featuring DJ Disciple. Toward the end, Schatzline is credited as "The Virgin."
Schatzline responded directly to the tweet from @LivingBlueTX on February 27, writing: "Y'all really going crazy over me wearing a dress as a joke back in school for a theater project? Yah, that's not a sexually explicit drag show… lol y'all will twist ANYTHING.
"Michelle, please find something better to do than look up old videos from when people were in school," Schatzline added.
The bill he is sponsoring, HB 1266, defines drag as "a performance in which a performer exhibits a gender identity that is different than the performer's gender assigned at birth using clothing, makeup, or other physical markers and sings, lip syncs, dances, or otherwise performs before an audience for entertainment."
The video of Schatzline has garnered attention after Tennessee's Republican Governor Bill Lee, who also wants to restrict drag performances, was confronted with a photo of himself in drag.
Newsweek has reached out to Nate Schatzline for comment.