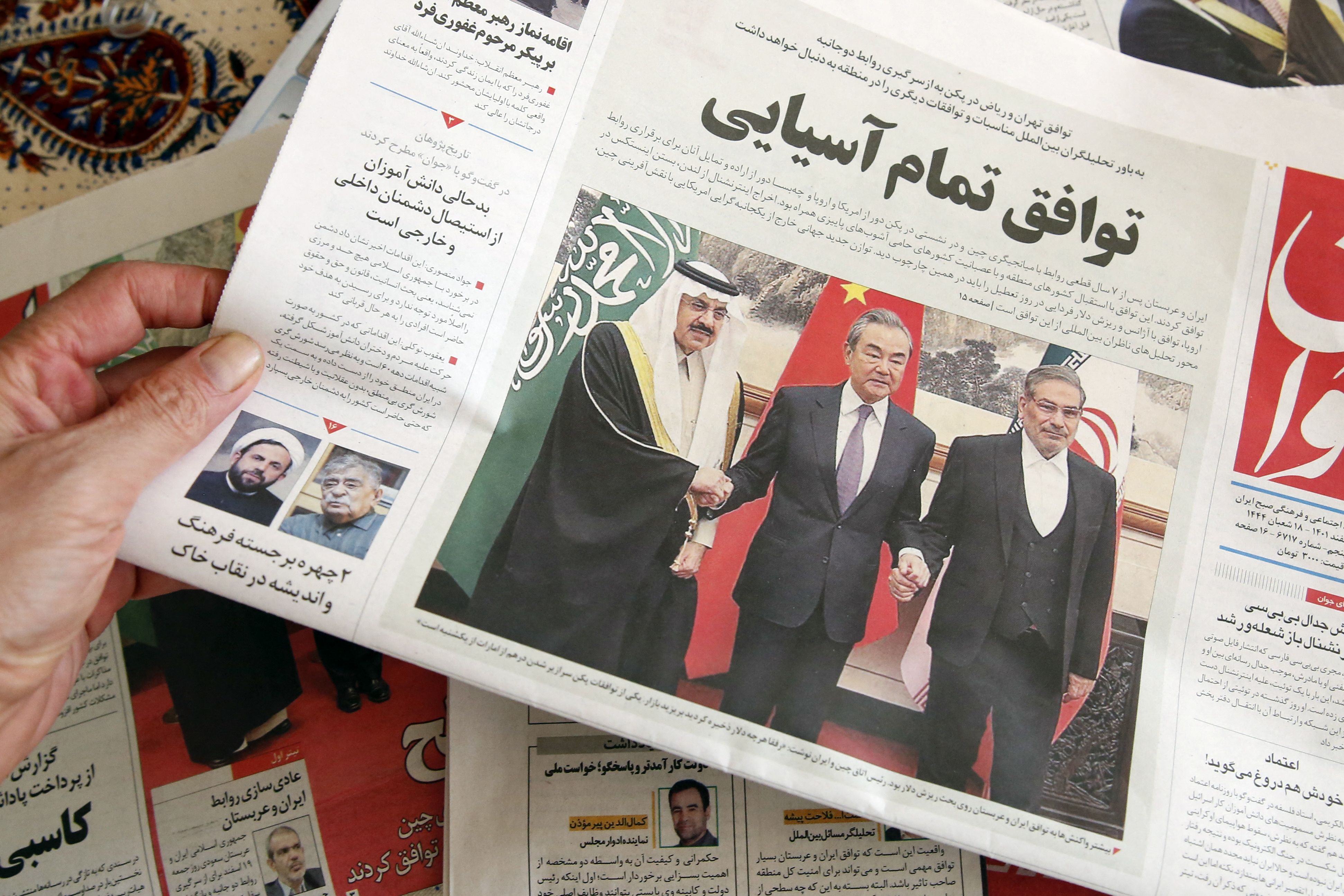 After years of hostility, Iran and Saudi Arabia agreed to "reestablish relations" in a deal brokered by China, a nation that has shown little love for millions of the Muslim citizens within its borders. The three countries announced the resumption of diplomatic relations between the two Middle Eastern powers on March 10, including the reopening of embassies in Tehran and Riyadh within the next two months.
Before your eyeballs roll too far back into your head, there are some good things about this otherwise supremely shady deal. For one, Iran and Saudi Arabia coming to the table means they are willing to lower the temperature of their full-blown proxy war in Yemen and calm some of the power-politics at play in Syria.
China stepping in as Middle East power-broker "after decades of American failure" in the region is quite a sight to see, and those are the Washington Post's words, not mine.
While it's no secret that that the United States considers China its "number one geo-strategic threat," this latest play by President Xi Jinping provides more proof of his plans to gain influence over as much territory as possible in a region where the United States has been the main power broker since the end of the Cold War.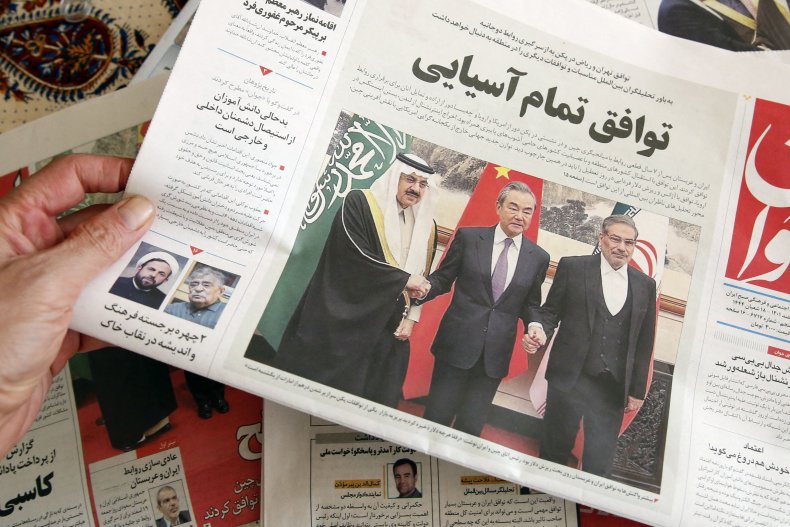 A man in Tehran holds a local newspaper reporting the China-brokered deal between Iran and Saudi Arabia. ATTA KENARE/AFP via Getty Images
But it's not all about great-power politics. Not only do Iran, Saudi Arabia, and China all need the photo-op from this "peace deal," the three nations also have something else in common: horrific human rights records, especially when it comes to women and minorities. In fact, China is still actively placing much of its Muslim population in concentration camps while playing peacemaker between two major Islamic nations.
I am speaking about China's Uyghur population, a predominantly Muslim group living in Xinjiang province. For years, China has been carrying out what many countries—including the U.S.—are calling genocide against the group.
Human rights groups believe China forcibly detained more than one million Uyghurs over the last few years in a massive network of what the state calls "re-education camps." China has also sentenced hundreds of thousands of others to prison terms. A series of police files obtained by the BBC in 2022 revealed details of China's use of these camps and described a "shoot-to-kill policy" for anyone trying to escape.
China denies all allegations of abuses. Leading human rights groups, such as Amnesty International and Human Rights Watch, also published reports accusing China of crimes against humanity. In addition, China has been accused of targeting Muslim religious figures and banning religious practices in the region, as well as destroying mosques and tombs.
There are about 12 million Uyghurs, mostly Muslim, living in Xinjiang, which is officially known as the Xinjiang Uyghur Autonomous Region (XUAR).
So far, Iran and Saudi Arabia are remaining pin-drop silent about China's abuse of the Uyghurs, and frankly, it's deafening. While Iran is in the middle of an ongoing feminist uprising over the country's forced-hijab laws, and a slate of recent schoolgirl poisonings, Saudi Arabia is still wishing away the world's memories of their involvement in Jamal Kashoggi's murder.
But both countries had previously championed the plight of Burma's ethnic Muslim population, the Rohingyas, who are also facing genocide. Saudi Arabia provided Rohingya women and children with critical aid, and Iran offered support to Bangladesh to repatriate the persecuted minority.
Yet, when it comes to the Uyghurs, so far it seems neither of these new partners in peace are determined to call China to task. Last week, in a special event on Islamophobia at the United Nations, U.S. Ambassador Linda Thomas-Greenfield, said that the U.S. formally recognized that Muslims are increasingly subject to "discrimination and violence," specifically citing the treatment of the Uyghurs in China.
"We have also determined that the Chinese government has committed genocide and crimes against humanity against the predominantly Muslim Uyghurs and other ethnic and religious minority groups in Xinjiang," Thomas-Greenfield said.
"The international community must continue to condemn these atrocities," she added. "We must continue to demand accountability. And we must continue to call for all those unjustly detained in [China] to be released and reunited with their families."
Let's hope Muslim nations, starting with Iran and Saudi Arabia, also join America's call. Until then, they seem to be nothing more than just puppets in China's hands.
Anushay Hossain is a writer and a feminist policy analyst focusing on women's health legislation. She is a regular on-air guest at CNN, MSNBC, and PBS, and her writing on politics, gender, and race has been published in Forbes, CNN, USA TODAY, The Daily Beast, and more. Hossain is also the host of the Spilling Chai podcast and author of "The Pain Gap: How Sexism and Racism in Healthcare Kill Women."
The views expressed in this article are the writer's own.