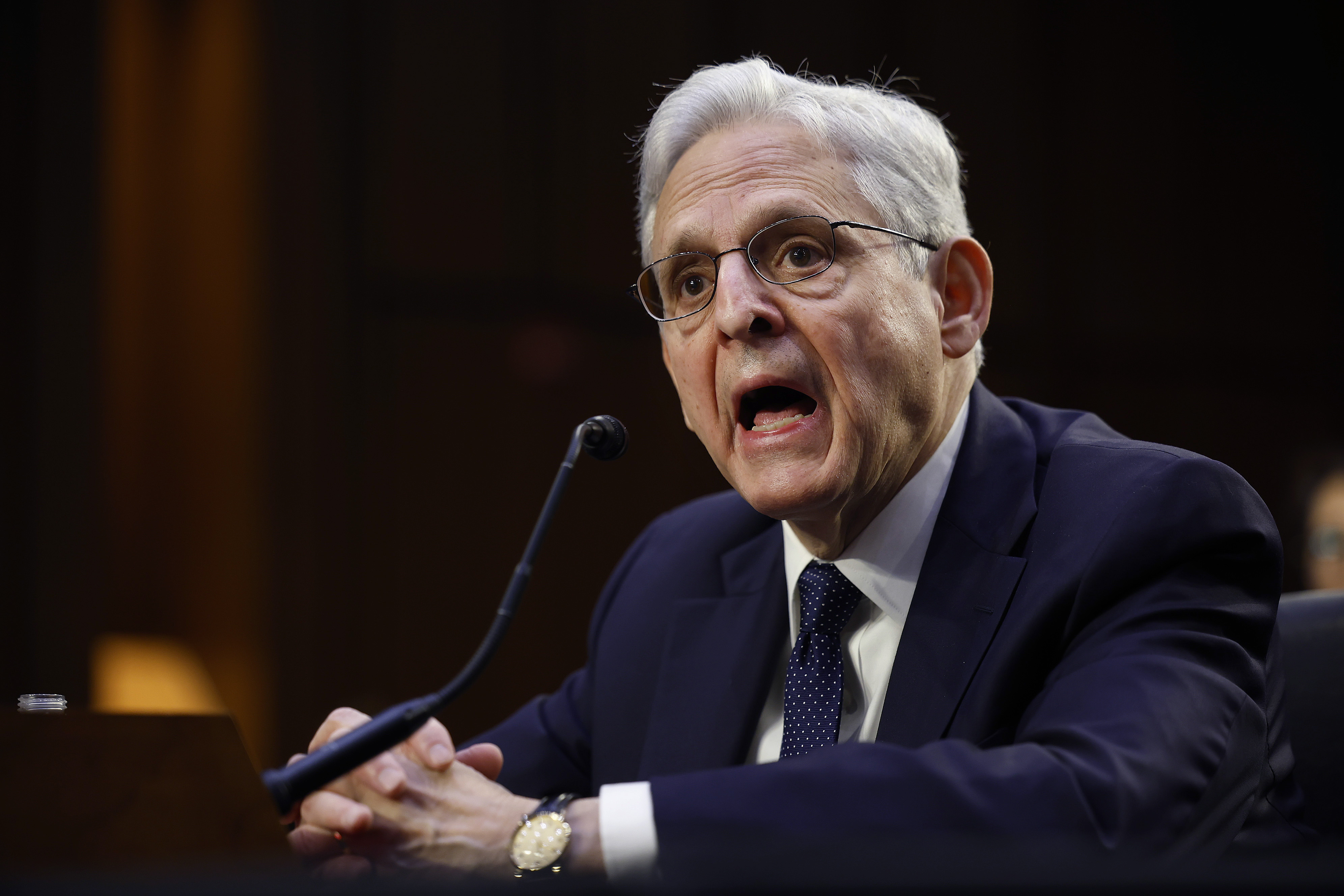 U.S. Attorney General Merrick Garland faced a grilling from Republicans on the Senate Judiciary Committee on Wednesday as they questioned him about fentanyl, the safety of Supreme Court justices, and the FBI's treatment of anti-abortion activists.
Garland sat before the Senate Judiciary Committee for four hours and was met with aggressive questioning from Republican members of the committee in what is likely a sign of the approach the GOP will take in its investigations of the Biden administration.
While Democrats still have a majority in the Senate, the new Republican House Majority has already begun several probes into the administration and their colleagues on the Senate Judiciary Committee may have given an indication of the hostile stance the GOP intends to take.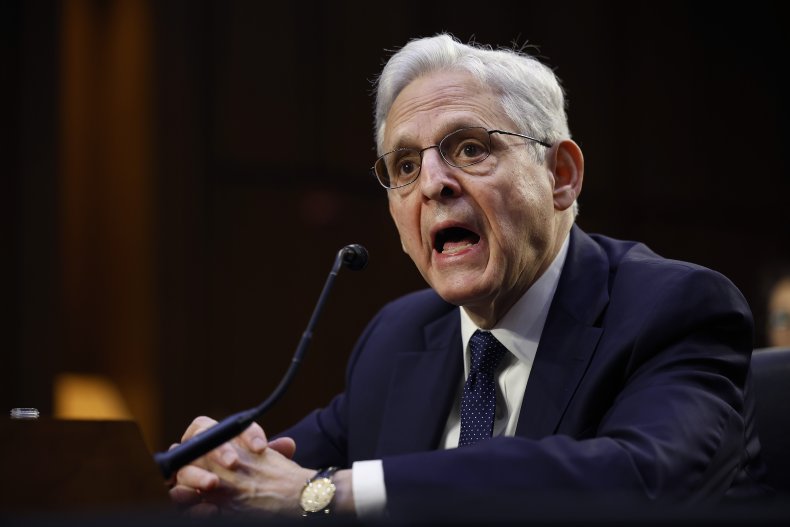 U.S. Attorney General Merrick Garland testifies before the Senate Judiciary Committee in the Hart Senate Office Building on Capitol Hill on March 01, 2023 in Washington, DC. Garland was grilled by Republican senators on a variety of issues including fentanyl, the Supreme Court leak and a probe into former President Donald Trump. Chip Somodevilla/Getty Images
Republican Senators Grill Garland
Some Republican members of the committee took aim at Garland over what they view as bias against conservatives within the Department of Justice, though major issues such as drug deaths were also a prominent feature.
Senator Marsha Blackburn of Tennessee told Garland: "You have one tier of justice for people that are conservatives and another for those that are on the left."
In another exchange, Senator Lindsey Graham of South Carolina addressed deaths from fentanyl and appeared to accuse the DOJ of not doing enough.
"This is a war—act like it—do something," Graham said, quoting a mother who lost two sons to overdoses.
"So, 106,000 people die from drug overdoses—70,000 from fentanyl last year—it's getting worse. The leading cause of death for Americans age 18 to 45 is death by fentanyl poisoning. What are we doing?" Graham asked.
The attorney general replied that tackling the problem was a priority and directly referenced drug cartels.
"It's a horrible epidemic, but it's an epidemic that's been unleashed on purpose by the Sinaloa and the new-generation Jalisco cartels," Garland said, referring to two Mexico-based criminal organizations.
Hawley Accuses DOJ of Surveilling Catholics
Senator Josh Hawley of Missouri accused the Department of Justice of spying on Catholics, citing a case involving Mark Houck, a Catholic anti-abortion activist who was accused of assaulting a 72-year-old man who was escorting a patient into a Philadelphia Planned Parenthood clinic prior to the 2022 midterm elections.
Houck had disputed the allegations but reportedly offered to turn himself in when he learned he was facing charges. However FBI agents raided Houck's home in full riot gear early in the morning of September 24 in front of his wife and children.
He was later acquitted after an hour of jury deliberations.
"You used an unbelievable show of force with guns that I note liberals usually decry," Hawley told Garland on Wednesday.
"You're supposed to hate long guns and assault-style weapons but you're happy to deploy them against Catholics and innocent children. And then you haul them into court for a jury to acquit them in one hour. I just suggest to you that that is a disgraceful performance by your justice department and a disgraceful use of resources," Hawley said.
Garland said the DOJ doesn't target groups based on their political or religious views and that the FBI agents who made the arrest disputed Houck's account of that day's events.
Hawley later shared an article to Twitter about his exchange with Garland that carried the headline: "Josh Hawley just DISINTEGRATED Merrick Garland for sending SWAT teams with guns to arrest pro-lifers."
Cruz Says Garland 'Did Nothing' on Supreme Court Leak
In another exchange, Senator Ted Cruz of Texas accused Garland of doing nothing after a draft Supreme Court majority opinion in the landmark abortion case Dobbs v. Jackson Women's Health Organization was leaked in May last year.
"You just said yes, it's a crime to protest at the home of a judge. Same goes for jurors, by the way, with the intent of influencing a case. But in the wake of the leak of the Dobbs decision, when rioters descended on the homes of six Supreme Court justices, night after night after night, you did nothing," Cruz said on Wednesday.
Cruz also asked about protesters outside Supreme Court justices' homes, saying: "But did you bring even a single case to enforce this law or did the Department of Justice decide this law doesn't apply if it's harassing justices for an opinion we don't like?"
The attorney general said that he ordered agents from the U.S. Marshal's office to defend the home of each Supreme Court justice, but eventually he said that, as far as he knows, the DOJ hadn't prosecuted any individuals accused of protesting outside of the justices' homes.
Trump and Biden's Classified Documents
Cruz also asked Garland about ongoing investigations into the handling of classified documents by both President Joe Biden and former President Donald Trump.
Wednesday was the first time Garland had testified before Congress following the appointment of two special counsels to investigate Trump and Biden, respectively.
"Your intention—and I believe it's a political intention—to indict President Trump, became infinitely harder when classified documents were discovered repeatedly at President Biden's multiple residences," Cruz said.
The senator also accused Garland of leaking details about the Trump investigation and keeping details about the investigation into Biden secret before the 2022 midterm elections.
"Does that strike you as at all a double standard?" Cruz asked, while Garland replied that "leaks under all circumstances are inappropriate."
The attorney general also said that the DOJ conducts all investigations fairly.
Cruz tweeted on Wednesday: "The Department of Justice has never been more politicized than under Merrick Garland's watch. He has completely discredited the agency, the FBI, and the Biden administration."
Newsweek has reached out to the DOJ for comment.