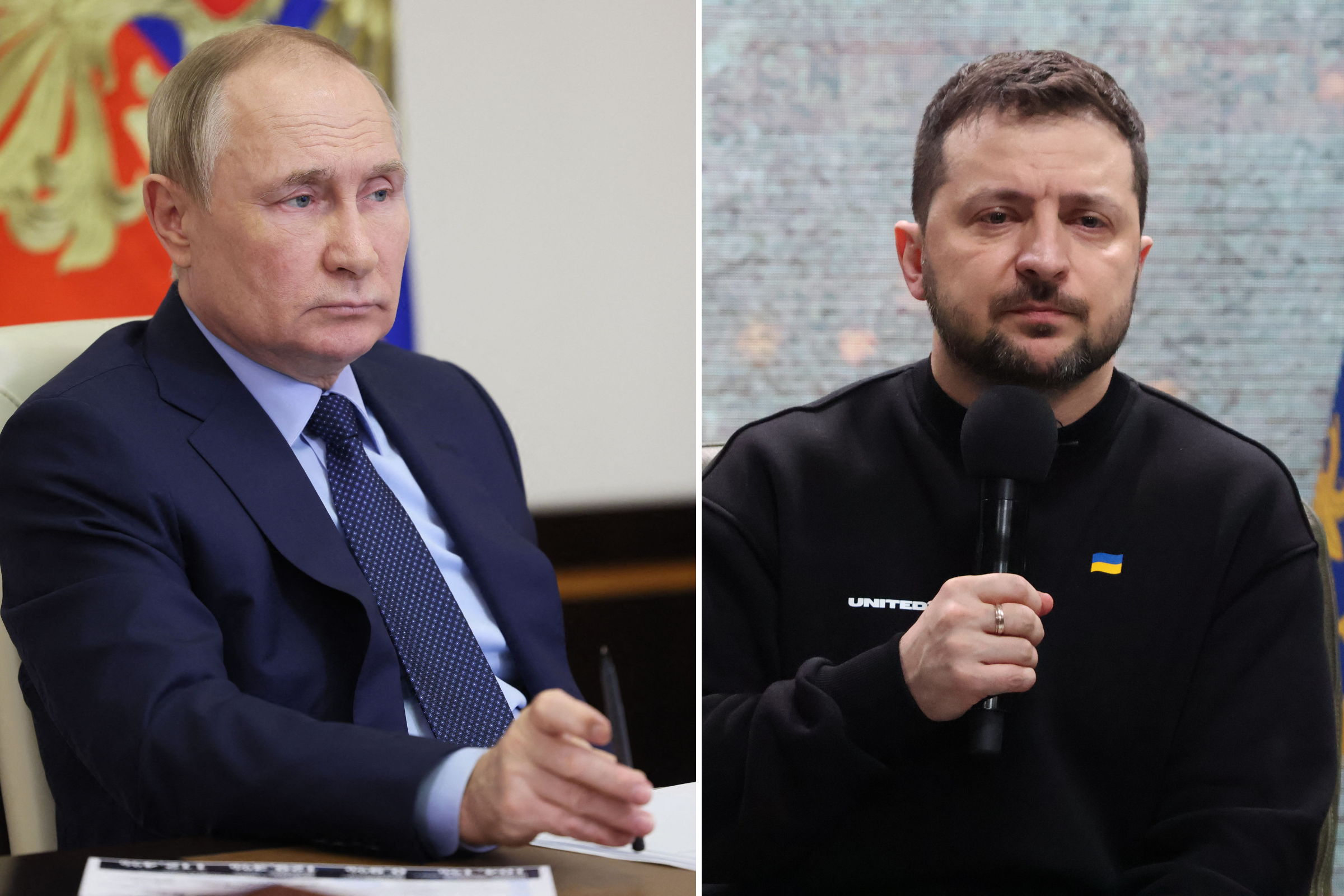 Russia's war in Ukraine has resulted in high casualty rates and large amounts of weapons expenditure on both sides.
Both militaries are also struggling with a lack of parts for their equipment and weapons, as well as maintaining political and public support for the war.
Due to issues both sides are experiencing, neither military may be able to launch major offensives in the coming months.
While the Russian and Ukrainian militaries currently each have their own sets of advantages and disadvantages, both forces share a number of common issues as the war continues on into spring.
"We have reached the point in the Russian-Ukrainian war when both sides are running into problems," Mark N. Katz, a professor at George Mason University's Schar School of Policy and Government, told Newsweek, citing issues related to everything from the troops on the ground to political support.
Russian President Vladimir Putin launched his war on Ukraine on February 24, 2022, and fierce fighting continues throughout the country more than a year later. Putin's military and Ukrainian President Volodymyr Zelensky's forces have both suffered high rates of casualties, as well as have expended large amounts of weapons. The war has taken such a toll that recent reports have indicated that neither side may be able to launch what were once expected to be large offensives this spring.
"One thing both sides have in common at this point is the large number of killed and wounded on both sides," Guy McCardle, managing editor of Special Operations Forces Report (SOFREP), told Newsweek.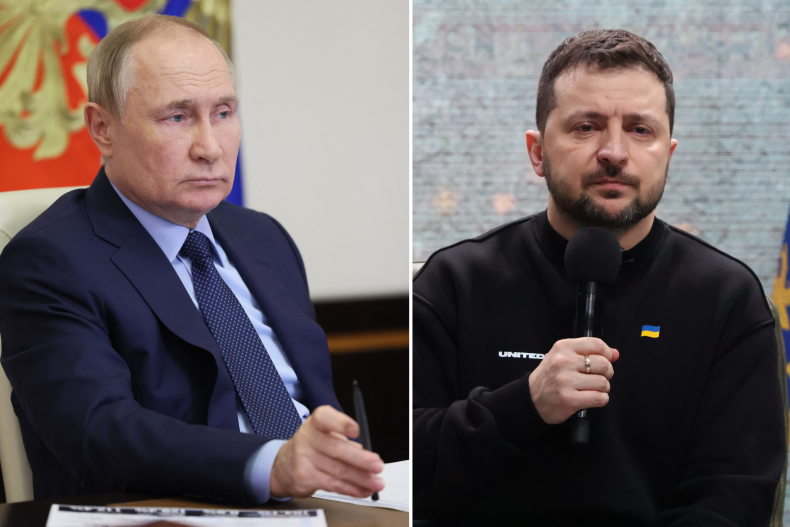 On the right of this split picture, Russian President Vladimir Putin participates in a videoconference at Novo-Ogaryovo residence, outside Moscow on March 6, 2023. On the right, Ukrainian President Volodymyr Zelensky speaks to the media during a press conference on February 24, 2023 in Kyiv, Ukraine. Ukraine and Russia's military both face similar problems going into spring. Photos by Mikhail Metzel/SPUTNIK/AFP/Yan Dobronosov/Global Images Ukraine/Getty Images
McCardle said Mother Nature will affect both militaries as Ukraine's spring thaw—known as the rasputitsa—will result in a muddy terrain that makes traveling by armored vehicle very difficult. Beyond making travel slow, it's difficult to extract heavy machinery that gets stuck in the country's thick mud.
Armored vehicles present other challenges as well. McCardle said that "parts for the repair of Russian armor will be scarce, and if the newer Ukrainian tanks donated from the West break down, they must be hauled out of the country to be repaired."
Those Western tanks—such as promised German-made Leopards and U.S.-supplied M1 tanks—have been "slow getting to Ukraine," according to McCardle.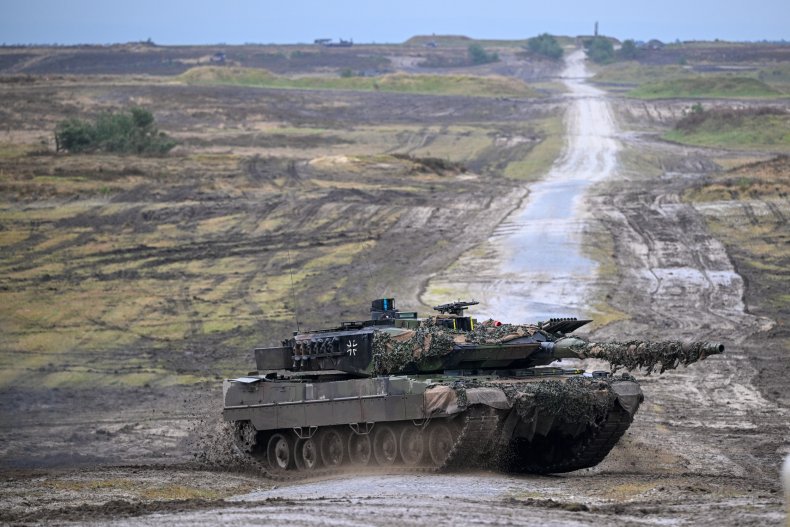 A Leopard 2 A6 main battle tank carries out manoeuvres during a visit by German Defence Minister Boris Pistorius to the Bundeswehr's Panzerbataillon 203 tank squadron on February 1, 2023, in Augustdorf, Germany. Germany will supply the armed forces of Ukraine with Leopard 2 tanks and has begun training Ukrainian tank crews. Some speculate the warm spring and increase of mud will hinder Russian troops. Sascha Schuermann/Getty Images
"With what they currently are using, it's hard for them [Ukrainians] to do a head-to-head offensive against the remaining newer Russian main battle tanks," McCardle said. "Spare parts for many Soviet-made systems on the Ukrainian side are becoming scarce as well, and the Ukrainians are largely at the mercy of the west to seller give them the supplies they possess."
Both sides are facing issues with producing replacements for lost equipment and weapons, according to Katz.
"Even those Western states supporting Ukraine are running into manufacturing issues, as well as concerns about keeping enough weapons supplies for their own needs," he said. "Russia too is experiencing manufacturing issues, and has fewer suppliers—mainly Iran and North Korea—than Ukraine does. A Chinese decision to export weapons to Russia could make a major difference, but will involve serious consequences for Beijing which it might well prefer to avoid."
Northwestern University political science professor William Reno told Newsweek in an email that high casualty rates have greatly impacted both forces.
"Russian casualties are significant and likely play a role in Russia's lackluster performance across the line of contact," Reno said. "At the same time, Ukrainian casualty rates are high."
Reno added, "It's unclear which side benefits more, but a war of attrition against the Russian military is an unfavorable place for the Ukrainians to be. Russia can mobilize more soldiers and throw more soldiers like Wagner's prisoner recruits that Russia's leaders see as expendable."
Former U.S. Marine Corps Captain and State Department Officer Matthew Hoh told Newsweek that both militaries "have lost a lot of officers and commanders, likely including higher levels of command staff."
"These are men and women that need time and experience to perform well," Hoh, who is an associate director at Eisenhower Media Network, said.
Hoh also cited maintaining political and public support as a major hurdle for both nations.
"Russia's major challenge is to keep its public supportive of the war…That also means keeping other nations from going into the Ukraine camp as well as keeping nations, like Turkey, as strong trading partners," Hoh said.
"This challenge is shared by Ukraine. It needs to keep Western support for the war," Hoh added. "Withdrawing support for Ukraine has become a major political issue in both the U.S. Congress and now on the presidential campaign trail, and it is causing divisions as well in European capitals."
Hoh noted that recent opinion polls show that support among the U.S. population for providing assistance to Ukraine is waning.
Reno said, "Ukraine's government has to race against a clock. Western assistance won't be open-ended."
"Russia's clock is different," he said. "Putin's bet is that Russia cares a lot more about 'winning' in Ukraine than the West cares about Ukraine."