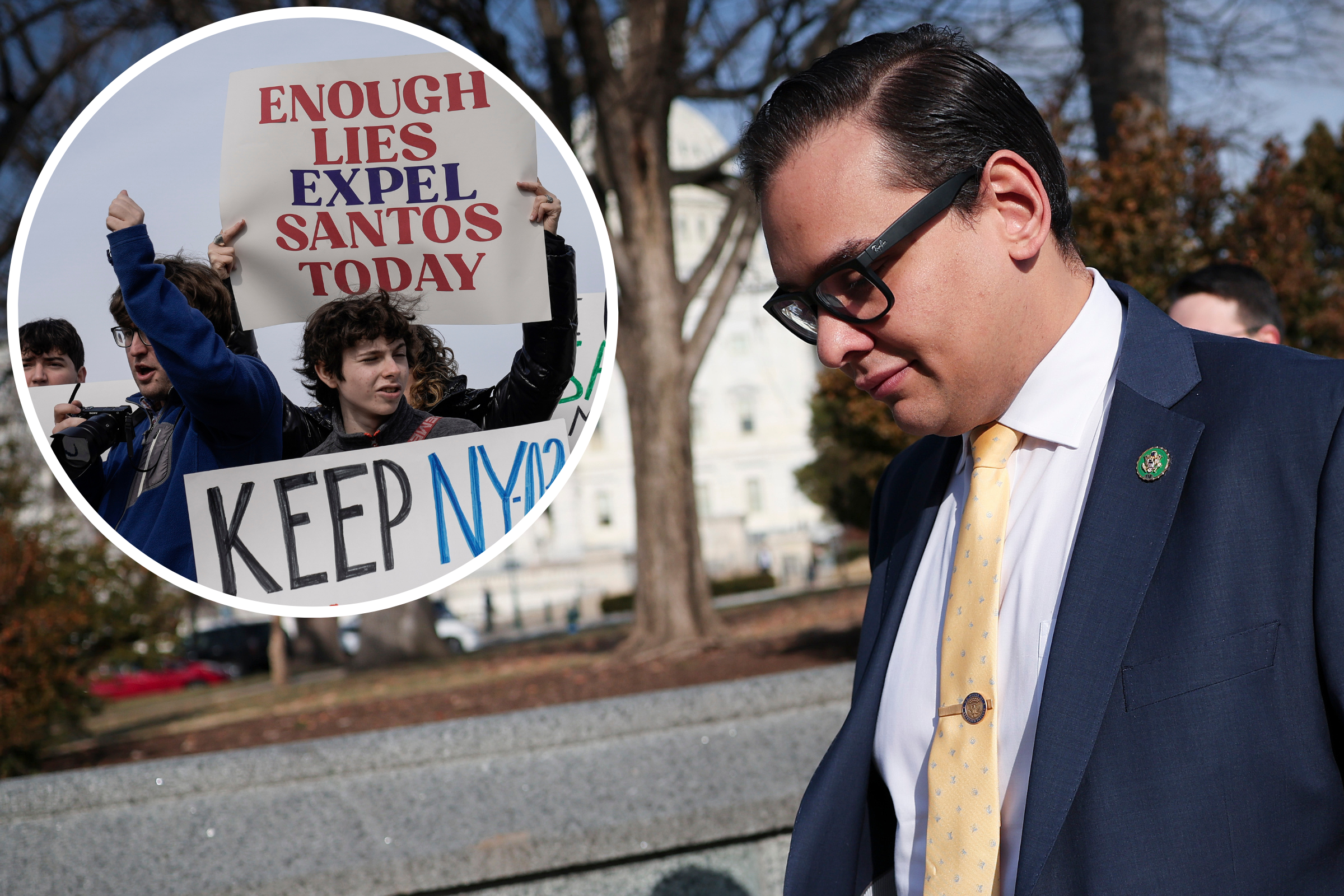 The walls are closing in on scandal-laden Congressman George Santos.
On Thursday, the House Ethics Committee announced it would formally be appointing a bipartisan panel to investigate the New York Republican amid a series of allegations he'd misled the public and members of Congress about numerous facets of his personal and professional background.
Santos also faces allegations of potentially submitting false or fabricated campaign finance statements to the Federal Elections Commission, leading to claims he may have had an undisclosed conflict of interest on the campaign trail and what has become a several weeks-long vacancy within his office after the resignation of his campaign treasurer this year.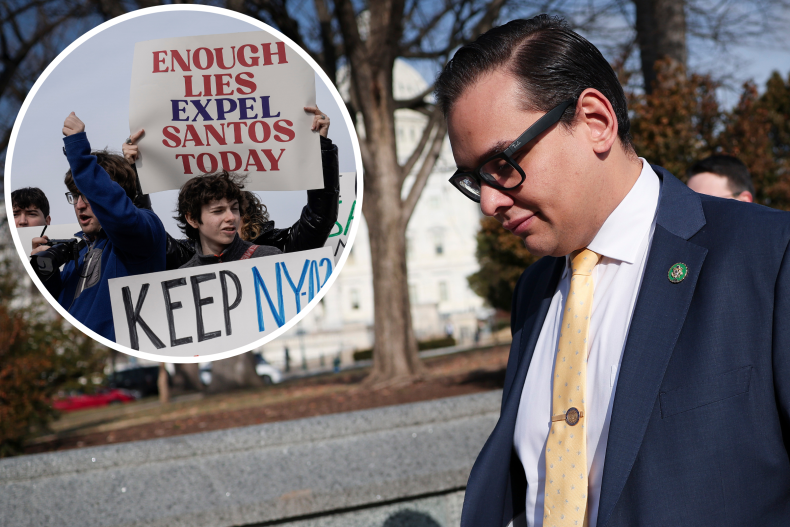 GOP Representative George Santos leaves the U.S. Capitol on January 12, 2023, in Washington, D.C. The inset shows constituents from his district demonstrating during a news conference outside the Capitol. On Thursday, the House Ethics Committee said it will appoint a bipartisan panel to investigate a flurry of allegations leveled against Santos. Drew Angerer/Win McNamee/Newsweek Photo Illustration/Getty Images
House investigators also announced Thursday their office intended to look into allegations Santos groped a former aide seeking full-time employment in his office—a claim Santos has dismissed as "comical."
Reached for comment, a Santos spokesperson referred Newsweek to a nondescript statement Santos made on Twitter saying the congressman is "fully cooperating" with the committee's investigation.
"There will be no further comment made at this time," he wrote.
The House Committee on Ethics has opened an investigation, and Congressman George Santos is fully cooperating. There will be no further comment made at this time.

— Rep. George Santos (@RepSantosNY03) March 2, 2023
In its release, members of the House Ethics Committee—which consists of five Republicans and five Democrats—noted the establishment of an investigative subcommittee does not necessarily mean any wrongdoing occurred.
It also does not necessarily mean Santos—who has faced calls to resign from colleagues of both parties—faces an imminent dismissal from Congress: According to the House rules, the House Ethics Committee's powers are limited to the ability to issue advisory opinions and investigate potential ethics violations that the full House of Representatives can then vote on.
If a motion is brought as a result of the investigation, Santos' expulsion from Congress is likely a long shot. Two-thirds of all members of Congress—in this case, dominated by Republicans—would need to support the effort.
And even then, the punishment is exceedingly rare. Throughout its history, just five members of the House of Representatives have been expelled, while the most recent effort to expel a member—2021's Democratic-backed move to expel Georgia Congresswoman Marjorie Taylor Greene—failed to earn the support of then-House Speaker Nancy Pelosi.
While the list of Republicans who have called for Santos' resignation so far represents just a small contingency of the Republican conference—and House Speaker Kevin McCarthy has acted with leniency toward Santos—history has shown members are willing to turn even on colleagues in their own party in light of more egregious violations of the House codes of conduct.
While short of calling for his expulsion, the most significant example likely came in 1997, when all but 28 members of the House of Representatives voted to censure then-House Speaker Newt Gingrich for using tax-exempt money to promote Republican goals, then lying about it to members of the House Ethics Committee during the course of its investigation.