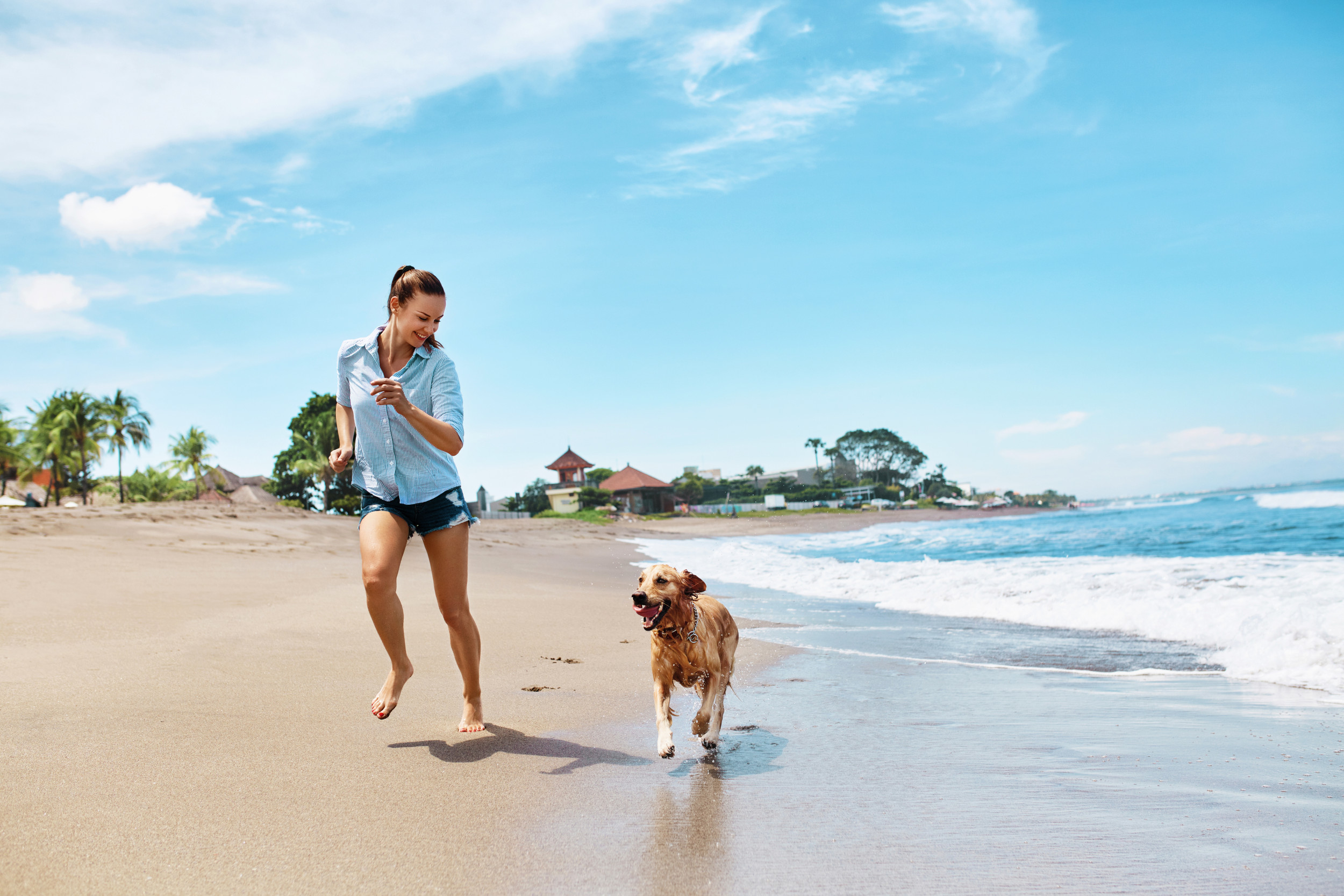 A video of a golden retriever dog walking along sunny sands with her owners has delighted audiences across TikTok.
In the now-viral clip, the dog can be seen strolling happily alongside its paw-rents at a busy beach. The video's creator hints that the pup can be quite mischievous when visiting beaches, and is prone to running off and greeting other holidaymakers.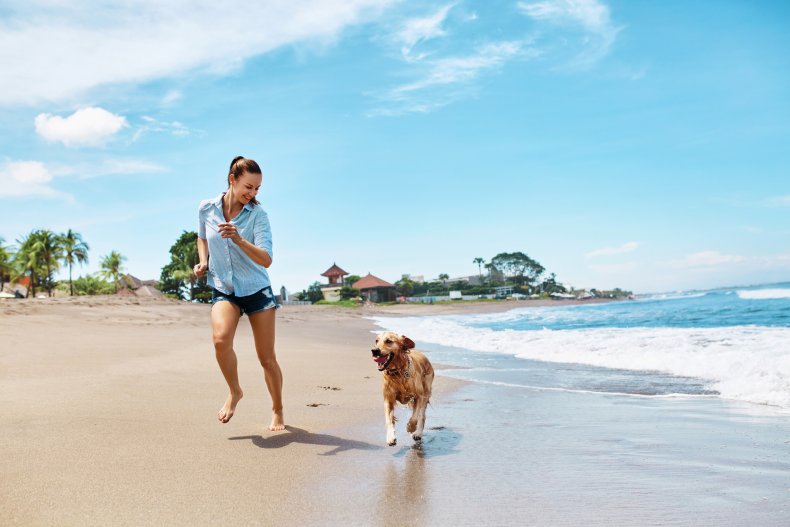 Stock image of a golden retriever running along a beach with a woman. The TikTok video of the pup enjoying the beach has been viewed more than 200,000 times. Getty Images
Xena the golden retriever and her sibling Finn have amassed quite the following online. With 243,000 followers on Instagram and 846,000 followers on TikTok, the retriever duo are seasoned content creators. Their owners use their account to work with brands and market pet supplies.
"You may have a loyal dog but I have a Xena, and she will abandon me for every other family at the beach with no shame," the dog's owner wrote across the video. The TikTok post has been aptly captioned: "See ya never."
Since it was first shared to the social-media platform on March 1 by @GoldenGirl_Xena, the post has been viewed over 200,000 times and liked by more than 24,000 users.
"My Golden Retriever will drop me like a hot potato for anyone new," one user wrote under the post.
"My Remi would happily pack his bags and move tomorrow if given the opportunity. He loves me but he's certain he could do better," another added.
A third user commented: "Mine knows zero strangers. She'd happily go off with anyone and everyone."
"She's just keeping them company for a bit," shared another TikTok user.
How Can You Keep Your Dog Under Control at the Beach?
Dogs typically love running free on a beach, but letting them run wild off-leash could land them in all sorts of trouble. The pet charity PDSA says that owners should always check whether the beach they're planning on visiting is dog-friendly first. If it is, then the charity advises owners to be mindful of hazardous objects like shards of glass that could be on the sand.
"Drinking salty sea water can give your dog a nasty bout of sickness and/or diarrhea, and in some cases can make them seriously ill and dehydrated. Always take plenty of fresh tap water, along with a travel bowl," PDSA adds.
Newsweek reached out to @GoldenGirl_Xena on TikTok for comment.
Do you have funny and adorable videos or pictures of your pet you want to share? Send them to [email protected] with some details about your best friend, and they could appear in our Pet of the Week lineup.