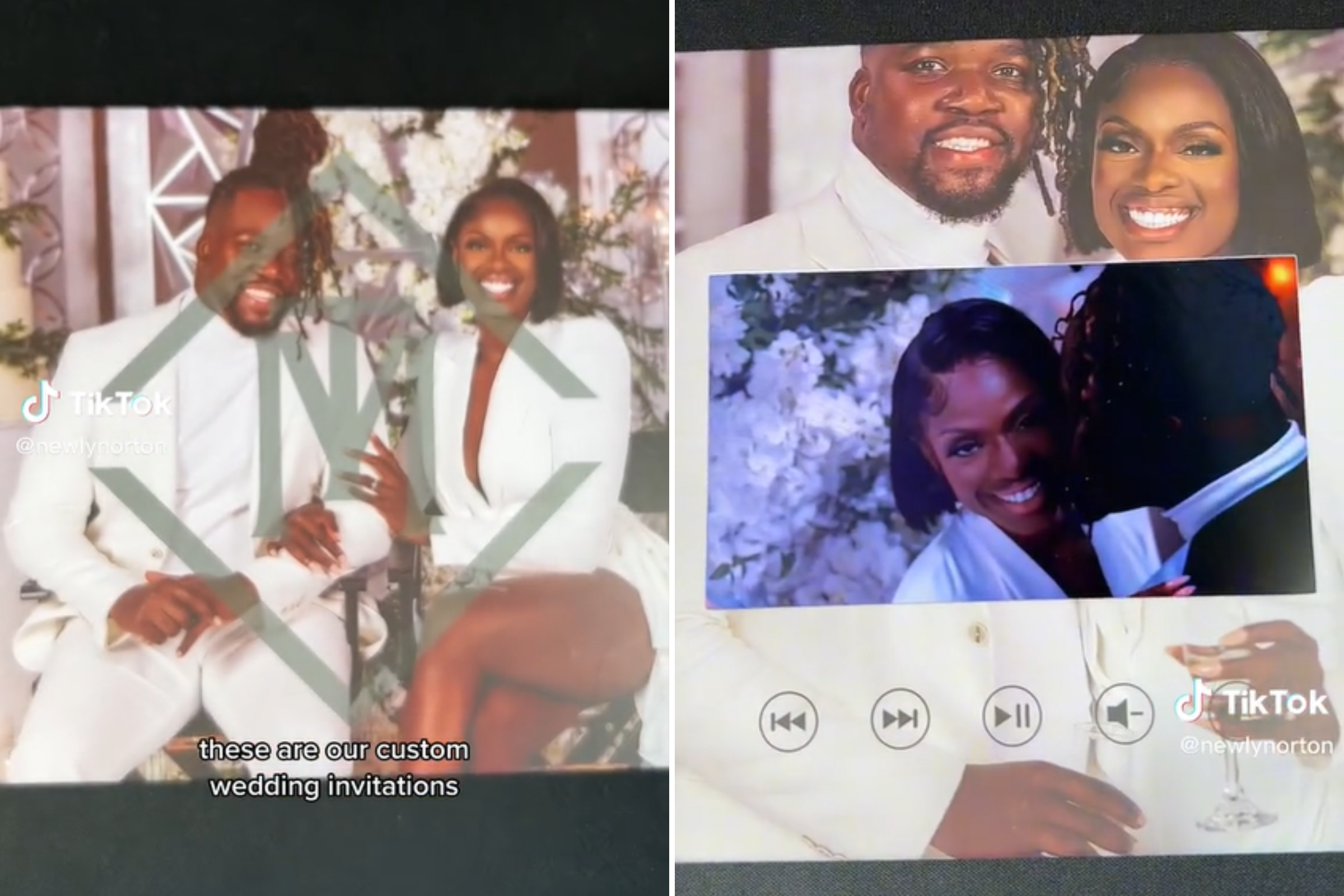 A unique wedding invite is taking over the internet, with users dubbing the idea "perfect" and "extra."
The video postcard was recently shared to TikTok by bride-to-be Toni's friend @prettyblack508, with users blown away by the innovative invitation.
"THIS IS A WEDDING INVITE," @prettyblack508 wrote alongside the post. "GAME CHANGER!!!"
The invitation contains a personal message from Toni and her fiancé Miles, informing guests of the wedding date, dress code and other details.
The footage was filmed behind the scenes at the couple's engagement shoot and was sent out to 160 people.
TikTokers were wowed by the design, with the video receiving over 5 million views and almost 730,000 likes.
'We've Created a Lot of Buzz'
2022 was a boom year for the wedding industry. The COVID-19 pandemic may have put ceremonies on hold temporarily, but it didn't take long for the industry to catch up post-lockdowns.
According to market research firm The Wedding Report, an estimated 2.5 million weddings were planned for 2022, with another 2.24 million nuptials scheduled for 2023.
In its list of the top wedding trends for the year ahead, Brides.com says that couples are striving to "make their weddings entirely their own"—and Toni and Miles are certainly making innovation a priority.
"We've created a lot of buzz with our out-of-the-box ideas," 32-year-old entrepreneur Toni told Newsweek.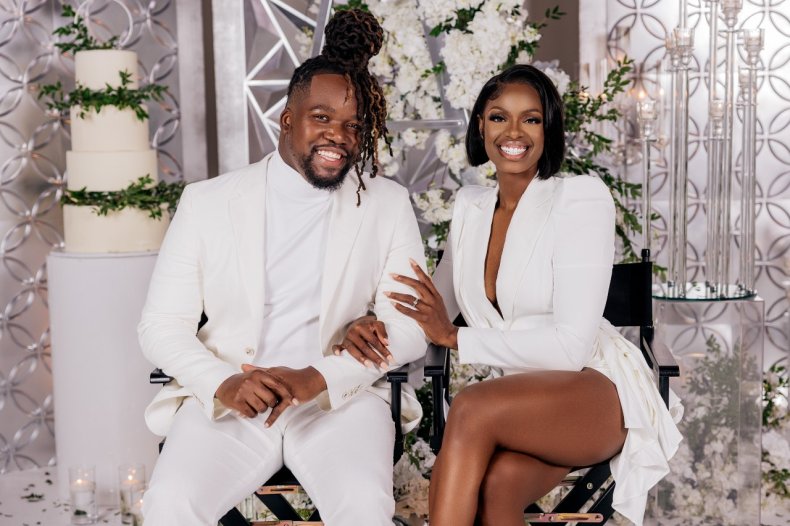 Toni and Miles met over Twitter in 2020 and got engaged on Christmas Day in 2021. Stanlo Photography/@stanlophotography/@NewlyNorton
She met 35-year-old Miles, who works in the nuclear industry, on Twitter in 2020. Their first date was on Toni's birthday, and it wasn't long before the couple was taking road trips together and visiting exotic locations.
It was on one of these vacations, roughly two months after their first meeting, that Toni realized Miles was the man for her.
"He proposed on Christmas Day 2021," she said.
"After spending the day with family, we were wrapping up to leave. He got down on one knee and said I had one last present."
Still, they waited almost a year to start planning, as they wanted time to really consider what their dream wedding should look like.
When it came time to send out the invitations, Toni decided to be creative.
"Miles said 'don't go crazy on the invitations, people tend to throw them out,' and me being a Taurus was thinking 'what would make people keep them?' she said.
The couple's wedding planner, De'Veilope Events, helped to create the video invitation. They put together a set in Raleigh, North Carolina, and hired Digital Age Media to film the couple's engagement shoot—photographed by Stanlo Photography.
"We decided to do a behind-the-scenes of the engagement shoot, and then sit down and film a one-minute-long video for our family and friends to invite them formally to the big day," Toni said.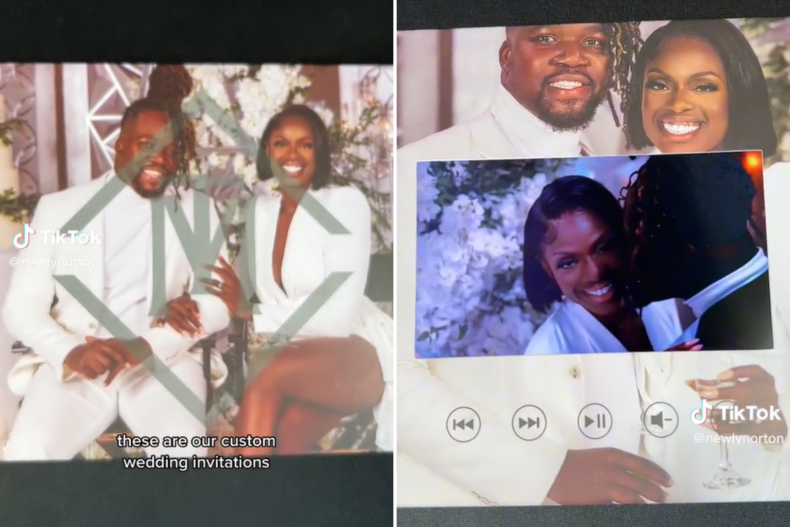 Toni and Miles' video wedding invitations blew TikTok users away. @NewlyNorton
Despite the distinctive nature, Toni said the video postcards cost about the same as custom paper invitations.
"We are holding onto one invitation for one lucky follower and their guests," Toni said.
"We've shared our relationship with our socials from the beginning, and because of that we've gotten a lot of requests from people we may not have met but definitely 'know,' so we wanted to give our followers an opportunity to come to the big day.
"We have an opportunity on our website for people to sign up to 'win' an all-expenses-paid trip to our wedding."
Rather than creating a gift registry for themselves, the couple has made one for their guests instead. Attendees can choose a present for themselves, with items ranging from cashmere robes to candles.
The event will take place in Greensboro, North Carolina, with the ceremony to be streamed live on TikTok.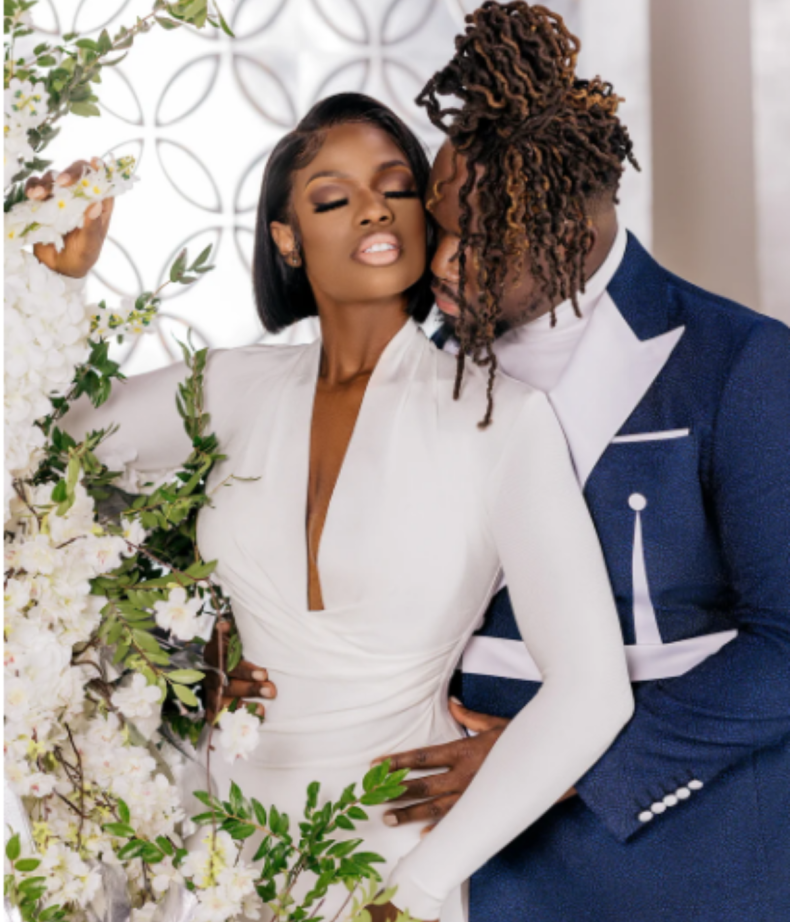 The couple will be getting married in Greensboro, North Carolina. Stanlo Photography/@stanlophotography/@NewlyNorton
'Wedding About to Be Fiya'
The invitations created a stir online, with MorggsT2Much commenting: "The bar has been raised, SIGNIFICANTLY."
"Wedding about to be fiya," agreed KeepinupwithCrys.
"No way," said Steve-n. "I can't believe how impressed I am."
"Oh I would definitely be stealing the center pieces at this one," joked Z Wood.
"It's screaming rich and I'm loving it," commented Mahafsoun.
While Jess wrote: "The part I love the most is [that] you can tell they worked together on this, a great prologue of mutual support for the life to come."