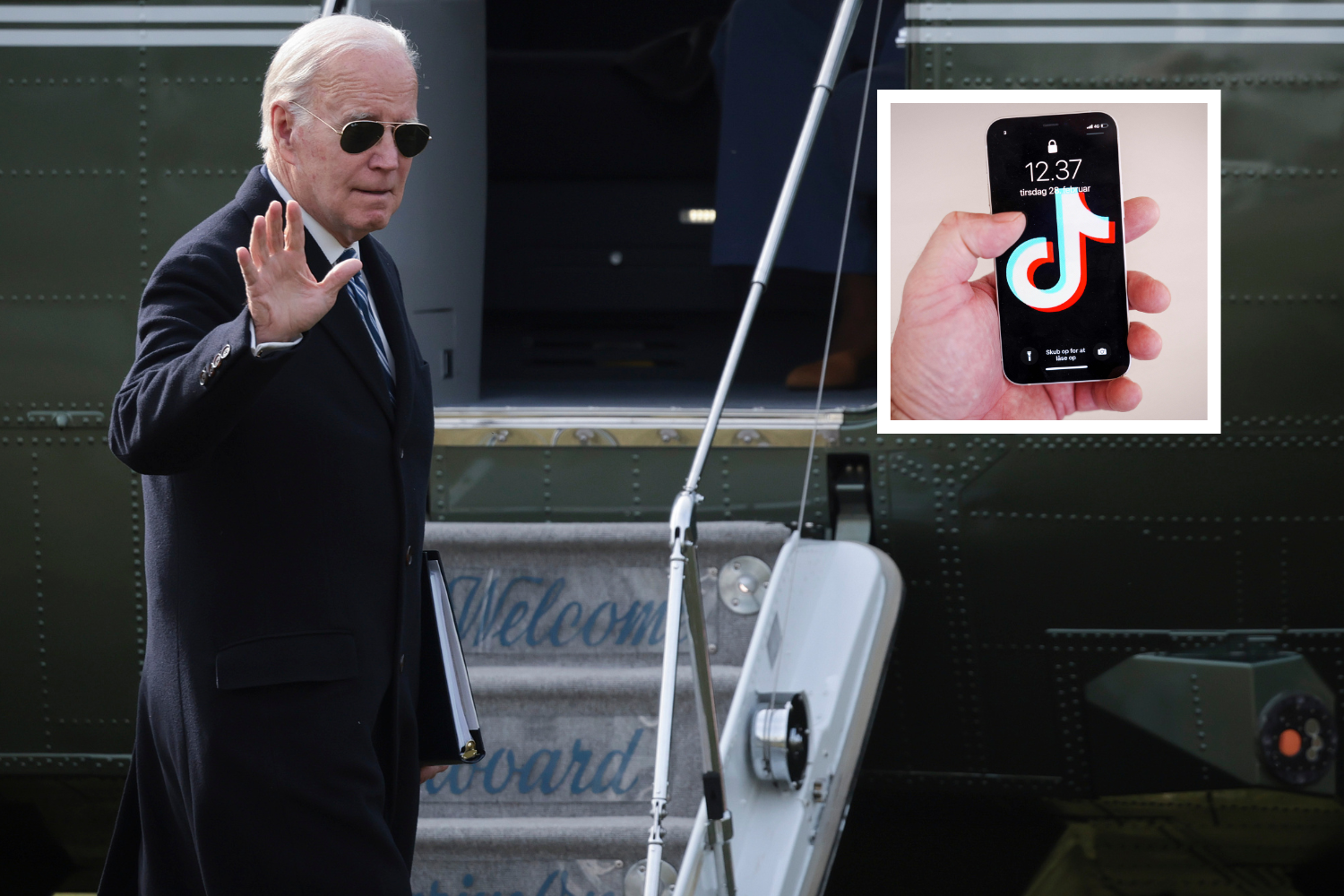 The White House has given all federal agencies 30 Monday to remove the social media app TikTok from government devices as part of an effort to improve national security.
The Biden administration's clampdown on the Chinese-owned platform comes following the passing of a bill in Congress at the end of last year to remove the app from government-issued technology for nearly 4 million federal employees.
The U.S. House Foreign Affairs Committee is now planning to bring legislation that would grant the president the authority to ban the app from all U.S. devices if he sees fit.
A White House memo sent to department and agency executives on Monday by Shalanda Young, director of the Office of Management and Budget, said government bodies would also have to prevent internet traffic from federal IT equipment to TikTok, and establish an internal process for adjudicating exceptions.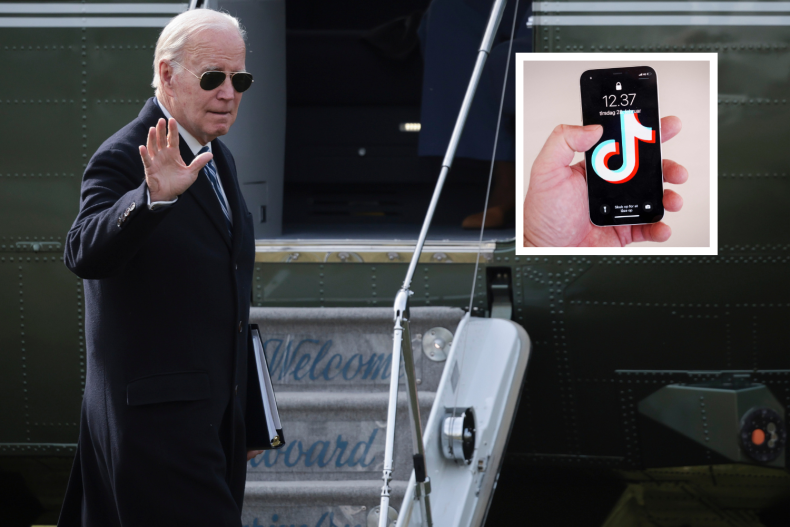 U.S. President Joe Biden returns to the White House February 27, 2023 in Washington, D.C. and, inset, a hand holding a smartphone with the TikTok app on screen. The White House has given federal agencies 30 days to remove the app from government devices. Win McNamee/BO AMSTRUP/Getty Images/Ritzau Scanpix
Those exceptions to the app's use include law enforcement, national security activities and security research.
The White House memo also stipulated that agencies would have to address the use of TikTok by contractors within 90 days or cease using the contract. They have 120 days to implement a prohibition in all new contracts.
"This guidance is part of the Administration's ongoing commitment to securing our digital infrastructure and protecting the American people's security and privacy," Chris DeRusha, the federal Chief Information Security Officer, stated to multiple outlets.
While only impacting a small number of the more than 113 million U.S. TikTok users, the government ban will fuel calls for an outright prohibition as Congress discusses just such a measure. Several government agencies—including the White House, the Department of Defense, and the State Department—have already implemented their own bans.
The government ban arose from concerns that TikTok could be used by China to spy on government officials. National security fears have been heightened in recent weeks after a surveillance balloon, which U.S. officials are confident came from China, drifted over the continental U.S. before being shot down.
Representative Michael McCaul, a Republican and chairman of the House Committee on Foreign Affairs, who introduced the bill looking to allow an outright ban of TikTok, described the app as "a spy balloon into your phone."
The American Civil Liberties Union has spoken out against the legislation, writing to McCaul on Monday to claim that it would violate Americans' first amendment rights.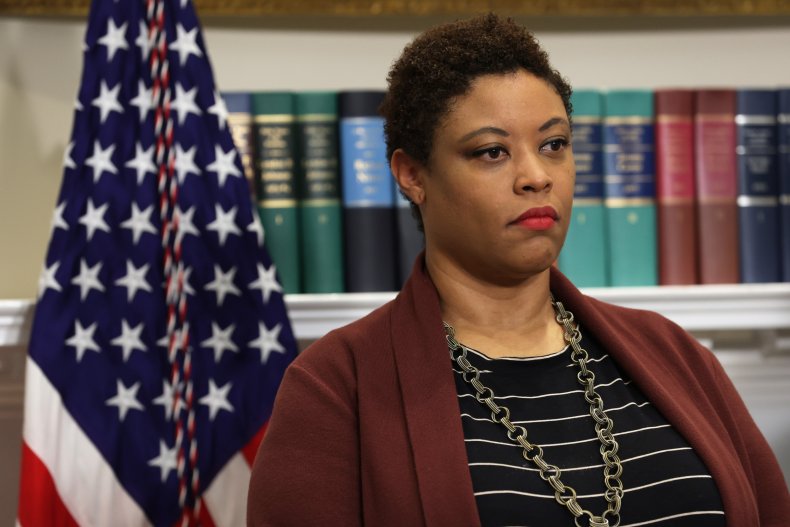 Office of Management and Budget Director Shalanda Young in the Roosevelt Room of the White House on October 21, 2022 in Washington, D.C. Young issued a memo on Monday giving federal agencies hard deadlines on the TikTok ban. Alex Wong/Getty Images
Reacting to the White House's move, Mao Ning, spokesperson for China's Ministry of Foreign Affairs, told a press briefing on Tuesday that Beijing "firmly" opposed the "wrong actions."
"How unsure of itself can the world's top superpower be to fear a young people's favorite app like that?" she said. "The US.. has been over-stretching the concept of national security and abusing state power to suppress foreign companies."
Newsweek reached out to the White House for comment.
On Monday, Canada also announced a ban on the app from government devices, citing security concerns. Similar action has been taken in the European Union and Taiwan.
In July, a report by an Australian-U.S. cybersecurity firm found that TikTok collects "excessive" amounts of data on its users, far more than other apps. One of the authors of the report also noted that it used "aggressive" techniques to gain permission for that data harvesting. Tiktok at the time described the accusations as "baseless."
A recent poll commissioned by Newsweek found that a majority of Americans believe that the app poses a threat to national security, with only 13 percent of the 1,500 people asked disagreeing.
A TikTok spokesperson told Newsweek that the ban of the app from federal devices was "little more than political theatre" and an "approach has served as a blueprint for other world governments."
With reference to the proposed bill to ban the app outright, they added: "It would be unfortunate if the House Foreign Affairs Committee were to censor millions of Americans, and do so based not on actual intelligence, but on a basic misunderstanding of our corporate structure."
Update 02/28/23, 1:10 p.m. ET: This article was updated to include comment from a TikTok spokesperson.