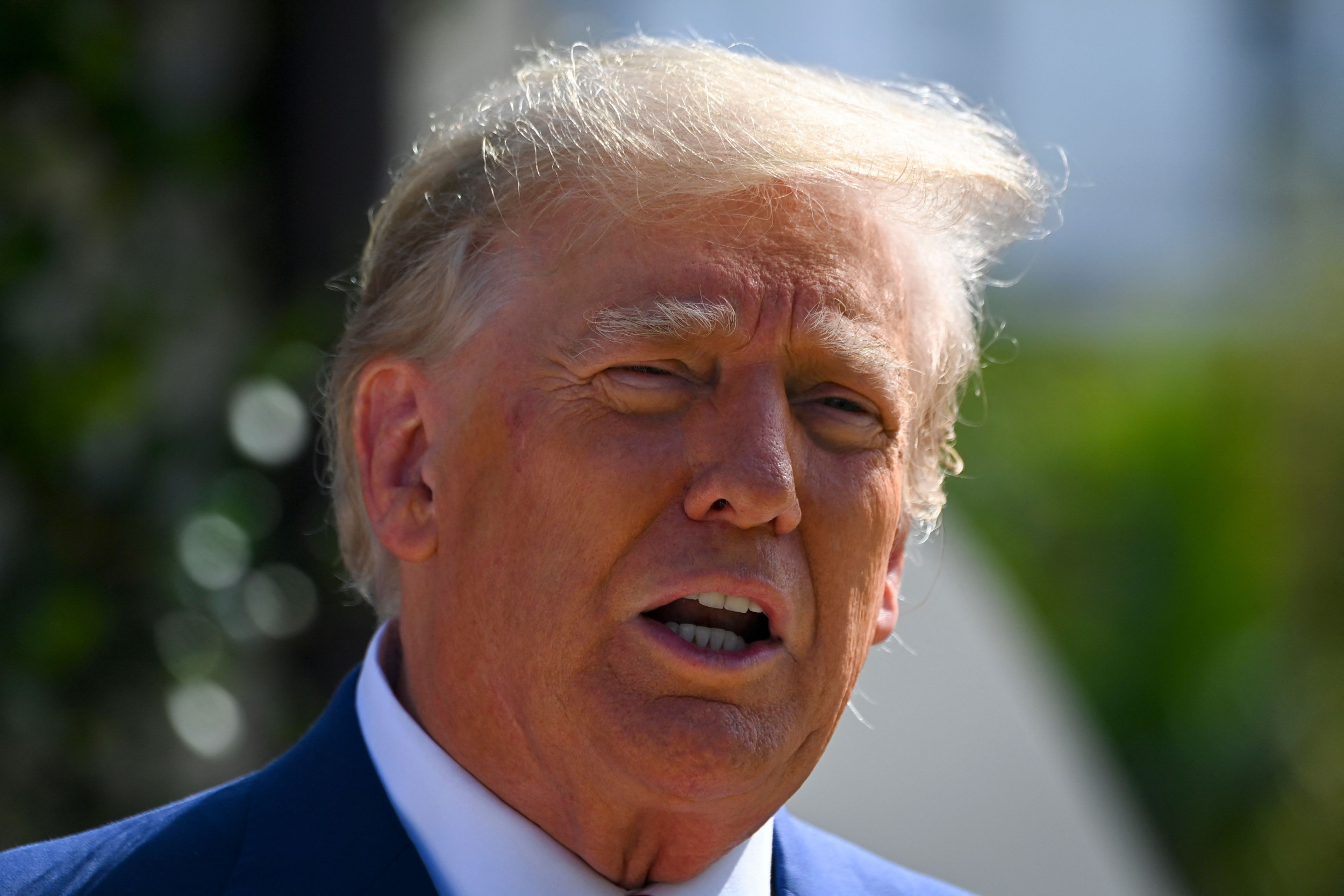 Donald Trump has returned to Facebook and YouTube and is extending his campaign for the 2024 GOP presidential election.
This could be bad news for his own social media platform, Truth Social.
Trump may choose to use other social media sites, like Twitter, to communicate with supporters and raise money for his campaign
Former President Donald Trump's return to Facebook could spell trouble for his social media platform, Truth Social, as the Republican ramps up his campaign for the 2024 GOP presidential nomination.
Trump announced his official return to Facebook on Friday with an all-caps post that declared, "I'M BACK!" but he has continued to use his own social media to communicate with supporters.
The former president's new post on Facebook comes ahead of his first 2024 campaign rally, which will take place in Waco, Texas on March 25 as he begins his push to win his party's nomination a third time.
YouTube also reinstated Trump's channel on Friday and his suspension from Twitter was lifted in November 2022 following its purchase by billionaire Tesla CEO Elon Musk.
Though Trump has so far made no indication that he'll start tweeting again, his reinstatements could spell trouble for Truth Social and the former president may be tempted by the more prominent social media sites' reach and the potential benefits to fundraising.
Some on social media suggested that he would return to Twitter and predicted disaster for Truth Social.
"It should come as no surprise that Trump's returning to all mainstream social media platforms given his looming felony indictment(s)… he is desperate. He knows Truth Social is a failure," tweeted entrepreneur William LeGate.
Rick Wilson, founder of the conservative Lincoln Project, wrote that "Donald Trump is secretly delighted by the collapse of TruthSocial."
"Why hassle with that when the major networks are all letting him back on with no real consequence, cost, or restriction," Wilson said.
Trump currently has an exclusivity deal with Truth Social that means he must share all his social media communications on the platform first and "may not make the same post on another social media site for 6 hours," according to SEC filings.
However, reports suggest that Trump is considering not re-signing the deal, which will expire in June. That would mean he'd be free to post what he wants on other sites first.
Ending that agreement, along with opportunities presented by other platforms, could spell trouble for Truth Social.
Facebook and Fundraising
Trump campaign spokesman Steven Cheung told Fox News Digital in January that returning to Facebook would be "an important tool for the 2024 campaign," and he noted that the social media platform could help with "advertising, grassroots mobilization and fundraising."
Joshua Tucker, director of NYU's Center for Social Media and Politics, told Newsweek in February that Trump's "ability to fundraise is going to be a real important signal about his viability within the Republican primary.
"And from that perspective, getting back on Facebook is vital to recreate the magic of the old campaigns where he brought in tons and tons of money from small donors that could play an important role in this kind of signaling development," Tucker said.
Mark Shanahan, an associate professor at the University of Surrey in the U.K, and co-editor of The Trump Presidency: From Campaign Trail to World Stage, told Newsweek on Saturday: "It would seem at the moment that Trump needs all the help he can get to drag his lackluster 2024 presidential campaign into the kind of limelight he enjoyed in 2016."
Shanahan said that Facebook and YouTube "will certainly amplify his messaging and, no doubt, get the dollars rolling into his campaign from his acolytes around the U.S."
A 'Grumpy Echo Chamber'
Former President Trump has made use of Truth Social in expressing his views, promoting his campaign and criticizing his opponents.
On Saturday morning, Trump took to the site to call for protests and said that he would be arrested on Tuesday in relation to an investigation by the Manhattan District Attorney's Office.
However, his recent use of Truth Social may not be an indication that he will continue to make it his primary social network.
Shanahan told Newsweek that "Truth Social has been a failure for the 45th president: a failure well beyond the levels of Trump Vodka, the Trump Airline and Trump the board game."
"This was the platform that was supposed to crush mainstream social media and cement a community of power around its favorite president. Instead, it has become a rather grumpy echo chamber of the odd – and not even of enough of the odd to make it relevant," he said.
A Return to Twitter?
Though Twitter gave Trump what the site described as a "permanent suspension" following the Capitol riot on January 6, 2021, the former president has now regained access to his account following the site's purchase by Musk.
Nonetheless, Trump hasn't yet returned to Twitter in the same way he's returned to Facebook. When he was asked about a return in November, Trump said: "I don't see any reason for it."
Trump was an avid user of Twitter before his ban in 2021 and Shanahan suggested to Newsweek that returning to the platform could benefit the former president's campaign.
"If Trump is to become the story that others must react to in the way he was in 2016, he needs to return to Twitter – the perfect brain-to-fingers-to-millions vehicle he used to bypass editorials and engage with the public seven years ago," Shanahan said.
"He has nothing new to say, but Musk's Twitter is far more 'Wild West' than 'Town Square.' If Trump can return unfiltered, he may still have a chance of sucking the oxygen of publicity from his rivals," he said.
Shanahan added that Truth Social "will never make him the center of attention again as he was en route to the White House. Facebook and YouTube can fan the campaign's flames – but it will take a plunge back into Twitter to light the fire."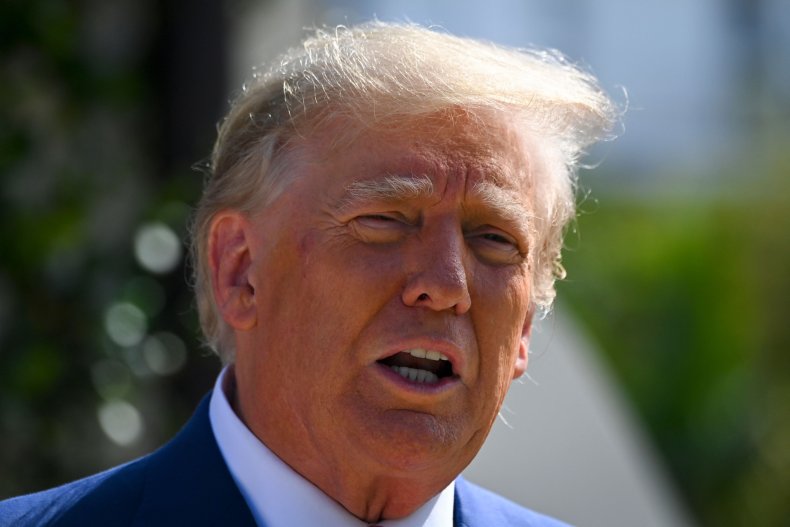 Former US President Donald Trump speaks to the media while departing a polling station after voting in the US midterm elections at Morton and Barbara Mandel Recreation Center in Palm Beach, Florida, on November 8, 2022. Trump has returned to Facebook and been reinstated on YouTube. EVA MARIE UZCATEGUI/AFP/Getty Images
Source