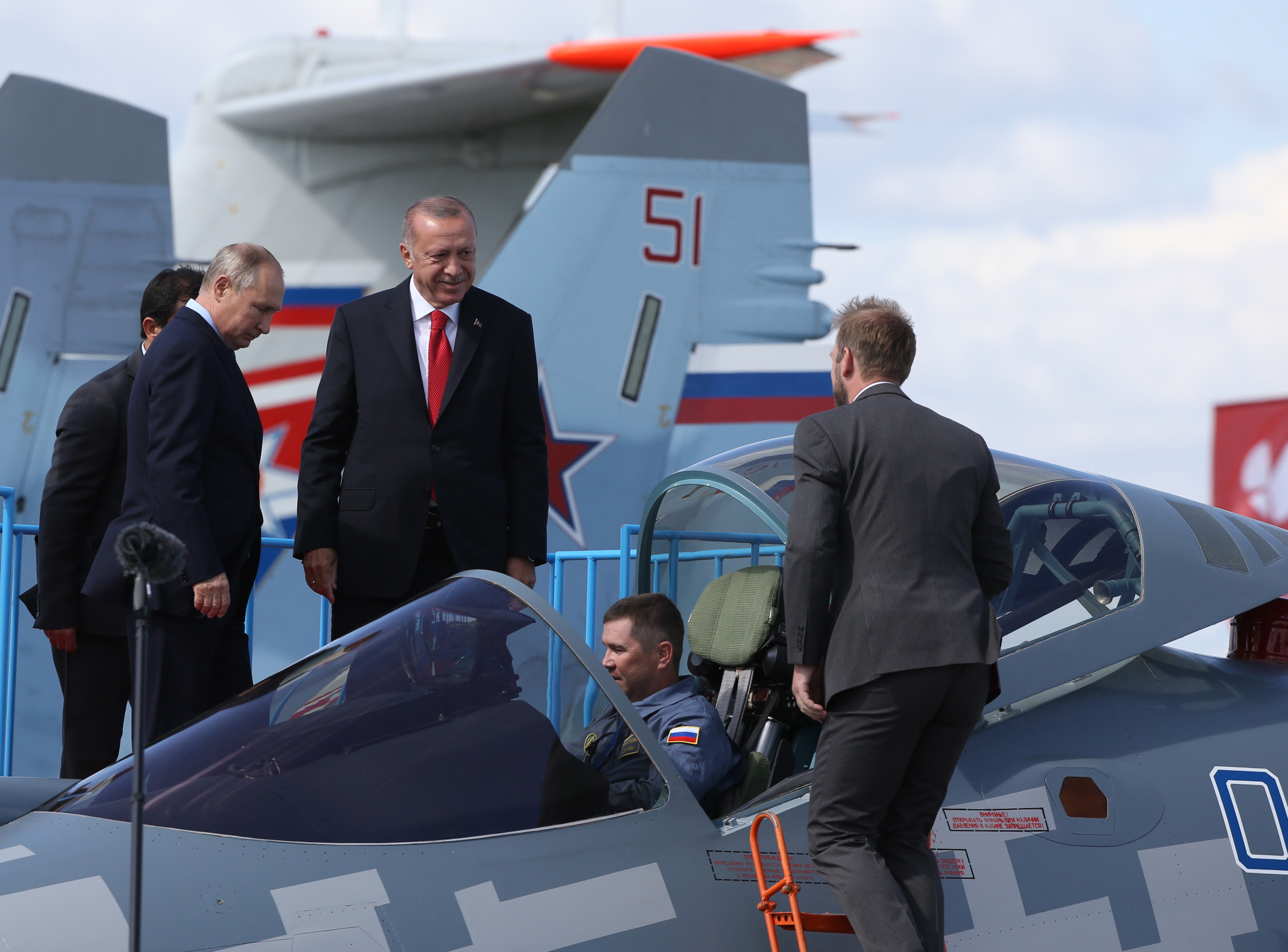 A simmering dispute between the United States and Turkey, officially known as Türkiye, over the supply of fighter jets has the potential to not only further disrupt bilateral ties but introduce a rift among NATO states at a time when Ukraine is seeking further aid, including aircraft.
This feud started in 2019, when Washington announced it was suspending the $2 billion sale of advanced F-35 aircraft to Ankara after it went through with the purchase from Russia of state-of-the-art S-400 surface-to-air missile systems.
Since then, yet another spat over fighter jets has emerged, as the U.S. has indefinitely held back the sale of an F-16 modernization package amid ongoing protests from lawmakers who want to see Türkiye first approve bids by Finland and Sweden to join NATO.
But even if this feud is resolved, which would require the two Nordic nations acceding to Türkiye's demands that they crack down on alleged Kurdistan Workers' Party (PKK) activity at home, Cagri Erhan, a member of Turkish President Recep Tayyip Erdogan's Presidential Council on Security and Foreign Policies, told Newsweek that "F-16s cannot in any case substitute F-35s."
Noting that "even the U.S. air force itself is no longer purchasing F-16s," Erhan argued that only the latest aircraft should be made available to Türkiye, especially as the F-35s have been sold to fellow NATO ally yet Turkish rival Greece.
"Why should Türkiye accept F-16s instead of F-35s, while the U.S. is selling F-35s to Greece?" Erhan, who serves as a rector at Altinbas University, asked. "As a matter of fact, the real problem is not the hesitance of US lawmakers to sell F-16s to Türkiye but to continue to block providing F-35s, for which Türkiye already paid 2 billion USD."
In the meantime, Erhan said Ankara was already eying other options, including platforms from both allies and non-allied nations. In fact, Erdogan has already warned he was looking at aircraft from China and Russia, along with European nations.
"Arms markets have growing number of sophisticated suppliers," Erhan said. "From North American and European NATO allies to Asian powers at least 15 companies are producing modern fighter jets. Seven out of 10 top advanced fighter jets are being produced by non-U.S. companies according to reliable aero ranking authorities. Three of them are European brands."
"Moreover, Türkiye has its own 'national fighter jet' program," he added. "Diversification both in brands and supplier sources is the only method to avoid future political noise of interest groups. Defense dependency to a single country often makes a country vulnerable to foreign political pressure."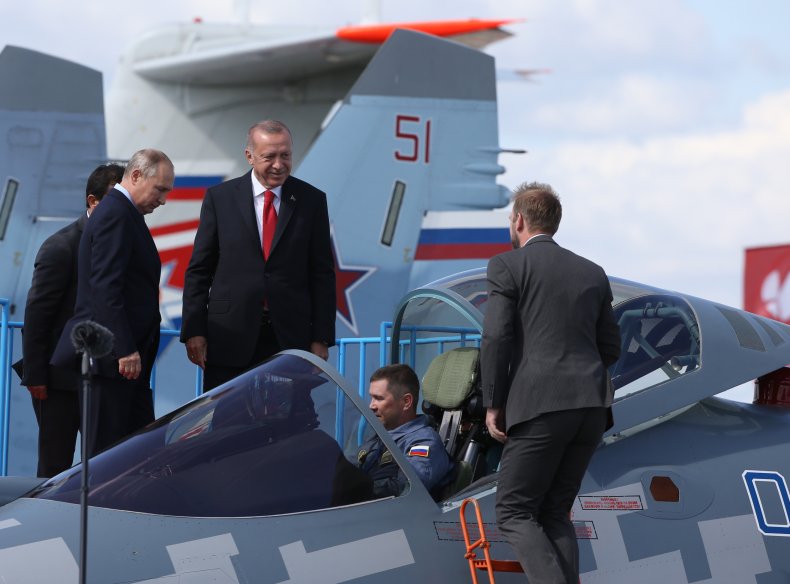 Russian President Vladimir Putin (L) and Turkish President Recep Tayyip Erdogan (R) observe a new Suhkoi Su-57 fighter jet while visiting the MAKS 2019 International Aviation and Space Showon August 27, 2019 in Zhukovsky, 25 miles east of Moscow, Russia. With two successive attempts to obtain fighter jets from U.S. stalled, Erdogan has eyed other options, including comparable platforms from Russia. Mikhail Svetlov/Getty Images
Such pressure could already be felt in Washington, where some leading lawmakers have called on President Joe Biden not to go through with the sale even of F-16s to Türkiye. Senior voices opposing this move include key members of the Senate Foreign Relations Committee, including the chair, Democratic Senator Bob Menendez of New Jersey.
Some 29 other senators issued a letter to Biden last month linking their own opposition toward selling F-16s to Türkiye to the country's refusal to ratify Finland and Sweden's NATO membership, something the legislators argued "threatens the Alliance's unity at key moment in history, as Russia continues its unprovoked invasion of Ukraine."
Erhan, however, argued that it was the efforts of anti-Turkish lobbying, including a nearly 60-year history of "biased and non-friendly behavior of certain political groups in U.S. politics," that was fraying the alliance.
"Those groups were and now are directly involved with anti-Turkish lobbies and use every opportunity to 'punish' Türkiye," Erhan said. "Their attitude did not and does not help to strengthen Euro-Atlantic alliance."
But Menendez, for his part, has said the issue stems even beyond the NATO ratification delay.
"As I have repeatedly made clear, I strongly oppose the Biden administration's proposed sale of new F-16 aircraft to Turkey," Menendez told Newsweek. "President Erdogan continues to undermine international law, disregard human rights and democratic norms, and engage in alarming and destabilizing behavior in Turkey and against neighboring NATO allies."
"Until Erdogan ceases his threats, improves his human rights record at home – including by releasing journalists and political opposition – and begins to act like a trusted ally should," he added, "I will not approve this sale."
Menendez also said he was "deeply concerned" about reports suggesting Türkiye was considering further purchases S-400 missile defense systems, which the senior U.S. lawmaker pointed out "would be another clear violation of U.S. sanctions mandated by the Countering America's Adversaries through Sanctions law," also known as CAATSA.
"As Russia continues its brutal and illegal invasion of Ukraine," Menendez said, "Turkey has a responsibility and an opportunity to unequivocally demonstrate its commitment to NATO and to regional peace and security by fully rejecting any military cooperation with a war criminal like Vladimir Putin."
Menendez was also critical of Türkiye's other activities in relation to the alliance itself.
"Between continued antagonistic violations of Greece's airspace and the delaying of the accession process for Sweden and Finland's NATO membership," Menendez argued, "I sincerely hope Turkey will change course and live up to its responsibilities to the defense alliance by being the constructive partner in the region we all hope it can be.
"The United States must be clear: Any expansion of Turkey's ties to the Russian defense sector would be a grave mistake that would further endanger the security of our NATO allies and partners throughout Europe," he added.
Asked about the status of the F-16 deal as well as the potential implications for NATO of the deal falling through, a U.S. State Department spokesperson told Newsweek that, "as a matter of policy, the Department will not confirm or comment on proposed defense sales or transfers until they have been formally notified to Congress."
"The Biden Administration supports Türkiye's efforts to modernize its F-16 fleet," the spokesperson said. "The United States and Türkiye have longstanding and deep defense and security ties, and Türkiye's continued NATO interoperability remains a priority."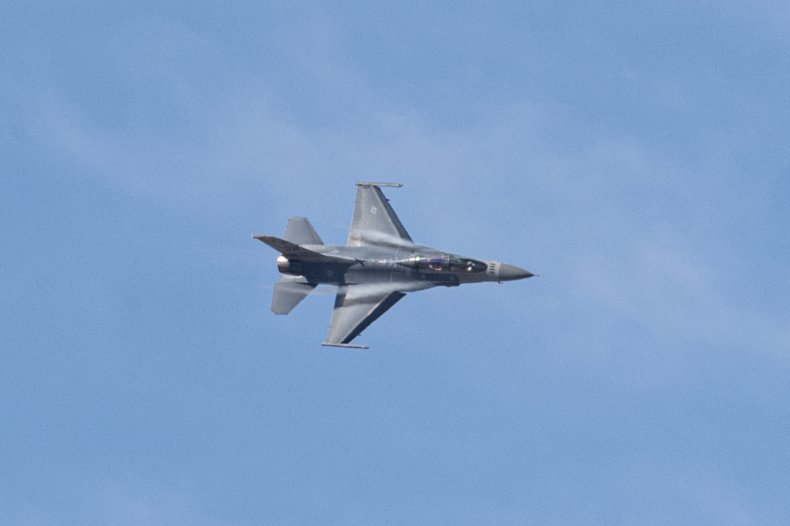 A U.S. Air Force demonstration pilot flies an F-16 over Davis-Monthan Air Force Base, Arizona on March 5. Staff Sergeant Kristine Legate/U.S. Air Force
The Turkish Embassy in Washington, D.C. also highlighted the importance of NATO allies being able to use equipment capable of being integrated among the armed forces of member states.
"Türkiye's continued interoperability with NATO is of utmost importance, not only for Türkiye, but also for NATO's continued deterrence at its southern flank," the embassy told Newsweek. "The U.S. Administration acknowledges, at the highest levels, that upgrading Türkiye's F-16 fleet is in the national interest of the U.S."
The Turkish embassy also highlighted how central the U.S. has been to Türkiye's military development.
"The U.S. has been Türkiye's number one partner in defense industry," the embassy said. "We still count on our close cooperation with the U.S. defense industry in order to maintain our military capabilities."
Given this importance, the embassy appealed to U.S. lawmakers not to tie further cooperation to other policy issues.
"We expect members of Congress to look beyond short-term political aspirations and not put preconditions to the sale of military equipment to Türkiye," the embassy said.
In the absence of an agreement, however, Kerim Has, a Moscow-based political analyst specializing in relations between Russia and Türkiye, argued that Moscow would find ample opportunity to court Ankara.
"It's one of the main aims and key components of the Kremlin's strategy to take the advantage of spoiling relations between Turkey and the U.S. for many years," Has told Newsweek. "It's not something new, and also, it's not only about F-16s. We may witness a similar policy in Syria around the Kurdish issue, regarding sanctions against Russia, Erdogan's autocratic regime practices in domestic politics, etc."
Though Türkiye has not only opposed Russia's war in Ukraine but has actually supplied advanced weapons to Kyiv such as the lethal Bayraktar TB2 drone, Erdogan and Russian President Vladimir Putin have managed to maintain somewhat robust relations since the outbreak of the conflict just over a year ago.
The two men have a years-long history of collaborating on conflicts in which they stand on opposing sides, including in Syria, Libya and the Nagorno-Karabakh region disputed between Armenia and Azerbaijan. Even in Ukraine, Türkiye managed to help negotiate the first-ever agreement involving Moscow and Kyiv, a deal to secure the continued export of grain abroad.
"Erdogan and Putin have managed their opposing positions in Ukraine, since they still have the desire and capacity to have the opportunity and enjoy the economic gains of the sanctions policy of the West," Has said. "The economic profits of this cooperation still outweigh geopolitical and military risks of getting into a direct confrontation for both actors."
"On the other hand, if Washington does decide not to supply even F-16s to a NATO ally located in an extremely important geopolitical territory," he added, "it seems to me that, not only Erdogan, but any Turkish government would prefer to purchase fighter jets from other alternatives, otherwise the deficit in Turkish Air Force would expand and deepen in the following years."
Has said Türkiye opting for Russian jets such as the Su-35, which neighboring Iran recently confirmed it would receive, "could most likely be a hot topic to discuss as an alternative for having leverage in foreign policy and taking its advantages in domestic politics for Erdogan."
But he argued that "it would less likely be a top priority for the Turkish government in case Erdogan stays in power after the elections, and I don't think that Erdogan would prefer to take big and critical concrete steps on this issue till the last moment."
Rather, Has said, Erdogan would more likely move to strike a deal with another NATO ally, the United Kingdom, for Eurofighter Typhoon jets.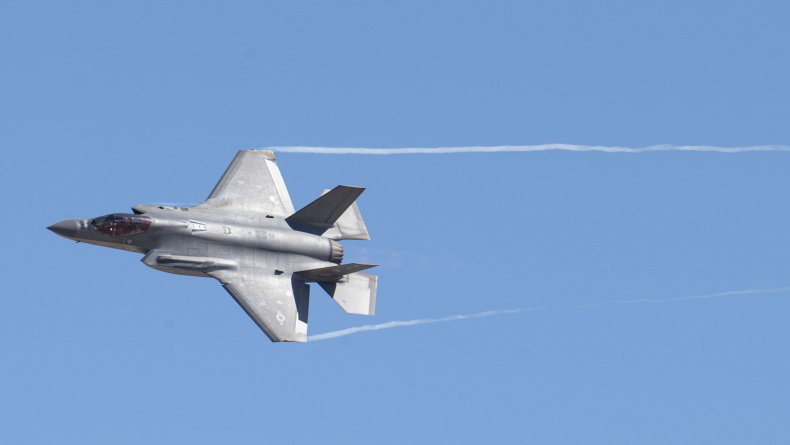 A U.S. Air Force demonstration pilot flies a F-35 Lightning II over Davis-Monthan Air Force Base, Arizona on March 4. Airman William Finn/355th Wing/U.S. Air Force
The tough decision comes as Erdogan is playing a careful game in both foreign and domestic policy in the leadup to elections set to be held in June, when the Turkish leader will seek a third presidential term.
Erdogan's diplomacy has managed to put Türkiye at the forefront of a number of key regional issues, earning the nation straddling Europe and Asia critical leverage in international affairs. At the same time, economic woes, political crackdowns at home and widespread discontent over the government's handling of the earthquake last month that killed more than 41,000 Turkish citizens have riled critics and exposed some vulnerabilities in Erdogan's nearly decade-long reign as president preceded by more than a decade as prime minister.
Meanwhile, Putin has continued to see a partner in Erdogan in spite of his NATO allegiance.
"Turkish military support is in fact an important factor for both Ukraine and the Western bloc," Has said. "However, it cannot drastically change the overall calculus on the ground and it is not a fundamental multiplier in changing the military balance of power in favor of Kyiv."
Rather, Ukraine has moved on to calling for even more firepower from international partners. After recent pledges from a number of Western countries to supply tanks and other armored vehicles, Ukrainian President Volodymyr Zelensky has asked for fighter jets, including F-16s as Kyiv's forces face of a spring offensive by Moscow, a request that Biden has promptly denied.
With Ankara unlikely to sway the battle, Has argued that "Russia here seems to pursue a dual policy towards Turkey."
"On one side, the Kremlin gains huge advantages from Turkey's approach in the economic sphere," he explained. "On the other hand, it continues to find Turkish military support to Ukraine still tolerable and not at the level that might cross Moscow's red lines."
Newsweek has reached out to NATO and the office of Senator Jim Risch for comment.