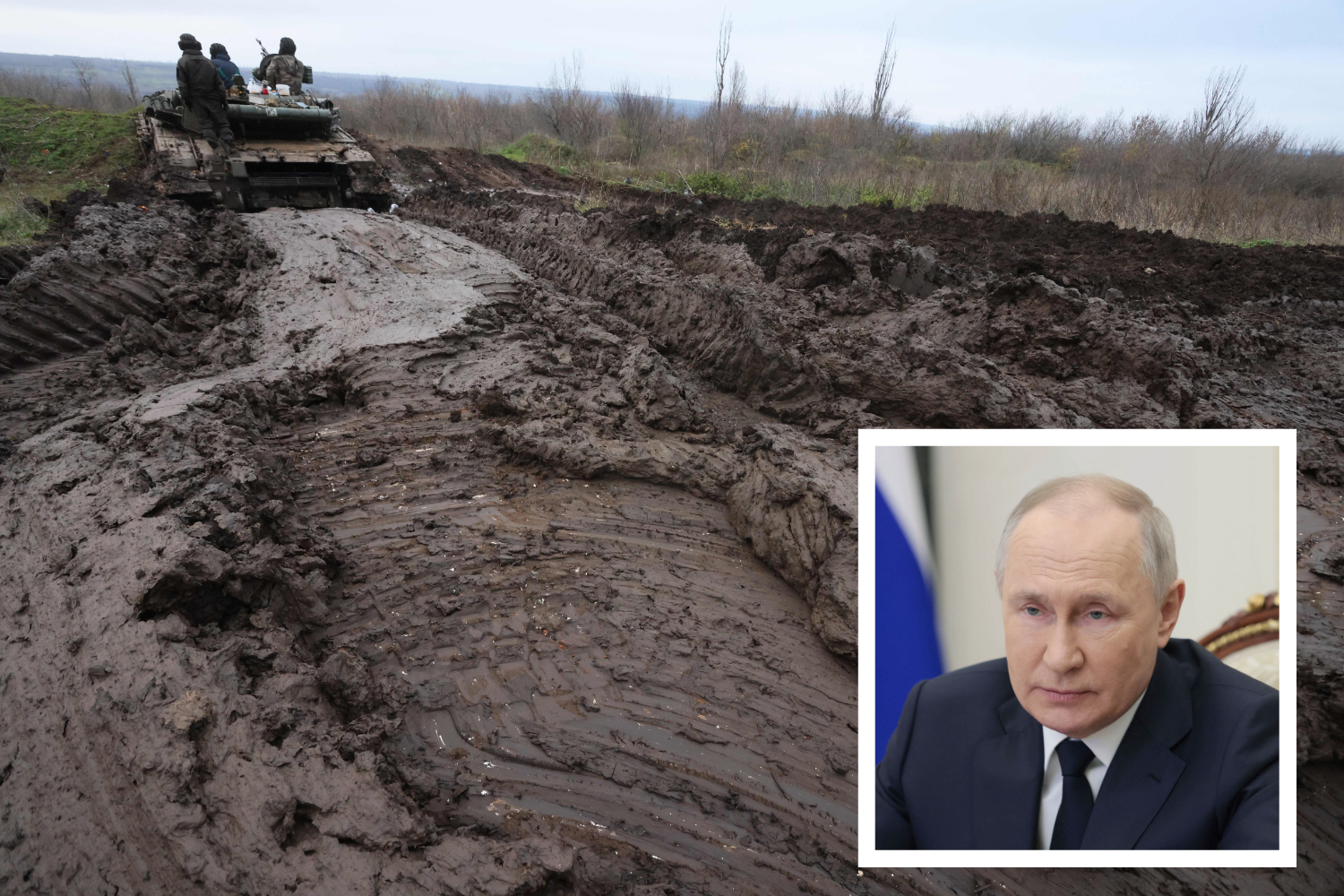 Russian President Vladimir Putin's plan to use winter weather to his advantage in the war in Ukraine failed, and Ukraine's warmer spring weather will likely work against Russia.
Mud will have an impact on the ability of Russian forces to move around, and Putin's troops are not as well-equipped for the weather as Ukraine's military.
Summer will offer even more advantages to Ukraine, such as better visibility and increased foliage for concealment.
Russia can still count on powerful weapons to help offset some of the disadvantages it has from not fighting on its home terrain.
Russian President Vladimir Putin reportedly had a strategy of using winter as a tool in his war in Ukraine. Not only did that plan not pan out, but now his forces will likely be put at a disadvantage by Ukraine's warmer weather.
"Mud is a factor, especially if one is stuck in a muddy trench or driving off-road or on an unpaved road," political science professor at Northwestern University William Reno told Newsweek.
But Ukraine's mud is just one aspect of nature that will be working against Russia's military, according to military analysts.
After suffering numerous battlefield setbacks during large parts of his 2022 campaign in Ukraine, Russia had planned on winter to help right his military's course, some observers have said. Putin reportedly counted on the cold weather freezing Ukraine's muddy terrain to allow for better tactical maneuvering by his troops, while artillery strikes targeted civilian infrastructure to take out sources of heat and electricity.
Russia managed to make some military gains in recent months, but none of those were likely the result of what turned out to be a milder-than-usual winter in Ukraine. Now, Ukraine's notoriously fertile terrain—which allowed the country to become one of the world's top exporters of grain—is set to turn increasingly muddy.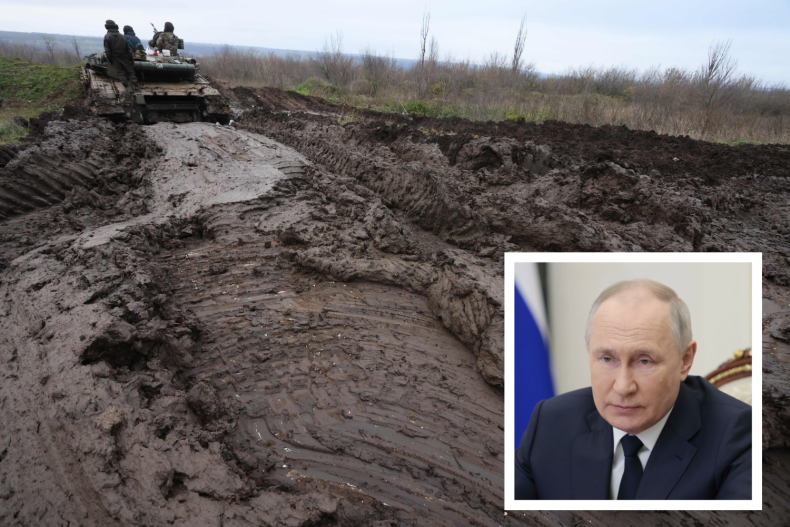 In the main image, Ukrainian soldiers are seen atop a tank in a muddy field near an undisclosed frontline position in eastern Ukraine on November 28, 2022. The smaller picture shows Russian President Vladimir Putin participating in a virtual ceremony at the Kremlin in Moscow on March 2, 2023. Weather may present Putin's military with a large disadvantage in Ukraine. Photos by YEVHEN TITOV/Mikhail METZEL/SPUTNIK AFP/YEVHEN TITOV/Getty Images
John Spencer, a retired U.S. Army major and chair of Urban Warfare Studies at the Madison Policy Forum, told Newsweek that there's no downplaying the significance Ukraine's mud can have in the war.
"It has a direct impact on vehicles' ability to get off the roads, spread out [and] get into tactical formation. It has an impact on vehicle maintenance, which we know Russia really struggles with…You try to get a vehicle through mud, it breaks down along with getting stuck," he said.
Spencer said the Russian military will be forced to using mostly roads to avoid the muddy fields, leaving them more vulnerable.
"I think that the greater issue is that as the mud increases, the routes that the Russians can take—both to move around or even resupply themselves—get much more constrained," he said. "As mud limits the roads you can take, that increases the likelihood of attacks."
Spencer, who visited Ukraine in 2022 during the invasion, also said Putin's troops don't seem as well-equipped for the weather as Ukrainian President Volodymyr Zelensky's military.
"Super cold is not as dangerous as cold and wet," he said. "Mud increases the moisture on the feet inside boots, and that causes injuries to the troops."
"Russia may have a lot of men, but it doesn't have a lot of high-quality military equipment," Spencer said, adding that the West is providing such equipment to Ukraine.
Even more military action should be expected to take place in Ukraine as the country keeps getting warmer, Spencer said.
"Summer's fighting season. Everything increases," he said. "Summer increases what you can do with their aerial assets. Visibility gets better, and weather has less of an impact outside aside from the actual ground. There's, again, more advantages for Ukraine."
Reno said that the warmer season also means "foliage will be a factor, offering some concealment as the season advances."
However, Reno cautioned about subscribing too many weather advantages to Ukraine. He said Russia still possesses long-range Russian artillery that can hit Ukrainian targets from positions that Zelensky's forces can't reach to take out.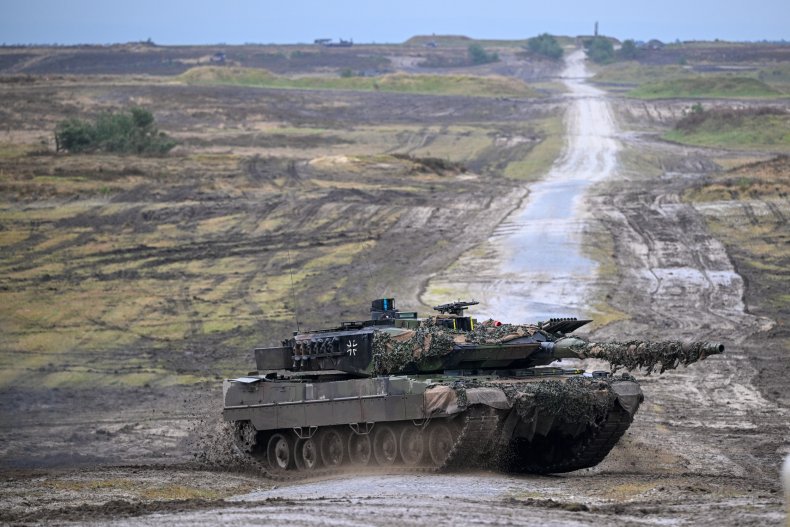 A Leopard 2 A6 main battle tank carries out manoeuvres during a visit by German Defence Minister Boris Pistorius to the Bundeswehr's Panzerbataillon 203 tank squadron on February 1, 2023, in Augustdorf, Germany. Germany will supply the armed forces of Ukraine with Leopard 2 tanks and has begun training Ukrainian tank crews. Some speculate the warm spring and increase of mud will hinder Russian troops. Sascha Schuermann/Getty Images
"That battlefield perhaps is more lethal than most Americans imagine," he said. "The Ukrainians fight a bloody ground war with an adversary that has many superior capabilities, if less motivation and more operational flaws and inefficiencies."
Reno continued, "The earlier narrative was of motivated Ukrainians fighting incompetent Russians. But Russian forces are adapting. While weaponry and battlefield tactics still mater, it's possible the will to fight will become a bigger factor in this war's future."
Newsweek reached out to Russia's Ministry of Foreign Affairs via email for comment.