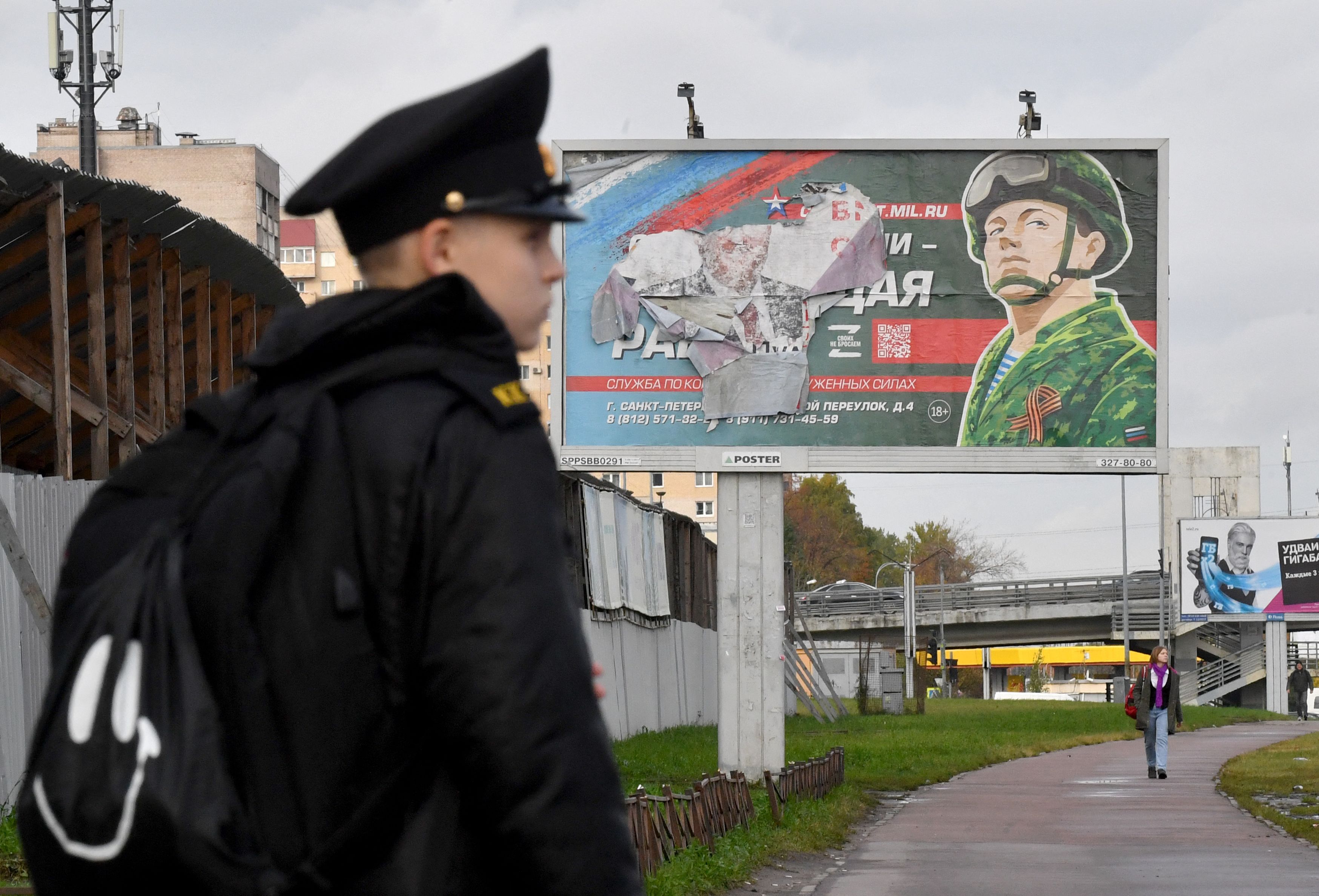 Nearly 10,000 Russian soldiers have reportedly used the Ukrainian "I Want to Live" hotline to offer their voluntary surrender.
A total of 9,836 mobilized individuals from Russia and temporarily occupied territories of Ukraine have applied to the center for appeals of surrender, Ukrainian officials reported on Friday.
The project, run by the Coordinating Headquarters for the Treatment of Prisoners of War with support from the Ukraine Ministry of Defense and the Main Directorate of Intelligence, started in September to offer Russian and Belarusian military members an option besides fighting and risking their lives.
Russian President Vladimir Putin ordered the partial conscription of about 300,000 reservists and ex-military personnel on September 21, though numbers began to dwindle shortly following mobilization. Tens of thousands of Russians called to the battlefield had departed in October, for example, due to mistakenly being mobilized.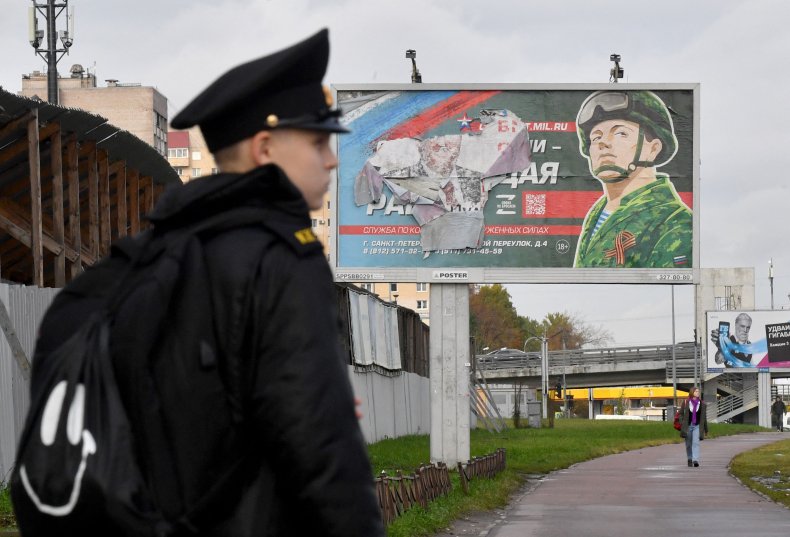 Above, a military cadet stands in front of a billboard promoting contract army service in Saint Petersburg, Russia on October 5, 2022. Nearly 10,000 Russians have reportedly utilized Ukraine's "I Want to Live" hotline that offers Russian soldiers the ability to voluntarily surrender in Ukraine. OLGA MALTSEVA/AFP via Getty Images
The number of appeals was at about 3,500 in November, the same month when the wives and mothers of 21 mobilized Russian soldiers claimed that men were being held captive in the Donetsk region in eastern Ukraine and threatened with execution for refusing to physically engage.
Russian servicemen who may or may not have been mobilized use the project's chatbot to fill out a questionnaire that includes declaring no intention to physically fight Ukrainians. The hotline in turn provides said Russians with information on how to process their surrenders if and when they are in Ukraine.
The hotline itself has been visited by more than 14 million people since September, officials added, including approximately 84 percent of whom were visitors from Russia.
Ukrainian officials will not disclose the number of Russians who have already surrendered but emphasize that "their number is constantly growing, as is the interest in the project among Russians."
Along with complying with Geneva Conventions and providing assistance and legal support through a variety of international organizations, the project guarantees three meals per day, medical service and potential contact with relatives.
It also offers the possibility of exchanging captive Ukrainians for surrendered Russians, and the opportunity for asylum applications in Ukraine or other European countries.
A meeting Thursday that included Kiryl Budanov, chief intelligence officer of the Ukraine Ministry of Defense, and Igor Klimenko, minister of internal affairs, among others included discussions revolving around continued support of prisoners' families—as well as "new approaches to post-isolation accompaniment of released soldiers."
"Questions have been raised regarding interaction with the international committee of the Red Cross and its role in supporting our citizens in the territory of the aggressor state," the coordinating headquarters said.
Ukraine has reported that Russia has lost nearly 150,000 soldiers since the war began on February 24, 2022.
Maria Popova, associate professor of political science at McGill University, told Newsweek that though the number is disputed by Russian officials "the general point is that the Ukrainian government has established its credibility during the war."
"Since it is open to media scrutiny and concerned about allied support, it produces credible messaging," she said. "I have no specific reasons to distrust their estimates. Russia, on the other hand, has consistently used disinformation and outright lies. So its take on the casualty count should be viewed through the lens of disinformation, rather than taken at face value."
The claimed high casualty count for Russia reflects both ineptitude on the battlefield and the aggressor's military approach, which Popova said takes "little regard for how many lives are lost, low priority put on saving the wounded, even potentially shooting one's own forces in the back to force them to advance."
Newsweek reached out to the Coordinating Headquarters for the Treatment of Prisoners of War for comment.