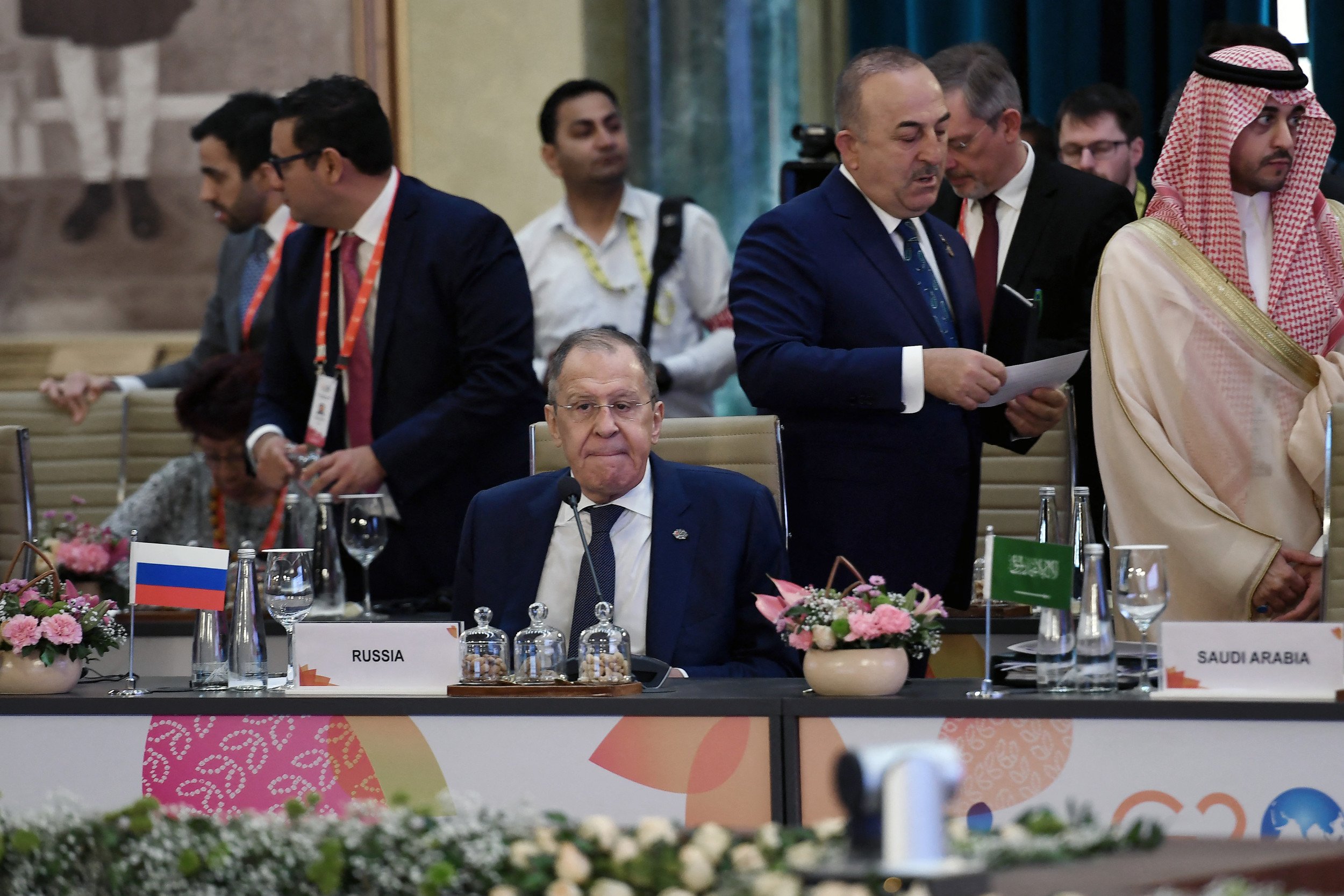 A top Russian official is being mocked following a public appearance in which he blamed Ukraine for the ongoing war.
"You know, the war which we are trying to stop which was launched against us using Ukrainian people—of course it influenced the policy of Russia, including energy policy," Lavrov said at the 2023 Raisina Dialogue in New Delhi, India, on Friday.
A portion of the crowd was audibly incredulous in response to Lavrov's statement, even causing him to pause for a second or two after claiming that Ukraine "launched" the war against Russia and not the other way around.
Lavrov repeated Russian favorite story in New Delhi – that "we [Russia] are trying to stop the war which was launched against us".

You can clearly hear the audience laughing at him (9 second of video). pic.twitter.com/TOu1vCGWKs

— Anton Gerashchenko (@Gerashchenko_en) March 3, 2023
"Lavrov repeated Russian favorite story in New Delhi. … You can clearly hear the audience laughing at him," tweeted Anton Gerashchenko, adviser to Ukraine's minister of internal affairs.
His comments came one day after the Russian and U.S. governments were at odds following a discussion between Lavrov and U.S. Secretary of State Antony Blinken.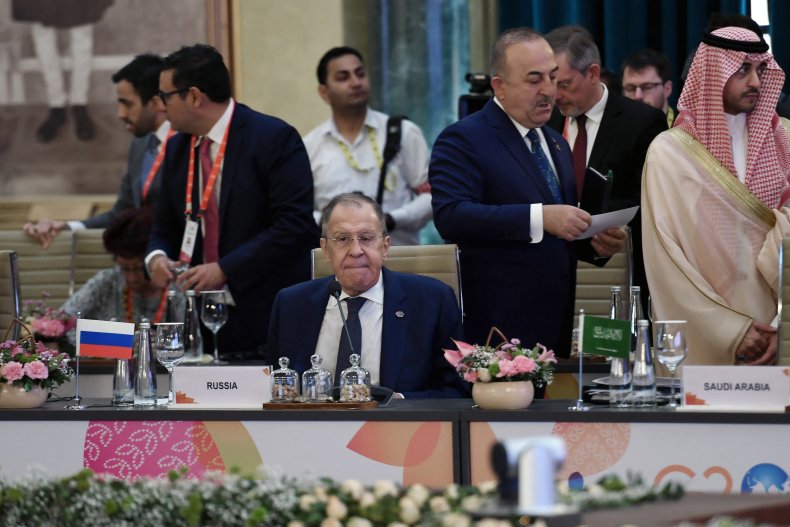 Russian Foreign Minister Sergei Lavrov (center, seated) attends the G20 foreign ministers' meeting in New Delhi, India, on March 2, 2023. During an interview on Friday, Lavrov blamed Ukraine for starting the war, leading to laughs from audience members. OLIVIER DOULIERY/POOL/AFP via Getty Images
Following a panel appearance at the conference on Thursday, Blinken told the press that he had talked one-on-one with Lavrov and specifically mentioned the possible release of former U.S. Marine Paul Whelan, who was arrested in Moscow in December 2018 on espionage charges and sentenced to 16 years in prison in June 2020.
The Russian government called Blinken's description of events a lie.
"Checked in with Sergey Viktorovich [Lavrov] to see if Blinken brought up Whelan yesterday," Russian Foreign Ministry spokeswoman Maria Zakharova told Russian state media outlet Tass. "Turns out the U.S. secretary of state didn't even bring it up. Everything that was said yesterday in the State Department, that Blinken expressed concern about the situation around the U.S. citizen, was a lie. Unbelievable behavior of the U.S. administration."
State Department spokesperson Ned Price responded in kind, saying, "Russia is lying again—pure and simple."
Along with blaming Ukraine, Lavrov has repeatedly faulted the West and the United States for the turmoil in Eastern Europe.
Last month, while addressing members of the Russian State Duma, he blamed the West for "many years of containment of Russia" alongside "the transformation of fraternal Ukraine into anti-Russia, into a Russophobic military stronghold."
Another of his grievances included the expansion of NATO following the Cold War.
He has also blamed "American exceptionalism" for "why we are now confronting the nations that wage a proxy war against us through the Kyiv regime," as he described to Russian state-owned media in early February.
While Lavrov said in October that he would be open to peace negotiations with the West, he said the lack of preventing further NATO expansion would be a deal-breaker. He also said the West would have to "offer us some serious approaches that will help defuse tensions" but remained vague about specifics.
It wasn't until December that Lavrov publicly uttered the word "war" after previously referring to it in the same vein as other Russian officials as a "special military operation."
Newsweek reached out to the Russian Foreign Ministry for comment.