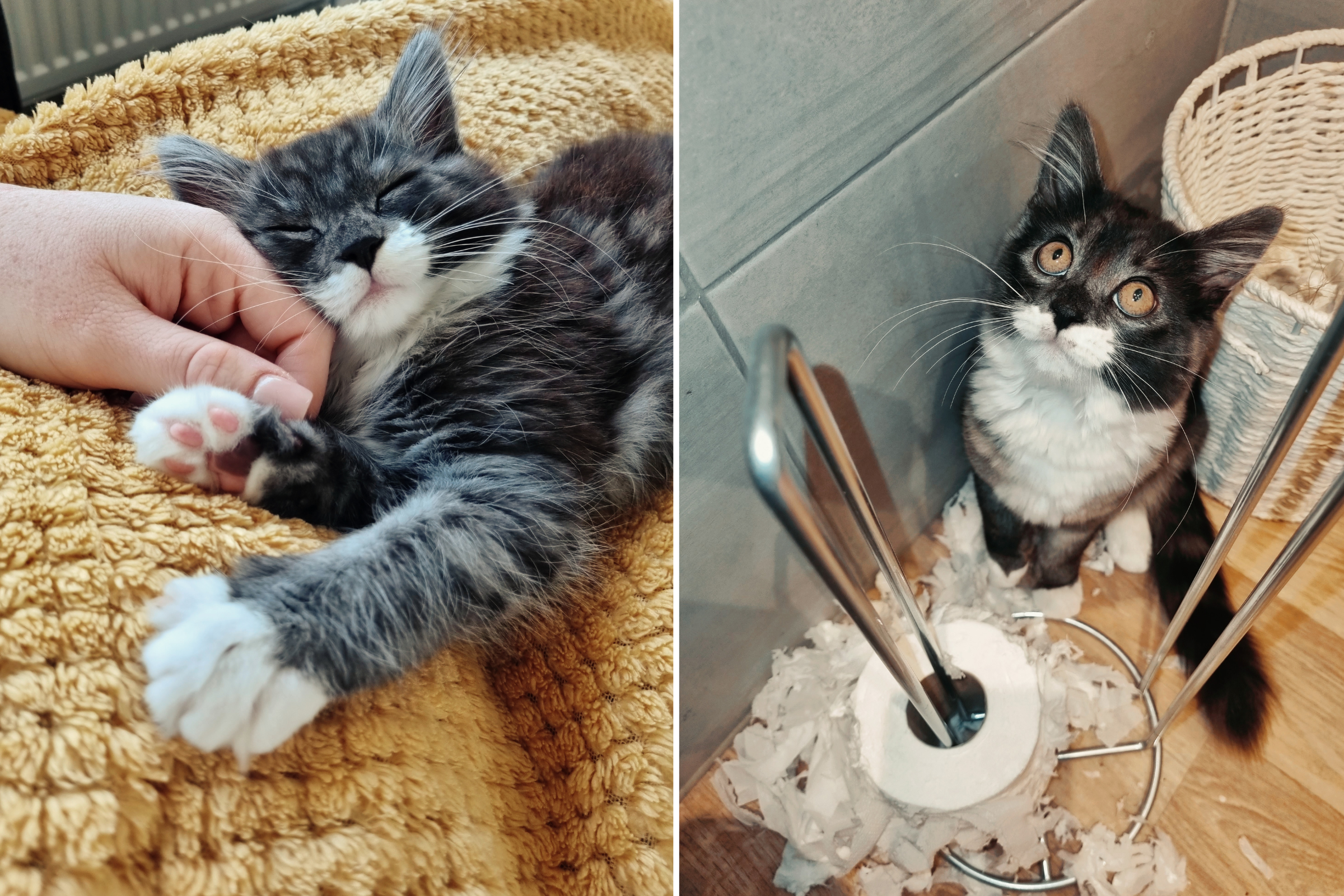 A cat named Bailey has left the internet in stitches after a video of her suddenly getting "zoomie eyes" and pouncing went viral on social media.
In the footage, shared on TikTok by her owner, under the username Sarahlifestyleandfood, Bailey can be seen sitting on her mom's bed, posing for the camera, when all of a sudden, her pupils dilate and she starts jumping all over the place.
The hilarious video, which was only posted last Sunday, but quickly went viral, comes with a caption that says: "Watch my cat get zoomie eyes."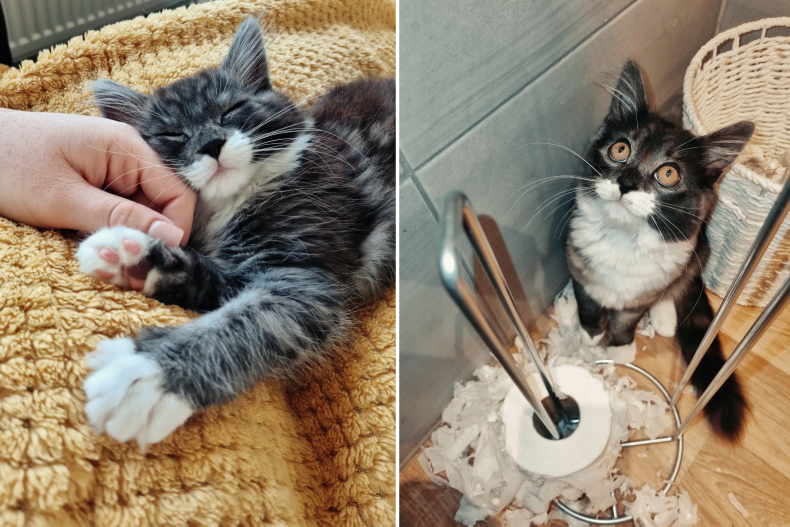 Bailey at home, messing up with toilet paper. A cat with zoomies leaves internet in stitches. Sarah Jenner via TikTok
Cat zoomies, seen in the "mad half-hour," are quite common in cats, especially those who are young or live indoors only. According to Cats Protection this behavior, often referred to as a "frenetic random activity period" or FRAP, is actually natural behavior that a lot of cats display.
The website states: "While an occasional burst of 'frapping' is quite normal, if your cat is getting the zoomies on a daily basis then this could be a sign that they are under-stimulated and frustrated."
To help tame this behavior you should make sure that they play throughout the day, have something to catch, are fed little and often, and that they're not frustrated by neighbors or stray cats from outside. You should also create a calming environment where they can chill.
Bailey's owner told Newsweek that she's had Bailey since November and the cat has fit into her life perfectly.
She said: "She loves cuddles and stealing her pawrents sandwiches. As you can see by my TikTok videos she often has zoomies. She loves to sing at 3am just to let us know she's still here. And she is also OBSESSED with toilet roll."
The video quickly gained popularity on the internet, attracting animal lovers from across the platform, and it has received over 845,300 views and 139,400 likes so far.
One user, Oz, commented: "Once the pupils expand it's game over." And Goob said: "I call them Disney eyes bc they look like a cute animated character." Kaylslay added: "We call them the moon eyes."
Ava Mackenzie wrote: "As a cat mom to two, I CAN VERIFY THIS. When they just stare into your soul with these eyes you know you're done for." And Best Friends said: "No toys or fingers are safe when this look starts!"
Another user, Tori, commented: "I always check my cat's eyes before I pet her for safety reasons." And Teddybearrar2 said: "Nah he was charging for the zoomies." Alyssa Carter added: "See I get randomly attacked she hides and does a lil sneak att k."
Shania de Cruz wrote: "Is your cat TOM from Tom and Jerry?" And Elisabeth_outhiking added: "Your cat is a living adorable cartoon." lexie said: "then he chases me and attacks my ankles…ugh I love my cat [so much]."
Reddevilminx added: "we have 2 fur demons and when their eyes Zoom in we shout 'velociraptors activated' and we just run."
Newsweek reached out to Sarahlifestyleandfood for comment. We couldn't verify the details of the case.
Do you have funny and adorable videos or pictures of your pet you want to share? Send them to [email protected] with some details about your best friend and they could appear in our Pet of the Week lineup.