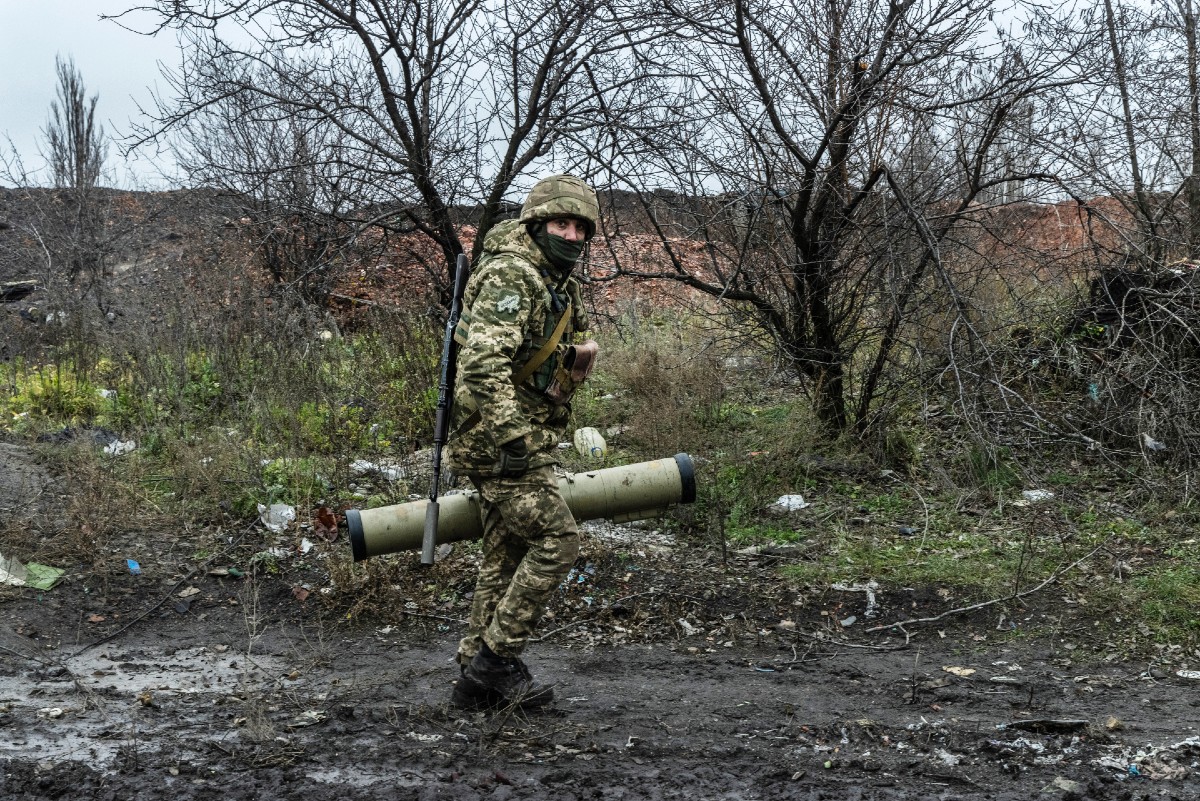 U.S. and U.K. forces have confiscated a shipment of "Dehlavieh" anti-tank guided missiles, the U.S. military said on Thursday.
The U.S. Navy's central command said U.S. forces had been involved in an operation with Britain's Royal Navy to seize an "illegal weapons shipment from Iran."
The maritime forces seized a number of "Dehlavieh" anti-tank guided missiles (ATGM), which are Tehran's version of the Russian 9M133 Kornet ATGM.
The U.S. provided "airborne intelligence, surveillance and reconnaissance support," according to the navy. The shipment was likely bound for Iranian-backed Houthi rebels in Yemen, the Defense Department's Defense Visual Information Distribution Service said.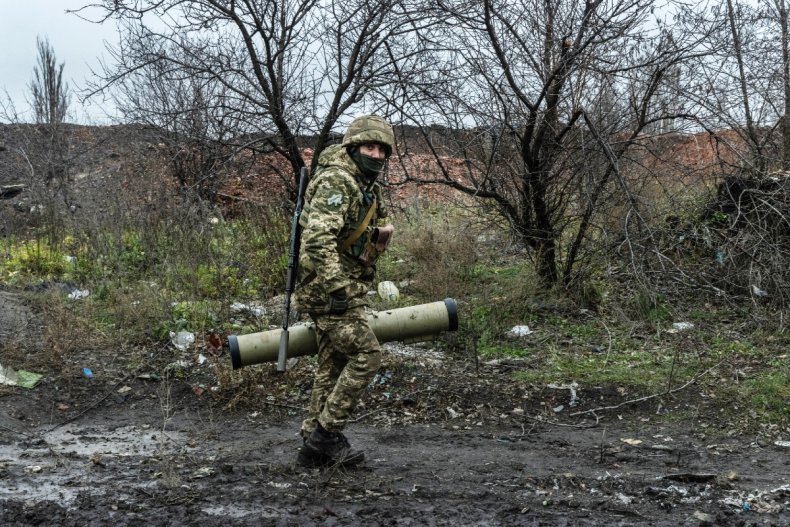 A soldier of the assault regiment on an operation to fire two Kornet anti-tank missiles at a fortified position in the Russian trenches facing them on November 28, 2022 in the Donetsk region of Donbas, Ukraine. "Dehlavieh" missiles are the Iranian version of the 9M133 Kornet guided anti-tank missiles. Laurent Van der Stockt for Le Monde/Getty Images
The "Dehlavieh" is the Iranian version of the Russian laser-guided anti-tank missile, which first entered service for the Russian armed forces in 1998.
The man-portable anti-tank missile is designed to pierce the armor of main battle tanks. As well as portable versions, the Kornet can also be vehicle mounted. It is a day/night missile system, with a jam-resistant laser-beam riding guidance system, according to Russian state defence export organization, Rosoboronexport.
It can be used against ground and air targets, Rosoboronexport said, and has a "fire and forget" function for locking onto targets.
Operating in temperatures between -20 to +60 °C, newer versions have a range of five miles, up from around 3.5 miles for previous Kornets, according to Russian state media.
However, according to Rosoboronexport, the maximum range of an upgraded export version extends to over six miles in daylight.
It is a third generation system, according to Insider, and the Kornet-E variants are easy to use and personnel do not need extensive training to be able to operate the anti-tank guided missile systems, according to military website ArmyRecognition.com.
U.S. forces provided airborne intelligence, surveillance & reconnaissance support for an interdiction in the Gulf of Oman conducted by the 🇬🇧 Royal Navy, Feb. 23, that resulted in the discovery of an illegal weapons shipment from Iran. Read more: https://t.co/MvHXoiEOLY pic.twitter.com/owIFOV65w6

— U.S. Naval Forces Central Command/U.S. 5th Fleet (@US5thFleet) March 2, 2023
In December 2021, the editor of Russia's Independent Military Review magazine told state media that the Kornet can pierce any armor on enemy vehicles and tanks.
"The Kornet self-propelled anti-tank missile systems can fire in tandem mode, specifically, two missiles can be launched at a time within a single command and control field to pierce the enemy armor's active protection system," Dmitry Litovkin told Tass.
"Both missiles thus launched follow each other in a single laser beam with a short interval, which helps deceive the armor's smart protection systems," he added.
Serbian President Aleksandar Vucic hailed the Kornets as "the best missiles in the world" in December 2021, shortly after Belgrade received a shipment of the anti-tank guided missiles from Moscow.
"They are slightly better than Javelin missile systems, which are also fantastic," he said, according to a Russian state media readout.
As of February 24, the U.S. had committed more than 8,500 Javelin anti-armor systems to Ukraine, and on Tuesday, Ukraine's defense department called the Javelin an "American weapon" that "works wonders" for Kyiv's armed forces.
A single Ukrainian soldier destroyed five Russian tanks with a Javelin in a single battle, the defense ministry added, calling the unnamed fighter "a brilliant operator" of the anti-tank missile system.