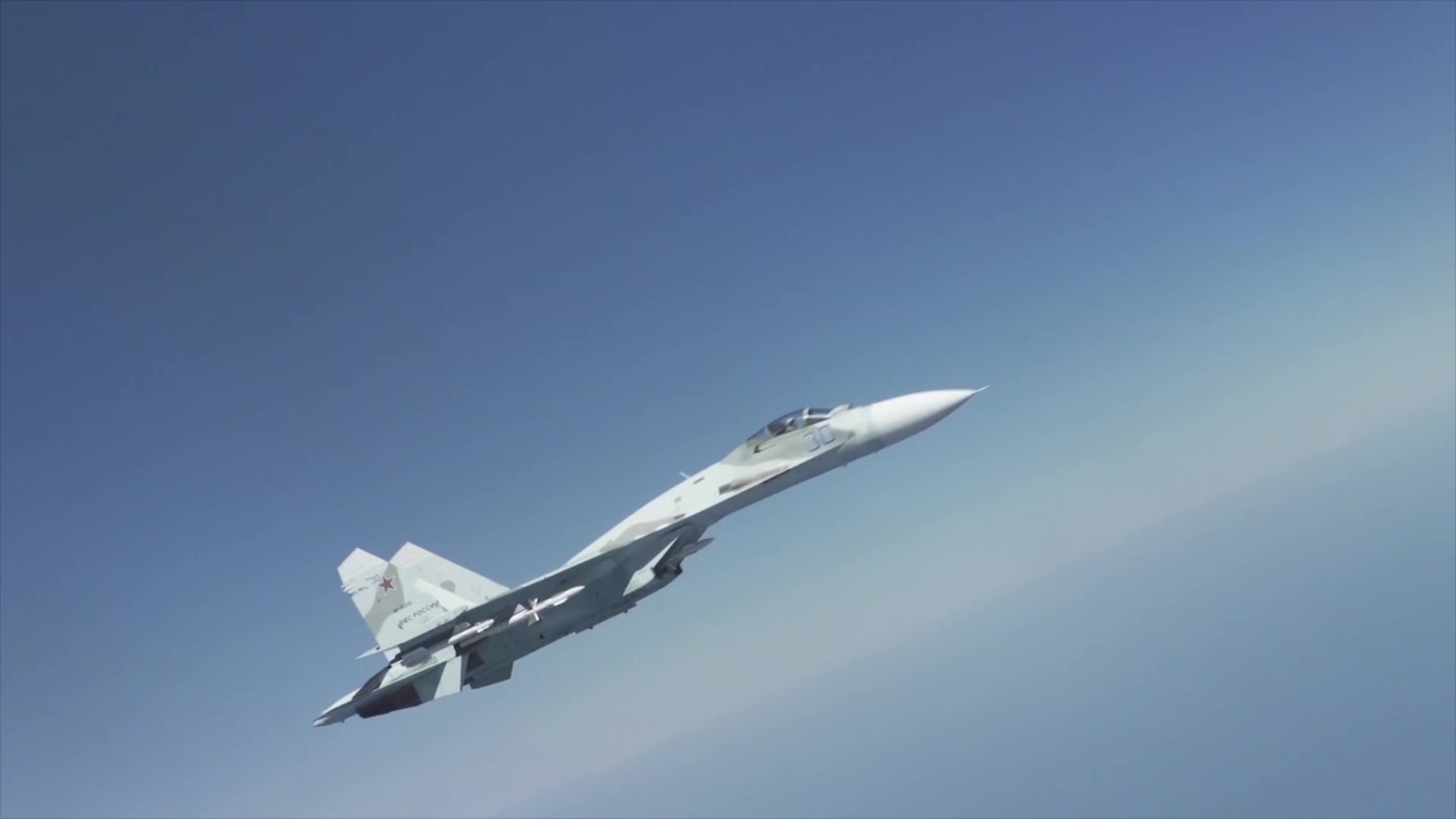 The White House slammed the actions of two Russian fighter jet pilots who forced an unmanned U.S. spy drone into the water after an apparent collision over the Black Sea.
Speaking on the incident, which was announced by U.S. European Command (EUCOM) on Tuesday, National Security Council Strategic Communications Coordinator John Kirby confirmed that President Joe Biden had been briefed on the incident and that "it is not uncommon for there to be intercepts by Russian aircraft of U.S. aircraft over the Black Sea," with previous incidents having occurred even in recent weeks.
"But this one obviously is noteworthy because of how unsafe and unprofessional, indeed how reckless it was, and causing the downing of one of our aircraft," he added. "So, it's unique in that regard."
And while Kirby said he was not yet aware of exactly what the intentions of the Russian pilots were, he said, "If the message is that they want to deter or dissuade us from flying and operating in international airspace over the Black Sea, then that message will fail, because that is not going to happen."
"We're going to continue to fly and operate in international airspace over international waters," he added. "The Black Sea belongs to no one nation, and we are going to continue to do what we need to do for our own national security interests in that part of the world."
The remarks came shortly after EUCOM published a statement revealing the incident, during which two Russian Su-27 aircraft were said to have dumped fuel on an MQ-9 Reaper unmanned aerial system operated by the U.S. Air Force and flew in front of the drone before one of the jets struck the drone's propeller, causing U.S. forces to decide to bring the drone down into the sea.
"Our MQ-9 aircraft was conducting routine operations in international airspace when it was intercepted and hit by a Russian aircraft, resulting in a crash and complete loss of the MQ-9," General James B. Hecker, commander of U.S. Air Forces Europe and Air Forces Africa, said in the statement, which EUCOM shared with Newsweek. "In fact, this unsafe and unprofessional act by the Russians nearly caused both aircraft to crash."
"U.S. and Allied aircraft will continue to operate in international airspace and we call on the Russians to conduct themselves professionally and safely," he added.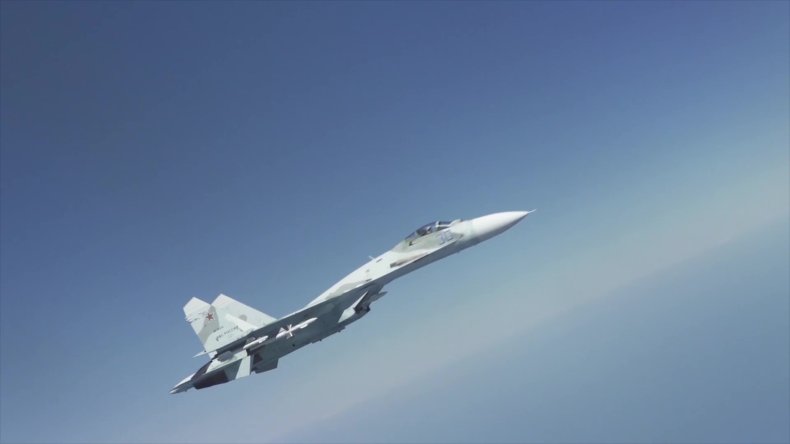 A Russian Su-27 is seen intercepting a U.S. Air Force B-52 bomber during an August 28, 2020 encounter over the Black Sea. Staff Sergeant James Cason/U.S. Air Forces in Europe and Air Forces Africa Public Affairs
The Russian Defense Ministry later issued its own statement on the incident, saying that the U.S. drone "flew with its transponders off, violating the boundaries of the temporary airspace regime established for the special military operation, communicated to all users of international airspace, and published in accordance with international standards," as it flew toward Russia's borders.
"Fighter jets of the air defence force on duty scrambled to identify the intruder," the statement added. "As a result of quick manoeuvring around 9.30 a.m. (Moscow time), the MQ-9 drone went into an unguided flight with a loss of altitude and collided with the water surface."
The statement noted that the Russian aircraft "did not use on-board weapons, did not come into contact with the unmanned aerial vehicle, and returned safely to their home airfield."
The incident took place amid heightened tensions over Russia's ongoing war in Ukraine. The conflict has involved Russia's Black Sea Fleet, which is headquartered on the peninsula of Crimea, annexed by Moscow following an internationally disputed referendum held after unrest first broke out in Ukraine in 2014.
Kyiv and its Western supporters, including Washington, have never recognized the action and Ukrainian President Volodymyr Zelensky has vowed to retake all Ukrainian territory, including four more regions annexed by Russia, also after internationally disputed votes, throughout the course of the conflict. The Kremlin has demanded Kyiv recognize these actions as a pretext for a peace settlement to end the war, now in its second year.
A number of Western countries, including the U.S., have long accused Russian forces of "unsafe and unprofessional" behavior in the Black Sea and other fronts, but the downing of a U.S. spy drone at the hands of another power nearly sparked conflict several years ago. When Iran shot down an RQ-4 Global Hawk over the Persian Gulf in June 2019, then-U.S. President Donald Trump initially ordered U.S. forces to prepare for a series of strikes against the Islamic Republic before calling off the operation.
Kirby told reporters Tuesday that a deconfliction line exists between EUCOM and Russian forces in the region to prevent such aerial incidents and the State Department was planning to contact the Russian Foreign Ministry over the latest encounter.
After being summoned by the State Department, Russian Ambassador to the U.S. Anatoly Antonov defended his country's actions in comments to reporters.
"The aircraft was flying with its transponders off, and it entered the zone of the special military operation. It [the information about the zone] was made public via international channels," Antonov said. "We, Russia, have warned everyone about it. I think this was a real provocation."
Responding to a question by the state-run Tass Russian News Agency, Antonov argued that U.S. forces "provoked us to take a certain action, which would allow them to accuse Russia and the Russian military of being non-professional."
This is a developing news story. More information will be added as it becomes available.