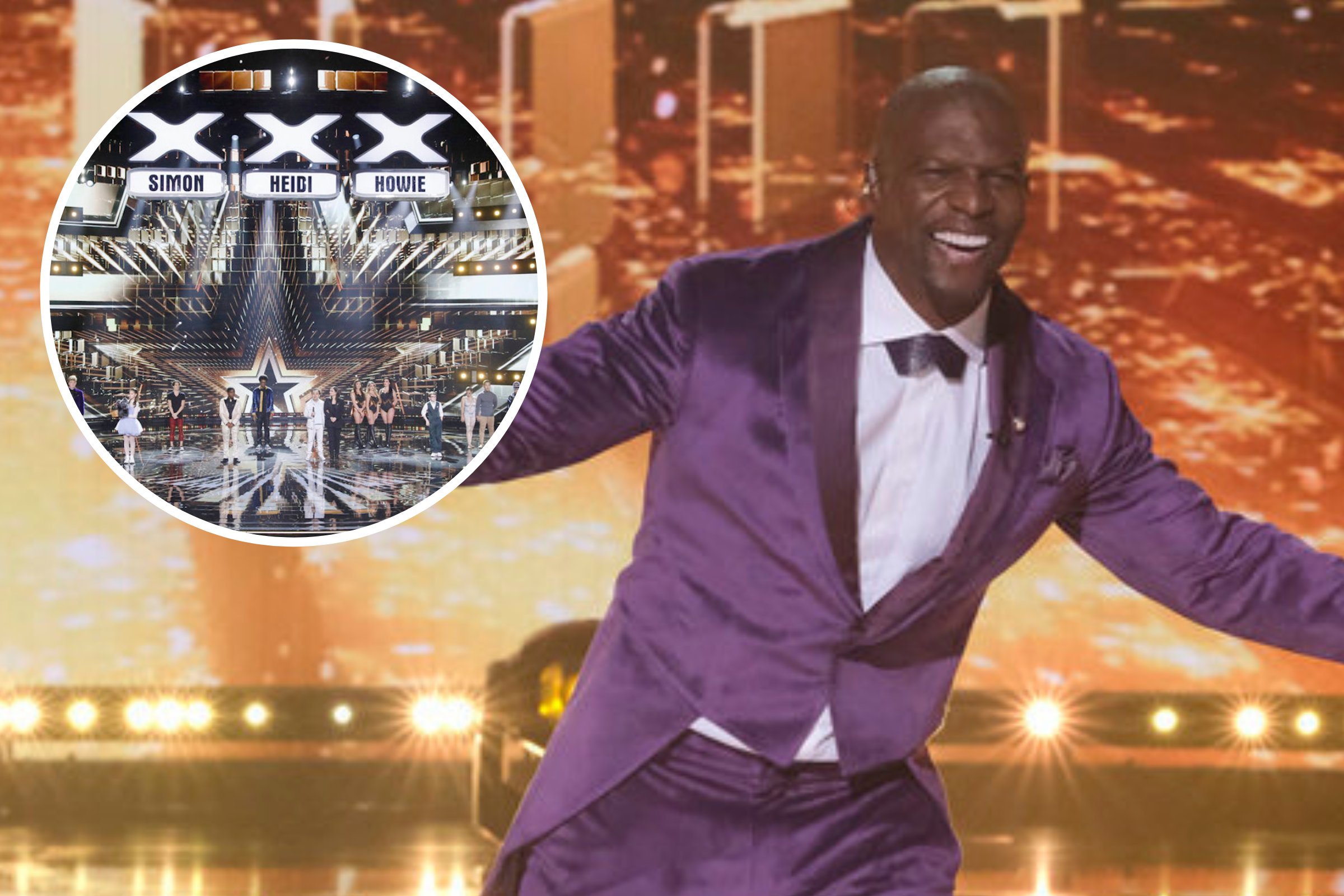 The winner of America's Got Talent: All-Stars has been revealed during the February 27 season finale of the NBC talent competition.
At the start of the year, the show, also known as AGT: All-Stars, began, bringing back 60 acts from Got Talent franchises around the world to compete for the ultimate All-Star title.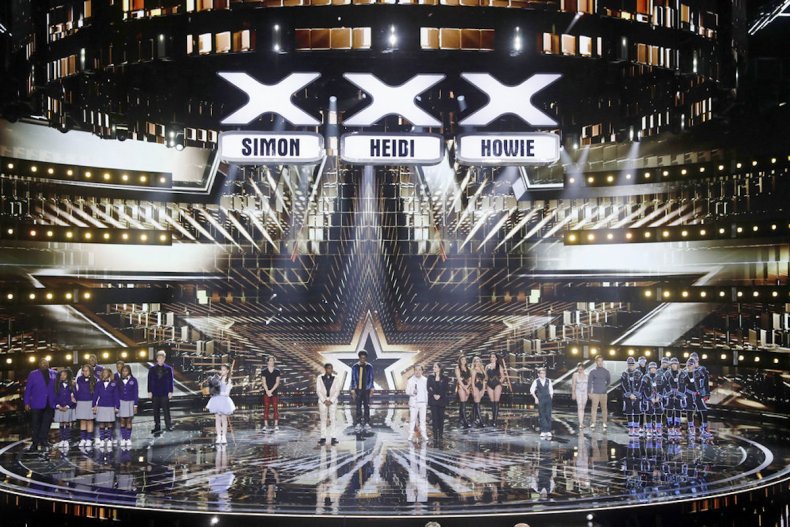 Pictured are finalists Detroit Youth Choir, Tom Ball, Ana Maria Margean, Aidan Bryant, Avery Dixon, Mike E. Winfield, Kodi Lee, Bello Sisters, Aidan McCann, Power Duo, and Light Balance Kids. The winner of "America's Got Talent: All-Stars" has been revealed in the season finale. Trae Patton/NBC
The Got Talent winners, finalists, fan favorites and viral sensations on the cast included America's Got Talent winners Brandon Leake, Terry Fator, Dustin Tavella, and Kodi Lee. There was Canada's Got Talent 2022 winner Jeanick Fournier, as well as Britain's Got Talent 2022 winner Axel Blake.
Each week, 10 acts, including singers, dancers, ventriloquists, comedians, aerialists and magicians, performed for judges Heidi Klum, Simon Cowell and Howie Mandel, as well as host Terry Crews.
The 60 acts were whittled down to just 11 finalists, determined by the "superfans" and the Golden Buzzers, who all took to the stage to perform for one final time last week.
Then, during Monday night's two-hour star-studded finale, the superfans in the AGT: All-Stars audience voted once again, this time to choose the ultimate winner.
The series was filmed back in the summer of 2022, so there was no public vote.
Newsweek has everything you need to know about what happened during the AGT: All-Stars finale, including who won.
Who Won 'AGT: All-Stars'?
Aerialist Aidan Bryant, who first appeared on America's Got Talent Season 16, was declared the winner of AGT: All-Stars during the finale. He beat out musician Avery Dixon, who came in second place.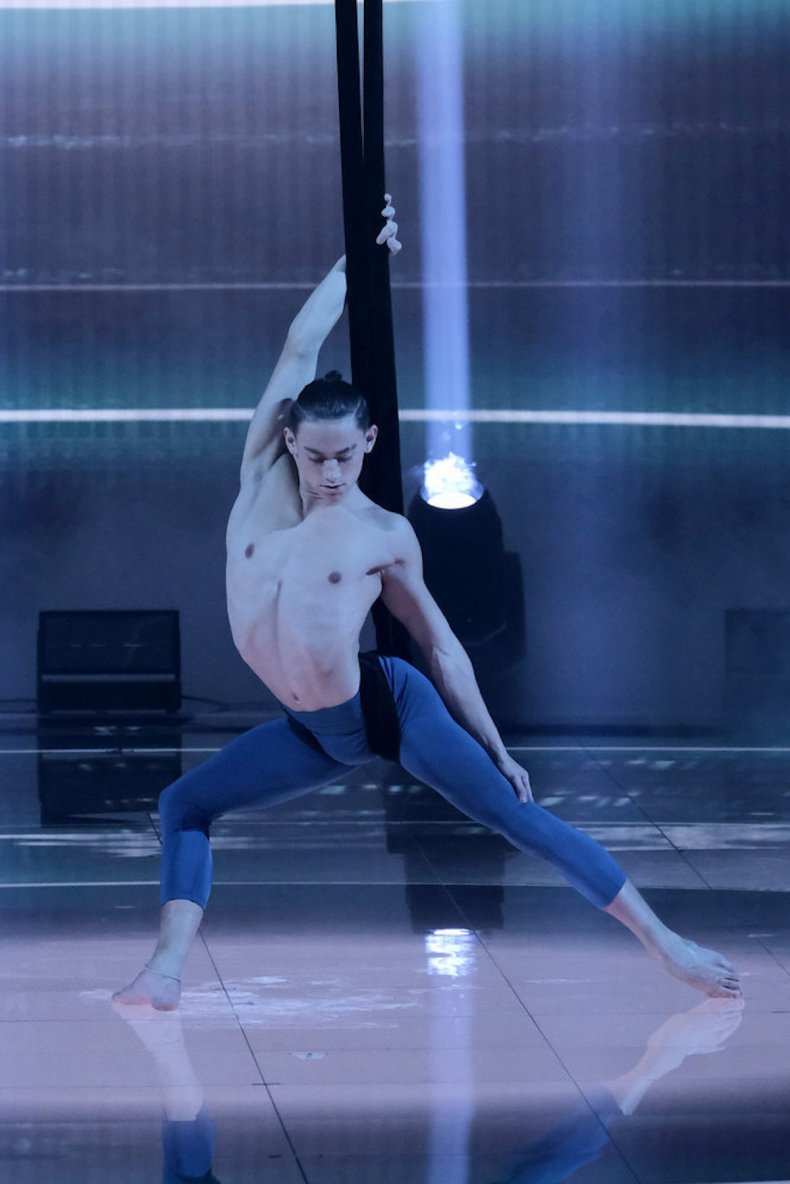 Aerialist Aidan Bryant, pictured during his final performance. He has been confirmed as the winner of "America's Got Talent: All-Stars." Trae Patton/NBC
Bryant was visibly emotional after his win was announced, saying it was "crazy" and that he was "so thankful."
"This means so much to me," the 17-year-old added.
Cowell, who is a judge and executive producer on the show, then said: "I want to repeat what I said, there are no losers tonight."
Cowell then said to Bryant: "I want to congratulate you for formally winning… talent has won tonight!"
'AGT: All-Stars' Finale Recap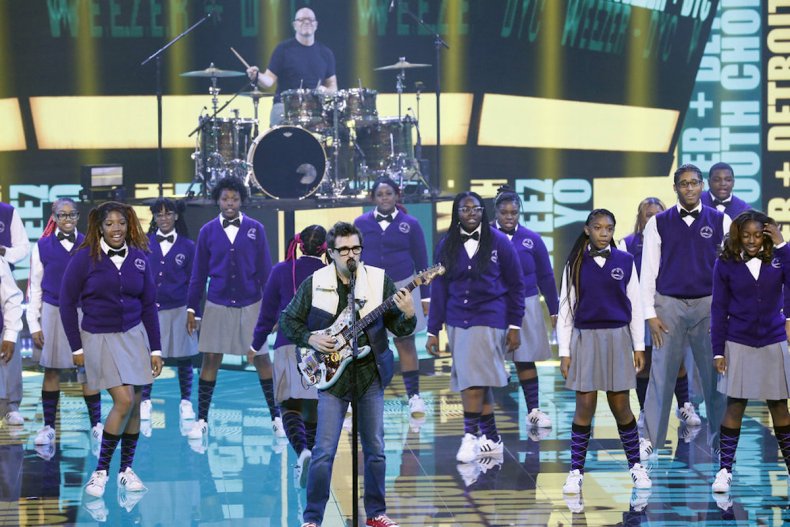 There were several celebrity guests during the two-hour "America's Got Talent: All-Stars" finale, such as Weezer, pictured performing with Detroit Youth Choir. Trae Patton/NBC
NBC had previously revealed that the AGT: All-Stars finale would be a star-studded affair. Musicians Weezer, Babyface, Adam Lambert and Lindsey Stirling appeared as guests.
AGT winner, and All-Star competitor, Terry Fator; magician Mat Franco; and choir group Voices of Hope also joined the festivities for the finale episode.
The episode began with a recap of last week's edition, which saw each of the 11 finalists take to the stage for their final performances.
The finalists can be seen below:
Detroit Youth Choir
Ana-Maria Mǎrgean
Power Duo
Tom Ball
Aidan McCann
Bello Sisters
Mike E. Winfield
Light Balance Kids
Avery Dixon
Kodi Lee
Aidan Bryant
After the recap, Crews revealed that the celebrity guests would be joined by some of the finalists for their performances.
Singer Lambert, who came in second place on American Idol in 2009 and has gone on to become the singer for Queen, was up first. He sang a rendition of Sia's "Chandelier."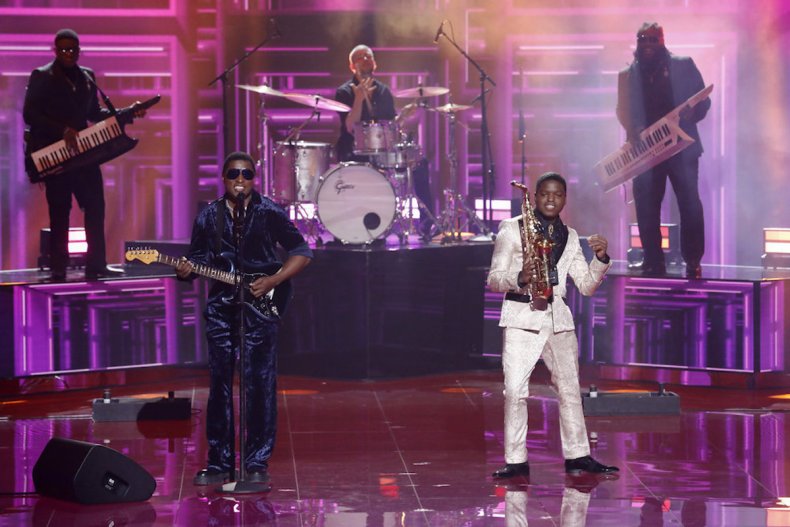 Legendary musician Babyface pictured with "AGT: All-Stars" finalist Avery Dixon. The pair teamed up for a special performance during the finale. Trae Patton/NBC
Aerialist Bryant and acrobatic trio Bello Sisters wowed the audience with their impressive moves while Lambert belted out the hit.
Voices of Hope, who made it to the semifinals of America's Got Talent Season 13, performed next. They sang alongside AGT: All-Stars finalist Tom Ball, who is a former Britain's Got Talent contestant and teacher. They collaborated on a version of "Who Wants to Live Forever" by Queen.
Next to team up were AGT: All-Stars finalists Kodi Lee and Light Balance Kids, followed by Ana-Maria Mǎrgean and Terry Fator.
Saxophonist Dixon ended up coming in second place on the evening. He had the chance to perform with Babyface, real name Kenneth Brian Edmonds, for a special rendition of the 1989 single "Every Little Step." He co-wrote it for Bobby Brown.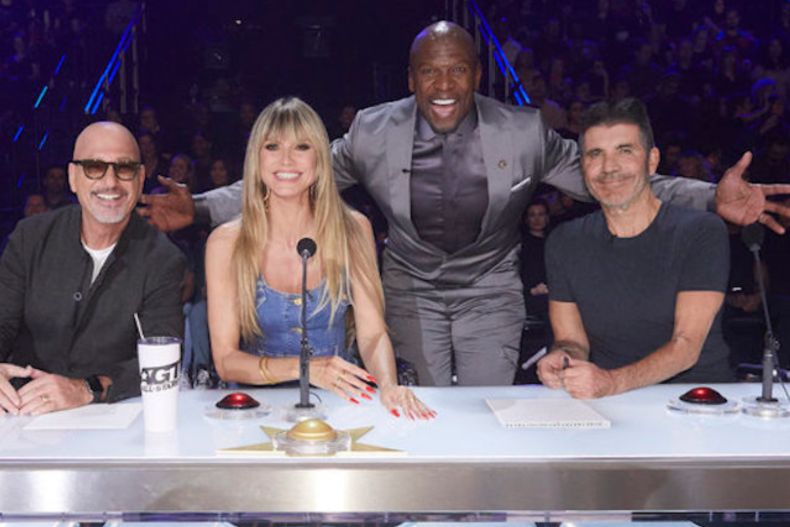 Howie Mandel, Heidi Klum, Terry Crews and Simon Cowell pictured on the panel of "America's Got Talent: All-Stars." The judges listened to performances by the 11 finalists. Trae Patton/NBC
Following Dixon and Babyface's duet, violinist Lindsey Stirling gave a show for the audience and was joined by acrobats Power Duo.
Elsewhere, Weezer teamed up with the Detroit Youth Choir, and Aidan McCann joined forces with Mat Franco.
After the performances, it was time for host and Brooklyn 99 actor Crews to reveal the results of the public vote.
The top three were confirmed as Light Balance Kids, Bryant, and Dixon, before Bryant and Dixon were revealed as the final two, and Bryant as the winner.