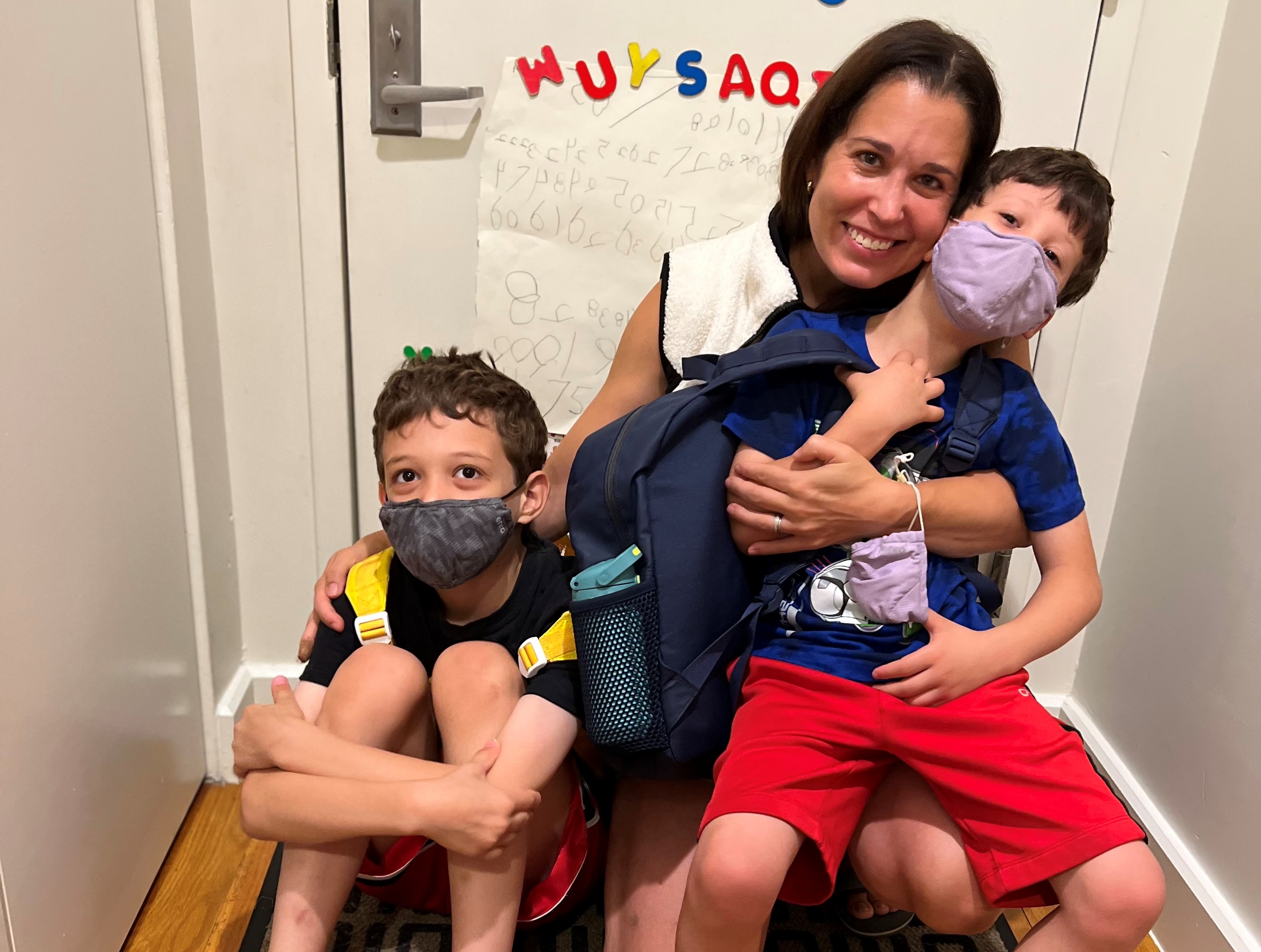 Three years is a long time for any of us, but it's a very long time in the lives of children.
My 7-year-old son has now lived with the reality of the pandemic for 43 percent of his life. For my almost 9-year-old, it's been a cool third. A defining memory of his childhood will be March 15, 2020, when just one friend showed up to his 6th birthday party hours before New York City shut down.
Until this February, my sons continued masking in school even though it's no longer required. They were, in fact, the last ones masking in their first- and third-grade classes.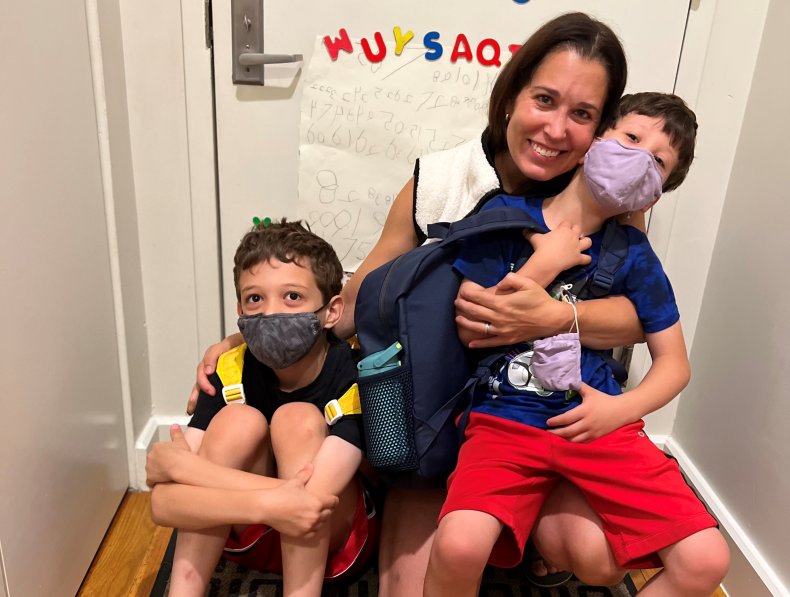 Sara Neufeld with her sons, Maceo and Paxton, on their first day of third and first grades in September 2022. Chris Clemens
This was at the request of my husband Chris, a pediatrician who saw the pandemic's underbelly working in a hospital in Queens, the original epicenter. He still spends his days in an N-95. The American Academy of Pediatrics maintains that indoor masking is beneficial, particularly for unvaccinated and immunocompromised children.
Since our children are gratefully both vaccinated and healthy, I didn't feel as strongly. But as all parents know, the coronavirus aside, young kids in school or daycare get sick constantly. Since I'm self-employed, it's my schedule that's upended every time one of the boys is under the weather.
While still masking, they got sick enough to stay home twice this winter, not nearly as often as they might have without masks. Some of their unmasked classmates have been out every other week, jumping from COVID to the flu to RSV to rhinovirus.
But then Chris and I were summoned to the principal's office, a lifetime first for each of us. The director of our small school had a request: For our sons' masks to come off.
One of them was struggling to be heard by his teachers, a frustration he'd been expressing at home. For the other, the mask was potentially impeding socialization. "You can't have them spend their entire childhood in masks," the director told us.
She makes a strong case. In a paper on the benefits and burdens of school masking, German neuroscientist Manfred Spitzer detailed the impairment of children's verbal and non-verbal communication as well as emotion recognition skills when the lower half of the face is covered. In a 2022 survey by POLITICO and Harvard, 46 percent of parents felt social learning was hurt by mask-wearing, and 39 percent thought masks had harmed their children's mental health.
Besides, it is hard getting children to mask consistently and effectively. Chris searched far and wide for comfortable, fitted cloth masks with a real filter for the boys to wear to school, but still there have been countless times I've seen the masks drooping below their noses.
One of the hardest parts of being a parent is striking the right balance between protecting our kids and giving them the space to grow. All Chris and I want is to keep our family safe and healthy, but three years after our society was upended, at what cost is this lingering precaution?
Our younger son Paxton's loss of a top tooth was a big deal in our household, but at school it went unnoticed by his friends since, except for lunch, they did not see his mouth. Our older son Maceo sometimes had to be reminded at home that there was no need for his mask to be on. He just became comfortable that way.
When the pandemic began in 2020, my family came down hard on the side of safety. My 94-year-old grandmother was living upstairs from us, and the boys took very seriously their responsibility to help protect her. With fear outpacing fact, we disinfected every grocery container and rarely let Bubbi outside, wary of germs in the elevator. It was this isolation, not the virus, that contributed to her death.
My husband is a primary care pediatrician who has seen ill children throughout the pandemic. We weren't sure if his asthma would put him at greater risk, especially at first when high-quality masks were not available even to most healthcare workers.
After a colleague visited his office with a mild cough, only to infect several of the staff and himself die of COVID a week later, Chris began limiting his liquid intake to avoid a trip to the small enclosed space of the employee bathroom.
I supervised the kids' completely virtual learning through the summer of 2021, an academic year past many families. And now it's been a year since New York and several other major cities lifted school mask mandates.
I am proud of my husband's service to our community during an extraordinarily difficult time. I am both proud and heartbroken by our sons' valiant efforts for safety. In our nearly three years staying home or masking in public, each of the boys and I has tested positive for COVID once. Chris seems to have avoided it so far.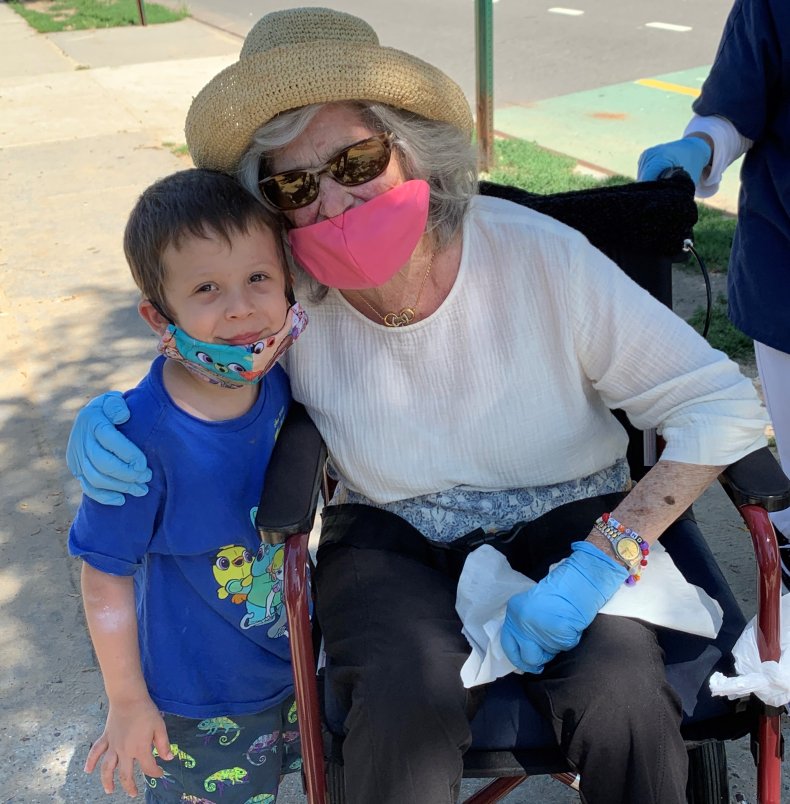 Paxton Clemens with his great-grandmother, Selma Fishkind, who lived upstairs from the family until her death in November 2020, on a rare outing after the pandemic began. Sara Pam Neufeld
Listening to the school director, he was a harder sell than I was. But together we reached a decision: It was time to ease up a bit.
Letting go of masks has not been easy for the boys, who barely remember life without them.
"Why are you taking away our main protection?" Maceo asked.
"I don't feel safe without it," Paxton chimed in.
They forced me to address a litany of contradictions in messaging. Yes, we still need to be careful about COVID, just not quite as careful as we used to be. Yes, we will still wear masks on the subway and in big crowds.
"I thought you said it's good to be different," Paxton said. He got me there.
We agreed the boys would take their masks off at school for just a little while to start, gradually building up the time. Within two days of this, Paxton and I both had sore throats.
Then came midwinter break, and Paxton attended a climbing camp. Day one of a new environment, he insisted his mask be snugly on. Day two, he asked, "Is it OK if I take my mask off?"
"Yes," I replied.
"Maybe they'd like to see what my mouth looks like and hear what I'm saying?" he asked.
I assured him they would. As I write this a week later, he's home with a cough and fever.
Sara Pam Neufeld is a writer in Queens, New York City, working on a memoir.
All views expressed in this article are the author's own.
Do you have a unique experience or personal story to share? Email the My Turn team at [email protected]