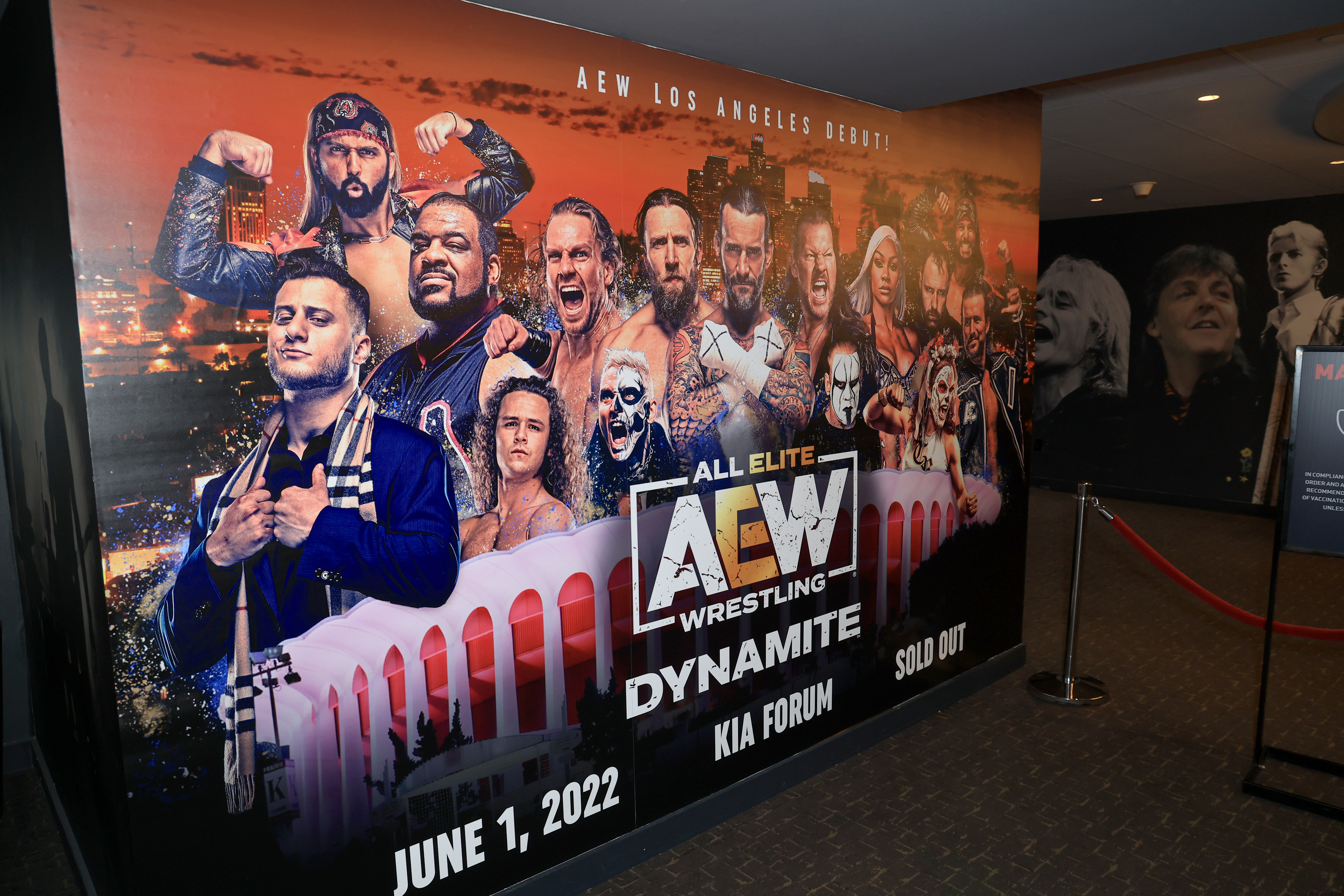 Eddie Kingston shocked wrestling fans when he unexpectedly announced he would be quitting All Elite Wrestling (AEW).
The wrestler, dubbed The Mad King, shared the announcement in an interview with AEW following his appearance on Dynamite's Face of the Revolution Ladder Match on Wednesday, March 1.
Kingston's surprising declaration has likely made fans wonder if he will appear in March 8's edition of Dynamite, which will be held in Sacramento, California.
Will Eddie Kingston Wrestle in Dynamite in California? Star Quits AEW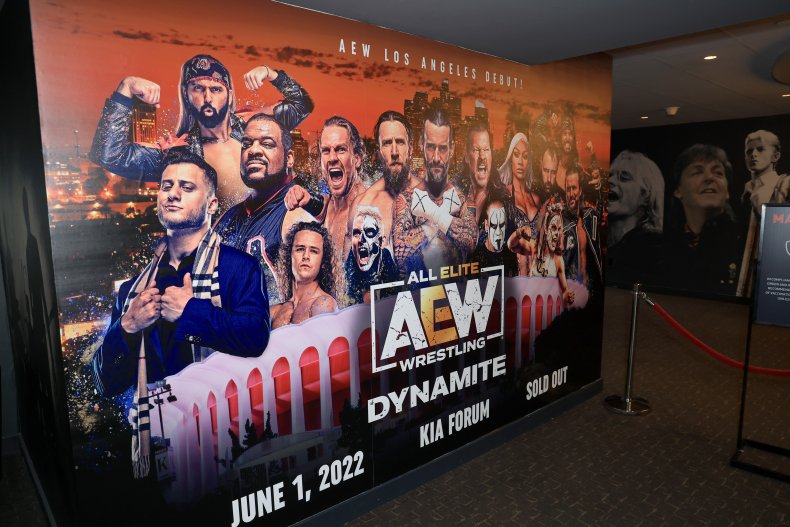 A picture of the poster for TBS's AEW Dynamite Los Angeles Debut After Party at The Forum on June 01, 2022 in Inglewood, California. On the 2023 edition of the show, Eddie Kingston made the shock decision that he would be quitting AEW after a fight on March 1. Leon Bennett/Getty Images for Warner Bros. Discovery
Kingston was set to fight former teammate Ortiz during the March 1 event, but the pair ended up in a bout backstage and they had to be separated by AEW officials.
They did not start their ladder match officially, according to announcers, which meant that no winner was determined to decide who would be the next challenger of the TNT Championship.
Following his altercation with Ortiz, Kingston then took part in an interview which he was said to have asked for. When questioned about the fight, Kingston simply responded: "I quit AEW. Peace."
After making his declaration, Kingston then walked out of the building with his suitcase and his interviewer turned to the camera and asked "seriously?"
In the comments section of the video, which was shared on AEW's social media, wrestling fans questioned why Kingston made the decision, with some assuming that it was related to a move to other brands like Ring of Honor (ROH) or World Wrestling Entertainment (WWE).
For the most part, fans speculated that the announcement was a precursor for his move to ROH, and that he'd be going up against Claudio Castagnoli.
One person commented: "Going to roh well played," while another said: "He just making ROH his permanent home he's not leaving."
He just making ROH his permanent home he's not leaving

— Action Andretti Fan (Parody) (@AndrettiWrld) March 2, 2023
Reflecting on the decision, another wrestling fan said: "Hmmm, Looks Like Eddie Might Actually Be a Ring of Honor Mainstay For The Time Being Will we not see them in the ring at AEW in the future? [sic]"
One person predicted: "Claudio vs Eddie going to be a classic when Eddie Kingston becomes the next ROH World Champion."
Claudio vs Eddie going to be a classic when Eddie Kingston becomes the next ROH World Champion

— Austin (@da_austinz) March 2, 2023
Kingston had been reported to have appeared on recordings of ROH TV at the end of February, per Wrestling Inc., and so fan speculation over his next move appears to make sense.
Castagnoli is currently set to go up against AR Fox on Thursday, March 2, and they will fight for the ROH Championship.
Kingston has not yet revealed what his next move will be after quitting AEW, or if he will return to Dynamite, but fans expect he will confirm this news shortly.