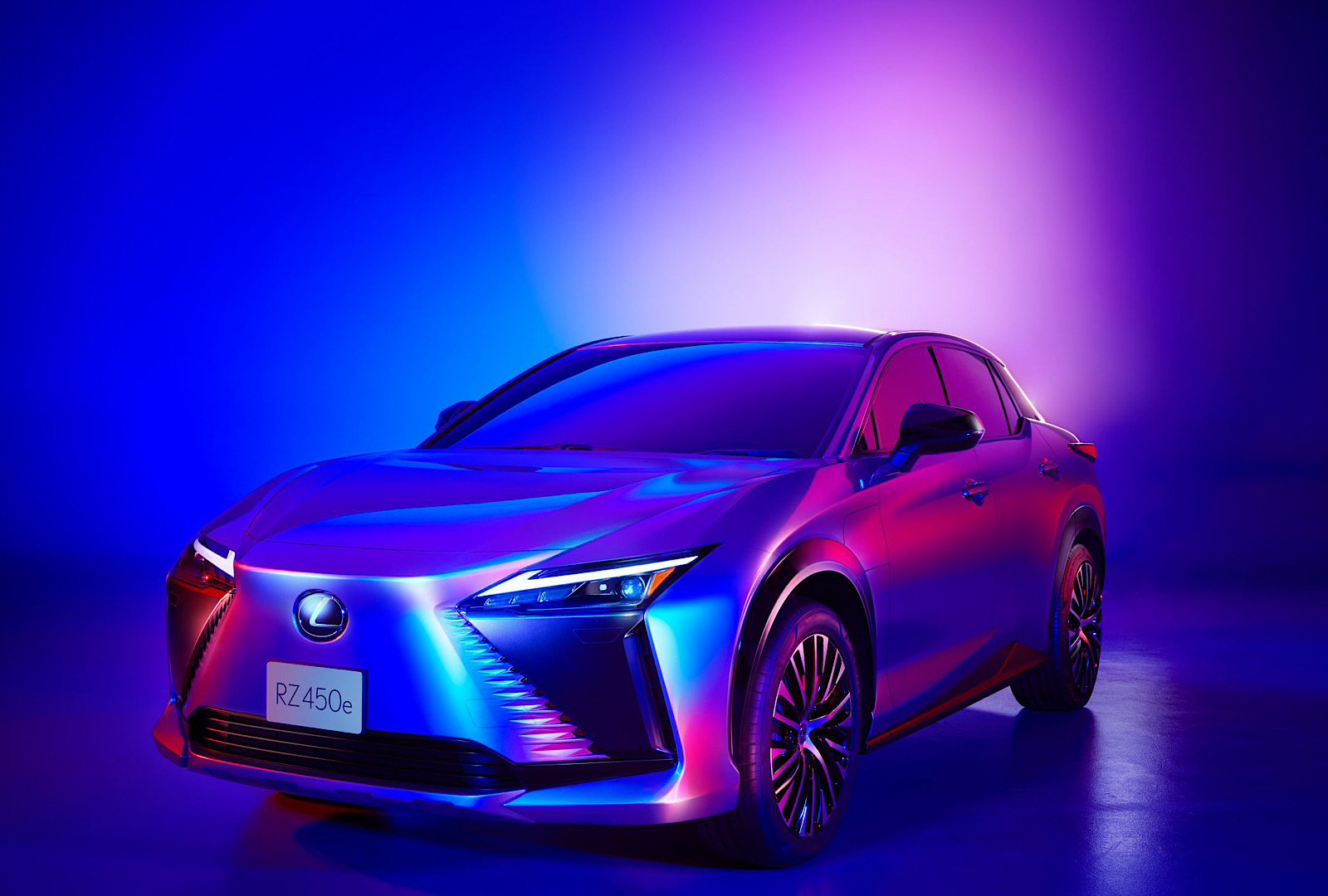 The Lexus RZ electric crossover has a lot to prove, especially on the heels of the lukewarm welcome of its Toyota-branded mass market counterpart the BZ4X. It's a key to the future of Lexus — a showcase of bold design, technology and the Lexus Driving Signature.
RZ is the first all-electric offering from the premium Japanese automaker, but hardly the first electrified model. Lexus began introducing hybrids into its lineup 20 years ago, introducing the RX 400h, the world's first luxury hybrid SUV at the Detroit auto show.
And, it's part of a larger electrification story, with the RX Hybrid midsize SUV, RZ, NX plug-in hybrid (PHEV) compact SUV and the Electric Sport Concept sports car joining together in marketing campaigns for the brand this spring.
The concept car has been pegged as a possible successor to the acclaimed LC sports coupe. Currently the LC is made beside the RZ at the company's Motomachi, Japan plant.
"We are undergoing a major transformation for the Lexus brand," Mike Kroll, vice president of product and mobility communications at Toyota Motor North America told Newsweek. "As we move forward, our customers are changing."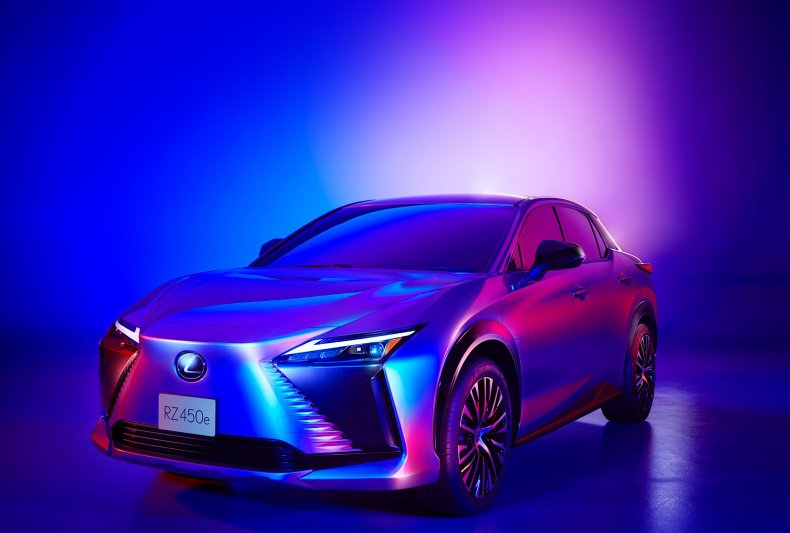 The front of the Lexus RZ 450e. Toyota Motor Sales U.S.A. Inc.
Lexus is about more than just electrification. The aim of Lexus, and the larger Toyota brand, is carbon neutrality. "Carbon neutrality is our most important goal," Kroll told gathered press during a product presentation in France last week.
Customers want an electric Lexus. "What's striking about RZ is how much upper-funnel purchase consideration there is for it across the new vehicle shopper population. In our research, RZ consistently ranks among the most-considered premium EV models, right up there with Tesla," Stewart Stropp, executive director of Electric Vehicle Intelligence at J.D. Power told Newsweek.
"Immense equity has been built into the Lexus brand name over time, to the point where, now that they're rolling out an EV, a lot of people are putting it on their shopping list simply because it's a Lexus."
The automaker is working to ensure that its dealerships and customers are prepared for the road ahead. Though the company has sold hybrid sedans and SUVs for decades, dealing with PHEVs with their power coming from a combination of gasoline engine and an electric drive unit attached to a battery that can be plugged in to offer gas-free driving, and battery-electric vehicles (BEVs), which run purely on electrons, is fairly new territory.
Lexus has opted to sell the RZ in all 50 U.S. states, a strategy that is unlike what some of its competitors do, and undertaken the large task of training personnel at every dealership in the country on the ins and outs of electric vehicle ownership.
Lexus corporate says its strategy for this leans into a single product expert per location rather than an entire, supremely knowledgeable team of sales associates.
The brand expects its RZ buyers to be relatively affluent, with a household income of over $175,000 per year. These highly educated professionals are city and suburban dwellers who own their homes. They are older millennials, and many are first-time EV buyers.
With RZ purchase, buyers will have the option to add a ChargePoint Home Flex Level 2 charger to their cart. The charger is Energy Star certified, Wi-Fi enabled, can be installed outdoors or indoors and comes with a 23-foot charging cable. Power flows from it at a rate of up to 240 volts. The unit is currently listed for $749.00 on Amazon.com. Dealership pricing has not yet been announced.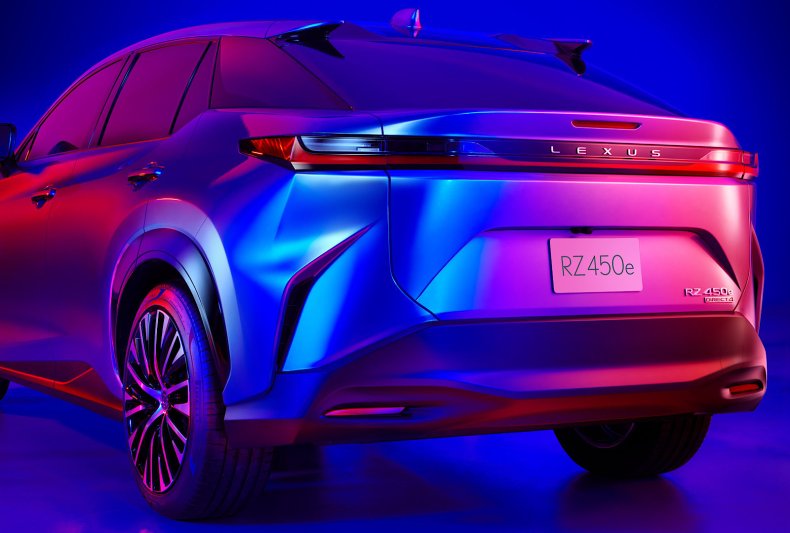 The rear of the Lexus RZ 450e. Toyota Motor Sales U.S.A. Inc.
Buyers won't have to rely strictly on their dealers to support them along the purchase and ownership journey. Customers will be "introduced to" Qmerit, a home charger installation and EV integration solutions provider, which is able to assist them in finding the end-to-end services required to install a charger at their home.
"With the Lexus RZ 450e arriving at dealerships soon, we want to ensure our guests have a seamless charging experience both at home and on the road," said Dejuan Ross, Lexus group vice president and general manager in a press release.
"Our arrangement with ChargePoint and Qmerit was created to provide RZ guests with tools and services to help them to understand, identify and solve their charging needs so they can feel confident in their Lexus Electrified journey."