The remains of three unmanned aerial vehicles (UAVs) were reportedly found Monday in the eastern Russian city of Belgorod, about 26 miles north of the Ukrainian border.
According to a report from CNN, Belgorod Mayor Valentin Demidov said that no injuries were sustained after the UAVs, often referred to as drones, crashed into the city, which is the region's administrative center.
Demidov added that wreckage from one of the drones had crashed into the window of an apartment complex. Residents were relocated to a safe location and provided with hotel accommodations while Russian security services assess the remains.
The two other drones were found in the streets, causing minor damage to a few vehicles, reported CNN. It is unclear where the drones were launched.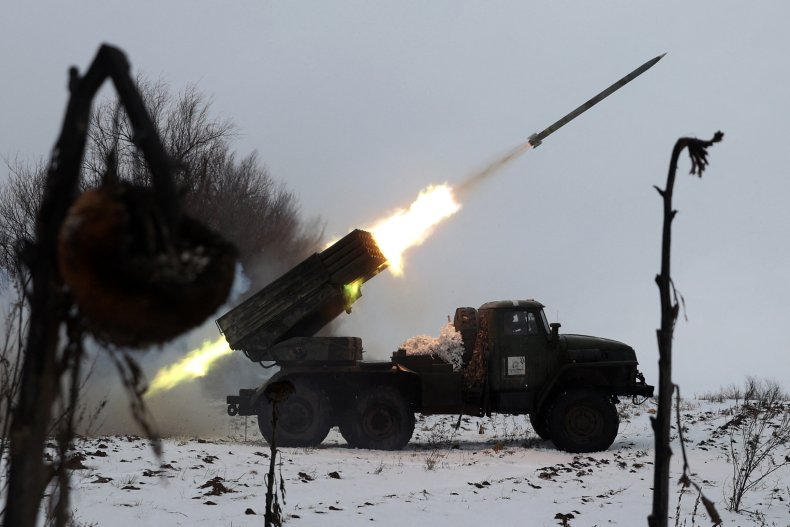 A Ukrainian rocket launcher on Saturday fires toward Russian positions on the front lines in Ukraine's Kharkiv region. On Monday, the remains of three unidentified drones crashed into the Russian city of Belgorod, about 49 miles north of Kharkiv and 26 miles north of the Ukrainian border. Anatolii Stepanov/AFP via Getty
On February 1, Russian President Vladimir Putin urged his government to support residents in the Belgorod region whose apartments and houses had been damaged by Ukrainian shelling.
Russian shelling of the Kharkiv region has not slowed since Ukrainian counteroffensives reclaimed the northern city in September. A report from media outlet Gwara early Monday morning read that more than 15 settlements in Kharkiv Oblast had been struck by Russian shelling after Putin's troops "unsuccessfully" attempted to advance into the village of Berestove, along the Russia-Ukraine border.
Oleg Sinegubov, governor of the Kharkiv region, reported on his Telegram account that Russia had hit border settlements in the Kharkiv, Chuguyiv and Kupyan districts with "artillery and mortars." A 73-year-old man was also hospitalized after receiving a shrapnel wound, Sinegubov said.
In total, the Armed Forces of Ukraine reported on Facebook that Russia launched eight missiles and 28 airstrikes on Monday, including 12 powered by Iranian Shahed-136 UAVs, also known as kamikaze drones. The forces also said Russia had conducted "several unsuccessful offensives" at settlements in the Luhansk, Donetsk and Kharkiv regions.
In response, Kyiv launched four airstrikes on Monday, hitting one command post and one air defense position, the post read. Ukrainian forces also reported destroying nine out of the 12 kamikaze drones launched by Russia.
Ukrainian President Volodymyr Zelensky used Russia's kamikaze attack to again push for Western allies to send fighter jets to "complete" Ukraine's air defense systems, a request that U.S. President Joe Biden has previously declined.
"Air defense is complete only when it is backed by aviation. Modern aviation," Zelensky said during his nightly address Monday. "We will be able to fully protect the sky when the aviation taboo in relations with our partners is lifted."
Newsweek has reached out to the Russian Ministry of Defense for comment.