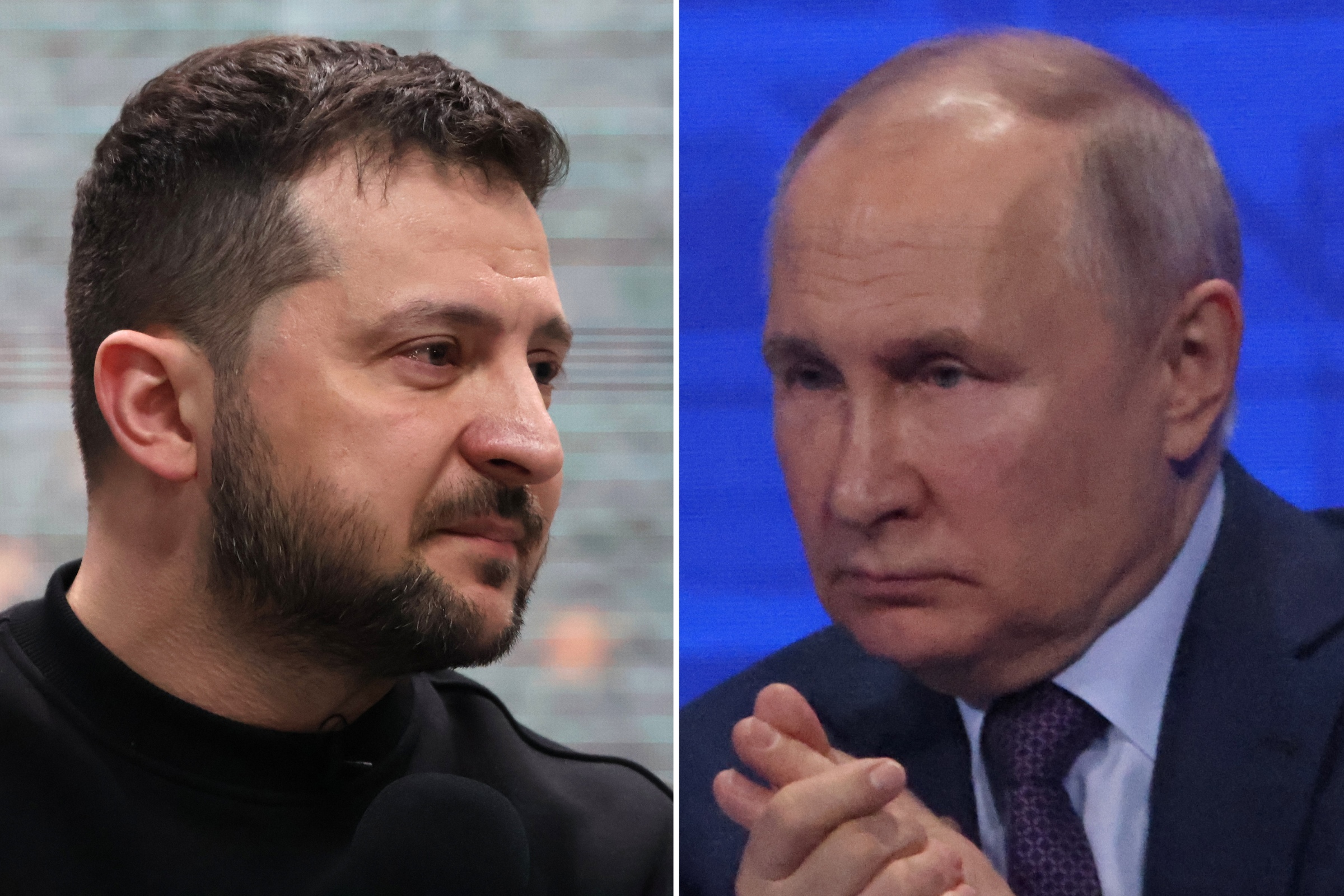 Ukrainian President Volodymyr Zelensky has praised the International Criminal Court (ICC) arrest warrant for Russian President Vladimir Putin as a "historic decision."
Zelensky said during his nightly televised address on Friday that the warrant for "terrorist" Putin was well-deserved, as the Russian leader is suspected of taking part in the war crime of forcibly deporting minors from Ukraine to Russia.
The ICC warrant, issued earlier in the day, accuses the Russian president of "unlawful deportation of population (children)" and "unlawful transfer of population (children) from occupied areas of Ukraine to the Russian Federation."
A warrant was also issued for Maria Alekseyevna Lvova-Belova, Russia's commissioner for children's rights, who's accused of playing a role in orchestrating the abduction of the children.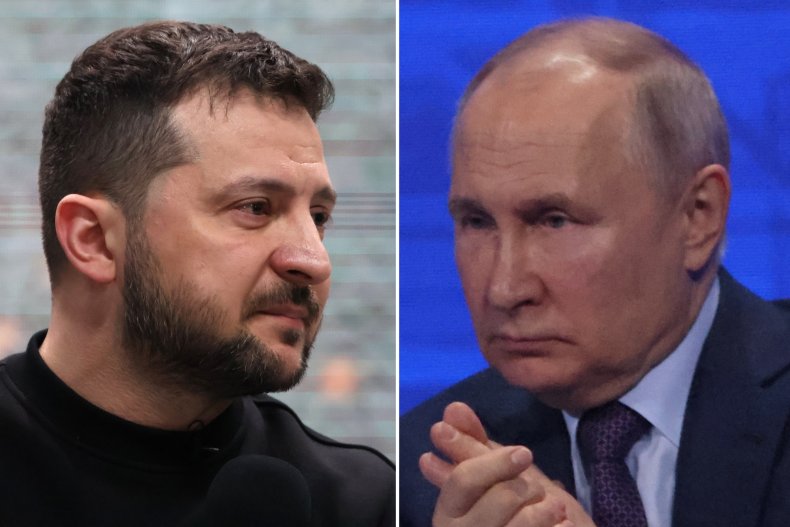 Ukrainian President Volodymyr Zelensky, left, is pictured in Kyiv, Ukraine, on February 24, 2023, while Russian President Vladimir Putin, right, is shown on Thursday in Moscow, Russia. Zelensky on Friday praised the International Criminal Court after a war crimes arrest warrant was issued for Putin. Yan Dobronosov/Global Images Ukraine; Contributor
Karim Khan, ICC's chief prosecutor, said in a statement that "at least hundreds of children taken from orphanages and children's care homes" in occupied Ukraine had been deported to Russia since the war began.
Zelensky praised Khan for taking action against Putin, while claiming that there were "over 16,000 cases of forced deportation" and that the "real, full number" could be "much higher."
The Ukrainian president said that it would have been "impossible to commit such a criminal operation" without "the top leader of the terrorist state," Putin, giving the order.
"Today, we have a fundamental decision of international justice," said Zelensky. "The historic decision, from which historical responsibility will begin. The head of the terrorist state and another Russian official have officially become suspects in a war crime."
"I am grateful to the team of prosecutor Karim Khan and the [ICC], everyone in the world who is helping us in the fight for justice," he added. "I am grateful for integrity and willingness to really bring to justice those who are guilty."
Despite the warrant, an actual arrest or trial for Putin is very unlikely. Kremlin spokesperson Dmitry Peskov told reporters on Friday that Russia does not recognize the jurisdiction of the ICC and considers the warrant to be "null and void."
Eleonora Tafuro, senior research fellow at the Russia, Caucasus and Central Asia Center at the Italian Institute for International Political Studies, told Newsweek that ICC choosing to issue the warrant was "a symbolic decision."
"As long as [Putin] remains in Russia, he's safe, and frankly I don't see him traveling to Poland or other states that could enforce the arrest warrant and jail him," Tafuro said.
Tafuro went on to say that the decision to issue the warrant still "sends a very powerful message" that "not even the leader of a permanent U.N. Security Council member is untouchable."
In addition to the symbolic impact of Putin's arrest warrant and the potential repercussions on the Russian president's travel plans, experts also told Newsweek on Friday that Kremlin propagandists have reason to fear consequence if they travel abroad or Russia loses the war.
Newsweek has reached out to the Embassy of the Russian Federation in Washington, D.C., via email for comment.